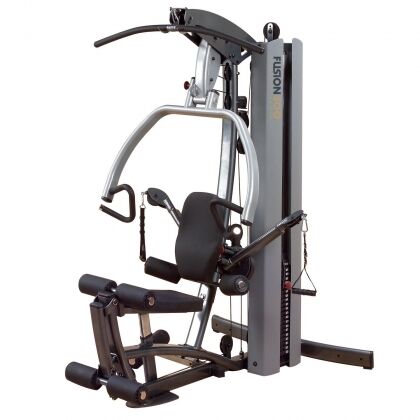 Understanding how to maintain your multi-gym is crucial in making sure that the product remains safe to use and of a high quality condition. A multi-gym is a collection of home fitness system equipment and includes a large range of apparatus designed to do different jobs. Maintaining your multi-gym ensures that each part of the system will work correctly and to the best of its ability.
This guide will look at how to protect and maintain a multi-gym to ensure that it performs to a high standard and is able to carry out the required tasks. This guide will also explain the easiest ways to search for and purchase a multi-gym online by using eBay.
What Is a Multi-Gym?
A multi-gym is a home fitness system that is made up of a wide range of equipment, designed for performing different exercise tasks. Multi-gyms are made mostly for resistance training, but vary depending on the kind of training equipment the customer desires. The system normally includes weight-lifting equipment and free weights; these are hand held weights that are not attached to the main frame, like dumbbells. Multi-gyms will also have a leg press bench, which is used primarily to strengthen the quadriceps. An adjustable pulley-system is able to suit different weights and heights, with grip bars strengthening the arms, shoulders and upper body.
A particularly useful part of a multi-gym is its detachable training bench. The bench can be completely removed from the system and used to perform weight exercises or any kind of exercises that require a surface to lie, rest or sit on.
Depending on the price range and equipment needed, multi-gyms can be bought with cardio equipment such as treadmills and standstill bicycles. Additionally, multi-gyms can be built as one or two-person systems which is also something to consider.
Benefits of a Multi-Gym
When looking to buy a multi-gym, consider the benefits it will bring to your lifestyle and work out.
Having a multi-gym at home is extremely convenient because it saves travelling to and from the gym. It allows one to work out in the comfort of their home at any time of the day or night, without the issue of busy peak periods.
If a multi-gym is used regularly, it is cheaper than the cost of a gym membership. If the system will be used as much or more than the gym it would therefore be a more affordable option. This makes it a great long-term investment.
Due to the large volume of people who use a public gym, infection and illness can spread easily, especially on equipment handles and touch-screens. This problem is erased with the multi-gym, which is only exposed to you and your environment.
Unlike the equipment available at the gym, it is possible to have multi-gym equipment custom made. The system can be built to meet personal needs. For example, if the individual has an injury or needs to focus on exercising a certain area of the body in a particular way this is a huge benefit.
How to Maintain your Multi-Gym
It is important to maintain your multi-gym to ensure that it remains in good condition and functions properly. After every use, remember to wipe down the surfaces, so they are free of sweat, with a clean, dry cloth. Use a light detergent spray on the equipment to remove any bacteria, as to make it fresh for the next use.
If the multi-gym is used particularly frequently, it is a good idea to wash all frames and handles thoroughly after use to ensure that it does not collect dirt. Vinegar and water is a good solution to use to gently wipe down surfaces after use, since it is a strong cleaner without the disadvantage of chemicals, which may damage the equipment.
Alternatively, consider using a borax solution on the multi-gym after use. Mix the solution by blending hot water, borax and a little lemon juice to produce a refreshing wash for the equipment, ensuring that it is ready for the next time you want to exercise.
It is likely that the multi-gym will eventually gain a few scratches and chips in its paintwork. In this case, simply touch up the paint with a delicate brush to keep the system well maintained and in good condition.
Multi-gyms are useful because they are made of different parts of apparatus, which are often detachable. If anything was to go wrong with a piece of the equipment, replaceable multi-gym parts are available on eBay to suit your needs.
What to Consider When Purchasing a Multi-Gym
There are some important considerations to make before investing in a multi-gym, such as:
To begin with, is there sufficient room in the house for a multi-gym? Ample room is needed for the system and the workouts. Some equipment might be higher than your ceiling. It is important therefore to be sure of the item's measurements before making a purchase. Double check that there is enough space available to have a multi-gym.
As mentioned above, what size does the multi-gym need to be? Weigh up the size of the product with the space that you have available. Once this is certain, choose from a range of sizes to suit your personal workout.
What condition should the item be in? Remember that providing the gym has no damage to it and can be cleaned, there is no reason not to buy it used at a more affordable price.
When browsing the Internet for a multi-gym, have a price range in mind. What is a reasonable price to pay for the desired gym? eBay has a price preference option on the left hand side of the page; use this to select the desired price. The search list will then be filtered to ensure that only the multi-gyms within that price range will appear.
What type of multi-gym should it be? Is it for one or two people? Browse the variety of systems online to find out which would be ideal. Are there any specific requirements that the multi-gym needs to meet? Remember that one of the benefits of purchasing a multi-gym is the option to have it custom made.
Are any attachable parts needed for the multi-gym? Consider the attachable parts that are available online to enhance your work out experience.
Buying a Multi-Gym on eBay
This guide has looked at what a multi-gym is and how to maintain it. When it comes to searching for and purchasing a multi-gym online, there is a vast range of types and designs. The easiest way to narrow the search down to the multi-gyms that suit you is eBay. Simply visit the eBay homepage and type the desired item in to the search bar at the top of the page.
Next, use the search preference on the left hand side of the page to filter the list and display only the multi-gyms that suit your personal requirements. Personal preferences include:
| Preference Option | Description |
| --- | --- |
| Category of the Item | Multi-gyms are in the category of Sporting Goods and the subcategory of Exercise and Fitness. |
| Price Range | Use the price bar to filter the options and show only the products that match the desired price range. |
| Sale Format | Whether the item is an auction or bidding sale, or whether the customer will choose to 'buy it now'. |
| Type of Delivery | If the multi-gym is needed quickly for example, tick the 'Express delivery' box. |
| Location of Item | This is for the purpose of delivery. |
| Condition of the Item | Whether it is 'new' or 'used' for example. |
Further information on the item can be found on the product page; simply click on the item to be directed. Be sure to read the details and description of the multi-gym thoroughly before making a purchase. This ensures that no mistakes are made with regards to size or measurements for example.
eBay Safety Considerations
When purchasing a multi-gym on eBay, check that the seller has positive feedback. If there is any negative feedback, find out why and what the solution to this problem was. You should also be wary if it is the seller's first time selling an item on eBay. Do not hesitant to ask the seller any questions about the product. This can be done by scrolling to the bottom of the product page and entering the question in to the box provided.
Previous questions that have been posted by other customers and their answers can also be conveniently viewed here. There is also a Customer Support facility available. When it is time to make a purchase, be sure to pay securely through PayPal after viewing the terms and conditions.
Conclusion
A multi-gym is an excellent system, providing all kinds of equipment and exercising opportunities for the user. It is important, therefore, to maintain it to ensure that it functions correctly and remains in good condition. When looking to buy a multi-gym, browse the Internet to get an idea of the range available on the market before returning to eBay to search for the right design and use the preference options. This is the quickest way to find your perfect product at an affordable price.