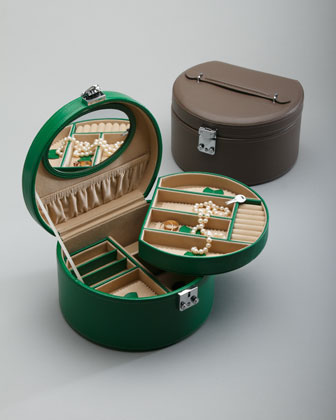 Every woman enjoys building a jewellery collection, but it is important that she also properly cares for her jewellery so that it stays in excellent condition. A woman should consider the proper way to store her jewellery because different types of jewellery have different storage requirements. There are a number of different storage cases a woman can consider, including travel cases, jewellery boxes, and jewellery armoires. A woman should look for a case that has plenty of compartments to keep the jewellery items separate.
Following some important tips helps women keep their jewellery in excellent condition. For example, there are some storage options to avoid because they could damage the jewellery. This includes storing jewellery in cardboard or plastic. Ladies should also learn how to clean different types of jewellery because certain gems and precious metals require different treatment. Equipment for storing and cleaning jewellery, as well as pieces of jewellery, can all be found on large online marketplaces like eBay.. Alternatively, buyers can shop in local jewellery stores, department stores, and discount stores for many of these items.
Storing Different Types of Jewellery
Certain kinds of jewellery are prone to certain types of damage and, therefore, need special care. Some of the different styles of jewellery that require special care when storing include pearls, diamonds, gemstones, gold, and silver.
Pearls
Pearls are very soft, and they scratch very easily. This is why they need to be kept in a soft bag that does not contain any other jewellery. It is important to re-string pearls regularly, especially if they are worn a lot. This reduces the likelihood of the strand unexpectedly breaking at an inopportune moment.
Diamonds
Diamonds are the hardest gems, so it is very easy for them to scratch other gems. That is why they should be kept in individual compartments. Diamonds are often set in silver or gold, and it is equally important that these measures are also taken for these relatively soft metals.
Gold and Silver
The main concerns with gold and silver are the possibility of tarnishing and scratching. For gold and silver jewellery, it is important to reduce the amount of moisture in the air. Jewellery made from these metals should be stored in separate bags, but the bag has to breathe so that the jewellery does not tarnish. Some quality bags are treated with a chemical that helps prevent damage to the precious metal, as well.
Gemstones
Different gemstones have different problems. Softer gemstones can be scratched, and some can even crack. That is why a woman should keep them in individual bags and store them at a temperature that is relatively stable. Some porous gems can crack if they become too dry. Essentially, all gemstones must be handled with a great deal of care.
Types of Storage Cases
A woman should select a good case to protect her jewellery from wear and tear. She should look for a case that has a lot of different compartments to protect individual pieces of jewellery. Some of the different storage options include jewellery armoires, jewellery boxes, and travel cases.
Jewellery Boxes
A jewellery box may be a good option for housing a jewellery collection, but some of these boxes are more for aesthetic purposes than practical purposes. When a woman is looking at jewellery boxes, she needs to make sure that it has enough drawers to hold all her jewellery and that it is properly lined. She should also make sure the compartments are the right size. If a woman has a lot of rings, for instance, then plenty of small compartments are needed to hold them. It is a good idea to have some extra compartments, as well, since most women's jewellery collections tend to grow over time.
Travel Cases
Travel cases are another storage option, especially if a woman is on the road a lot. Travel cases generally feature a hard outer case to protect the contents. The important thing to look for in this type of case is padding to prevent the contents from getting banged up. These cases are generally on the small side because they are not designed to carry a woman's entire jewellery collection. An alternative option for travel is a roll-up container that is made from leather or cloth with pouches to hold jewellery.
Jewellery Armoires
Jewellery armoires are larger than jewellery boxes and may resemble small cabinets. They often feature multiple compartments. When looking at an armoire, a woman should make sure that there are plenty of small compartments to hold her entire jewellery collection.
Tips for Storing Jewels
Women should follow some basic guidelines for storing jewels to prevent them from getting damaged. This includes being careful to store certain jewels together, to wrap jewels up carefully, and to avoid certain storage options that could actually harm the jewellery.
Store Like Jewels Together
It is important that only like jewellery is stored together. Storing different types of jewellery together can damage items. For instance, diamonds are so hard that they can scratch other jewels and even other diamonds. As an added bonus, sorting like jewellery together also makes it easier to find items very quickly.
Storage Conditions
The optimal method for storing jewellery is to put items in different containers. In order to isolate jewels, each piece can be wrapped in acid-free tissue paper, cotton, or silk, or items can be placed in soft jewellery bags to protect them. An easy storing method for earrings is to stick them onto acid-free cardboard. This can then be placed into a soft bag, so the pieces do not get lost. Necklaces can be placed on hooks or draped across cushions and stored in a drawer. A box can also be used. Delicate chains and other necklaces should be stored flat.
Storage Options to Avoid
There are also some storage options to avoid because it could damage the jewellery. A woman should keep her jewellery away from items that include acid, such as certain types of wood, some kinds of paper, and cardboard. This acid can cause reactions with certain types of metal. Materials in many kinds of plastic can damage different kinds of metal and gemstones, as well.
Protecting Jewellery
In order to keep jewellery in excellent condition, there are a number of things an owner should do. This includes taking care when putting jewellery on and knowing when not to wear it. For instance, women should put on jewellery after putting on makeup and perfume because the chemicals could harm the gemstones and tarnish the metals.
A woman should always remove her jewellery when cleaning. The strong chemicals that are in general household chemicals can damage jewellery. Chlorine and salt can both damage jewellery, as well, which is why it is important to remove precious jewellery for trips to the beach or the pool. General strenuous activities should also be avoided when wearing jewellery because soft precious metals can be easily scratched or pitted, depending on the activity.
Cleaning Jewellery
Cleaning methods for jewellery depend on the type of jewellery. Different cleaning methods should be used for gold, silver, pearls, diamonds, opals, and other gemstones.
Type

Cleaning Method

Soak in a solution of warm water and dishwashing detergent for about 15 minutes

Scrub with a soft toothbrush and gently dry with a soft cloth

Soak in a mixture of water and ammonia

Rinse and dry with a tissue

Wipe with a soft cloth that has been moistened with water and dishwashing detergent

Leave to air dry overnight

Clean in warm water

Use a tarnish cleaner and a polish cloth to remove tarnish

Soak in a mixture of water and soap for about a minute and then wipe off

Porous gemstones should not be soaked

Wipe with a mild soap and water solution and a soft brush
It is important for a woman to consider what kind of materials are in her jewellery. She must consider all the metals and gems that make up a piece of jewellery before cleaning it.
Finding Jewellery Storage on eBay
It is easy to find jewellery cases and any jewellery you would like to add to your collection on eBay.. You can always browse through the categories on the site, but the quickest option is to take advantage of the search option that eBay offers. All you have to do is type keywords into the search bar from any page on the eBay site. Terms like 'jewellery box&' produce an ample number of listings that you can explore. If the list is too large, you can use one of the various filter options on the results page to narrow the list to a more manageable size.
You should not forget about the feedback feature on eBay. It allows you to check what other buyers have said about a certain seller. The top sellers on eBay have excellent feedback. You should also consider the quantity of feedback as well as the quality of the ratings. After you have completed your own purchase, you can also leave feedback to help future buyers make a purchase.
Conclusion
Many women enjoy building a beautiful collection of jewellery, but it is also necessary to properly care for the jewellery. Different kinds of jewellery should be stored in different ways. For instance, diamonds should always be kept away from other jewels. A number of different cases are designed to store jewellery, including cases for travel and for home. Jewellery armoires, traditional jewellery boxes, and jewellery travel cases are just a few of the options that are available.
When it comes to cleaning, each type of jewel and precious metal has its own set of cleaning instructions. If a piece of jewellery is constructed using a variety of different metals and gems, a woman must consider all of the components before choosing a cleaning method. To prolong the life of jewellery, it should be protected and not worn when a woman is cleaning or around chemicals or other elements that could damage it. A woman who takes good care of the beautiful items in her collection is destined to enjoy them for many years to come.