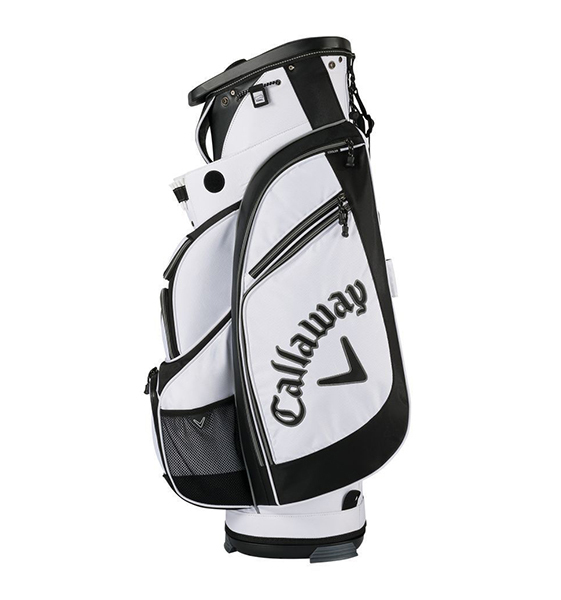 Loading up a golf bag for travelling to or from the course can be an important step, and properly travelling with the bag can ensure that both the golf clubs and the bag remain in good condition. Having a well organised and well packed golf bag can also improve the experience of the game, with golf clubs readily accessible, rather than having to sort through an untidy bag.
Properly travelling with a golf bag means ensuring that everything that will be needed, including golf clubs and any additional equipment. For some equipment, such as golf shoes, there are shoe bags available specifically for transporting them, making it easier to effectively pack. An enormous range of golf bags, clubs and equipment can be found on eBay, and properly packing and travelling with them can make the experience of playing golf much smoother and more enjoyable.
Choosing a Golf Bag
The first step in properly travelling with a golf bag is to choose one that is the most suited to the user's needs. There are three different types of golf bag that are widely available, of different sizes and features. Some may be more suited to travelling than others.
| | |
| --- | --- |
| Stand Bag | Stand Bag s are among the most popular type of golf bag, due in part to the fact they are generally smaller than tour bags, and therefore easier to travel with. Most stand bags can carry a full selection of fourteen clubs, along with tees, balls and other equipment. Many also feature pockets for drinks and other useful additions. These bags are lighter and designed to be carried, commonly featuring carry straps. These features combine to make a useful bag that is easy to travel with. |
| Tour Bag | Tour Bag s are the largest type of bag generally used, and feature an enormous amount of space for clubs and other equipment. These bags will often have the widest range of features, including room for drinks and refreshments. These bags are the type often seen used in professional games, and are not suited for someone who intends to carry their own clubs. Their large size and heavy weight makes them difficult to travel with, especially if a person has to also carry other luggage. |
| Pencil Bag | Pencil Bag s are the smallest type of golf bag widely available, and are easy to carry and travel with. These bags can often carry a full set of golf clubs, though will not have many additional features. These are designed to be easily carried over the shoulder, and many golfers use these for shorter, casual games, with a larger bag serving as their main choice. |
Travel Cases
In addition to the golf bag, which will store clubs and equipment and be taken out on to the green for the duration of the game, a variety of travel cases are also available for use specifically in the case of travelling.
* Travel cases are highly useful for those travelling with their golf bags, particularly those who are travelling over a great distance or by air. These are larger bags, into which the golf bag is placed.
* Depending on the size, these can be designed to either be carried like hold alls , while larger bags may feature wheels in order to aid in their movement. Due to the fact they need to hold a full golf bag, these cases can be very large, which should be taken into account for any travel arrangements.
* Travel cases are available in both hard and soft form. Hard cases are rigid, and offer a great deal of protection to clubs and equipment. They will often feature wheels due to their heavy weight and large size, and such cases are also among the most expensive.
* Soft cases are made of canvas or similar materials, and are generally of a smaller size. While not as sturdy as hard cases, they are lighter and more easily transported, as well as being less expensive.
Packing a Golf Bag
An important step to properly travelling with a golf bag is ensuring that all clubs and equipment are neatly and appropriately packed into the bag. There are a number of key steps in properly packing a golf bag.
Separating Golf Clubs
Most golfers will take a full set of fourteen golf clubs with them, so that they have a club suitable for the variety of situations they are likely to face throughout the course of the game. There are three main types which golf clubs can be divided into.
| | |
| --- | --- |
| Woods | Woods are the clubs that are used to hit the golf ball great distances. These clubs typically feature a large club head, and a long shaft leading up to the handle. Woods are also often called drivers. |
| Irons | Irons are used to hit the ball over small distances towards the green around the hole, or to get the ball out of tough situations. They can feature a range of designs, such as the sand wedge, which is used to hit the ball out of a bunker. Most golfers will carry more irons than woods. |
| Putters | Putters generally feature smaller, flatter club heads. These golf clubs are designed to tap the ball over very small distances once the ball is on the green and close to the hole. |
Packing the Golf Clubs
* Once the different types of golf clubs have been separated, examine the golf bag. The bag, whatever the type, will feature three separate enclosures.
* Designate a compartment for each type of club. This ensures that the different types of golf club will be separated and easy to find during a game.
* Golf clubs should be placed handle first with the club head visible at the top. This makes it much easier to quickly identify a particular club, making it faster to get out the one required at each point of a game.
Packing Balls and Tees
Whatever the size of the bag, there should be a number of additional pockets on the outside. These can be useful for storing a number of accessories, but priority should be given to golf balls and tees.
* It is very common in a game of golf to lose the golf ball, so it is generally advisable to pack a number of them. These can be easily stored in a side pocket, due to their small size.
* Tees are the short pegs that are placed into the ground to hold the golf ball. It is common to go through several tees during the course of the game, as they can be lost or break. Tees are small and light, and a large number of spares can easily be kept in a side pocket.
Packing Golf Accessories
While there may not be much, if any, room in smaller bags for additional accessories, mid and large sized bags may feature plenty of space. There are a number of useful accessories that can be useful to pack, and a large bag can be a convenient place to store all of a golfer's equipment and accessories when travelling.
* Many golfers take gloves with them to enhance their comfort, and give them a better grip on their clubs. A hat , or sunglasses , may also be useful on a bright day.
* For a long game, taking a water bottle may be a good idea. Some bags even feature thermal pockets, which can help to keep water cool throughout the duration of the game.
* Golf towels can be useful for keeping clubs clean. This can also prevent dirt getting into the bag, meaning it will not have to be cleaned out after a game.
How to Buy a Golf Bag on eBay
A wide range of golf bags, travel cases, clubs and accessories can all be found on eBay. The full listing of available golf bags can be found underGolf Bags in theGolf category, which falls under the Sporting Goods section. Items can be arranged by categories such as brand, type of bag, price, condition and distance to the seller. The 'Auction' and ' Buy it Now' buying options are also available, offering flexibility in how a golf bag can be purchased.
The key specifications of a golf bag, such as the brand, size and type of a bag, are often prominently displayed in the item's listing. This means that it is easy to quickly identify whether or not an item meets any specific requirements. Further information about a particular item can be found on the item page, including information about the seller such as feedback ratings and item reviews, helping to ensure that a purchase can be made with confidence. If any further information about an item is required, it is possible here to ask the seller a question about the item.
If a particular golf bag is needed, it may be more effective to make use of the search function available at the top of every page. Searches can be made to return results from the whole site, or from within a specified category. Further information about the search function can be found on the Search Tips page.
Conclusion
There is a wide selection of golf bags suitable for travelling, as well as travel cases which can offer a great deal of additional protection for a golfer's clubs and equipment during travel. Properly packing and travelling with a golf bag ensures that the clubs will arrive in good condition, and ready to be used. There are also a great number of golfing accessories, such as gloves and towels, which are useful to take to a game. All kinds of golf bags and golfing accessories can be found on eBay.