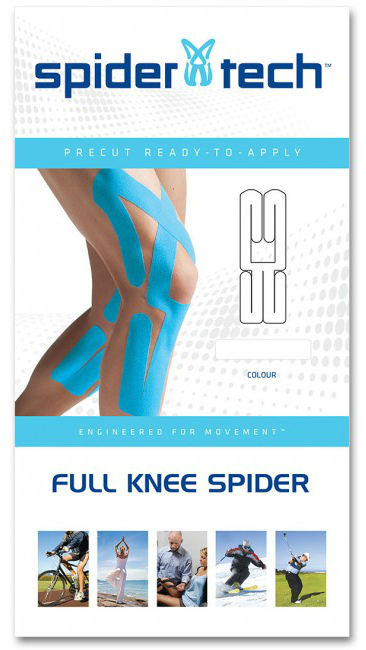 Sport and exercise play a vital role in maintaining a healthy body and lifestyle. Being active can improve fitness, aid weight loss and help fend off illness. Strains and injuries can occur over time, however, and it is important to know how to treat and help the body's recovery.
Kinesiology tape helps support joints and muscles when they are injured or in the process of recovering and are an effective tool in easing pain.
Use this guide as a reference point when looking to use or buy kinesiology tape in order to get the most out of the product. There is a wide range of sporting aids and equipment on eBay – such as kinesiology tape, exercise bikes, sweat bands, weights and many more.
What is Kinesiology Tape?
Kinesiology tape is an elastic, therapeutic cotton tape that is used to aid the recovery of injuries and strains. It is designed to raise the skin to help promote lymphatic flow and reduces pain and discomfort as a result.
Used by many professional athletes and sports personalities, kinesiology tape restricts movement and agility less than conventional taping methods and can be used for a range of injuries and problems.
When to Use Kinesiology Tape
Kinesiology tape can be used to help:
Inflammation.
Sprains.
Soreness.
Tired and overused muscles.
Provide support for muscles and joints.
Problems with the back, shoulders, knees, feet and more.
The tape is also available in a range of colours in order to colour code injured areas and allow for better management. It can also help when remembering when to change a certain area of tape.
How Kinesiology Tape Works
Unlike traditional taping methods, kinesiology tape does not restrict the movement of the body once applied to the injured area. Neither does it prevent vital circulation – instead, it raises the skin to allow for better blood and lymphatic flow. This in turn allows the body to recover quicker and reduces any swelling that may be present in the area.
It is the same thickness as the skin which allows it to "breathe" and possesses durability that means it stays attached for multiple days – despite any water contact or sweating.
The tape also supports the muscles, allowing for better contraction when injured and decreasing the chances of fatigue.
How to Use Kinesiology Tape
When looking to treat any type of injury, it is vital to adhere to the correct methods. Not doing so could make an injury worse or lengthen the time it will take to heal. Follow this simple guide when applying kinesiology tape to an injury.
Step 1 Locate the exact area of the body which is injured and requires tape to be applied.
Step 2Measure the amount of tape that is required by holding over the injured area.
Step 3Cut away from the tape roll using scissors. It is important to cover the whole area for optimum results.
Step 4Ensure the area of skin is clean and has no dirt, oil, cosmetic product or sweat on it. If it does, wash and dry the area before applying. This prevents deterioration of the adhesive on the tape.
Step 5Stretch the muscle that requires taping and remove the paper backing on the tape. It is important to apply while the muscle is in this position and to ensure the kinesiology tape is relaxed, with little or no tension.
Step 6 There are two main methods of application that are dependent on the type of injury.
If a muscle is tight and in need of relief from injury, apply the tape to the area whilst making sure there is no tension. Begin where the muscle is attached to the bone via the tendon and finish towards the opposite direction.
For weakened muscles and more long-term injuries, apply the kinesiology tape with a little tension. Unlike the previous method, start at the origin of the muscle and move towards the tendon.
Step 7 Rub the tape once it is in the correct position. This will activate the adhesive layer and ensure the tape does not come loose. This will normally last for three to four days.
Additional Pointers When Using Kinesiology Tape
In addition to the previous steps, there are some additional considerations to take into account when using Kinesiology tape.
When peeling the paper backing off the tape, do so slowly to avoid the tape folding and sticking to itself.
Do not apply the tape with too much tension as this could potentially irritate the skin or restrict movement.
It is advisable to apply the kinesiology tape at least an hour before coming into contact with water or exercising. Not doing so could mean the adhesive has not fully set.
Store the tape in a suitable place after use to avoid contact with dust or dirt.
Always remember to refer to the product instructions if there are any doubts or concerns.
What to Consider When Buying and Using Kinesiology Tape
Kinesiology tape is a relatively new addition to the world of sport and exercise equipment and it can be difficult to know what to consider before purchasing. Take the following into account before buying.
Length- It is important to ensure that enough Kinesiology tape is purchased as larger strains and injuries may need more of the product. Always check the length of the roll before buying and determine whether more could be needed.
Time- Kinesiology tape typically retains its adhesive for up to four days after application. After this time it can peel or become dirty and it is important to remove or replace at the right time.
Safety- Always carry out exercise and sport in a safe manner. Take the necessary precautions in order to prevent injuries or any recurring problems.
Workout Plan- When carrying an injury or a strain, it is important to adapt workout plans and exercise routines as necessary. Not doing so could make the problem worse or prolong rehabilitation time.
Other Exercise Accessories- Consider other sport and exercise rehabilitation products that are on the market. Combining multiple items could improve recovery time, provide extra support and help prevent future problems.
Price- Be sure to shop around in order to find the best priced deal on kinesiology tape. If purchasing with eBay, do compare products from different sellers and consider how much time is left to run on an auction.
Conclusion
Injuries are an unwanted setback when training or playing sport. They hinder performance, cause discomfort and can often prevent the person from partaking in exercise.
Products such as kinesiology tape can provide the perfect solution in assisting in injury recovery. It can help support the muscles and allows for improved circulation – meaning the injury can heal quicker if applied correctly.
When looking to use or buy kinesiology tape, consult this guide for information regarding its correct use. Decide whether the tape is the most suitable for the problem and shop around online to find some at a price that is within the desired budget. Be sure to read reviews of the product for further advice and information.
eBay generally provides exercise products such as kinesiology tapeat affordable rates and if deciding to go down this route, use PayPal for a safe and secure transaction.