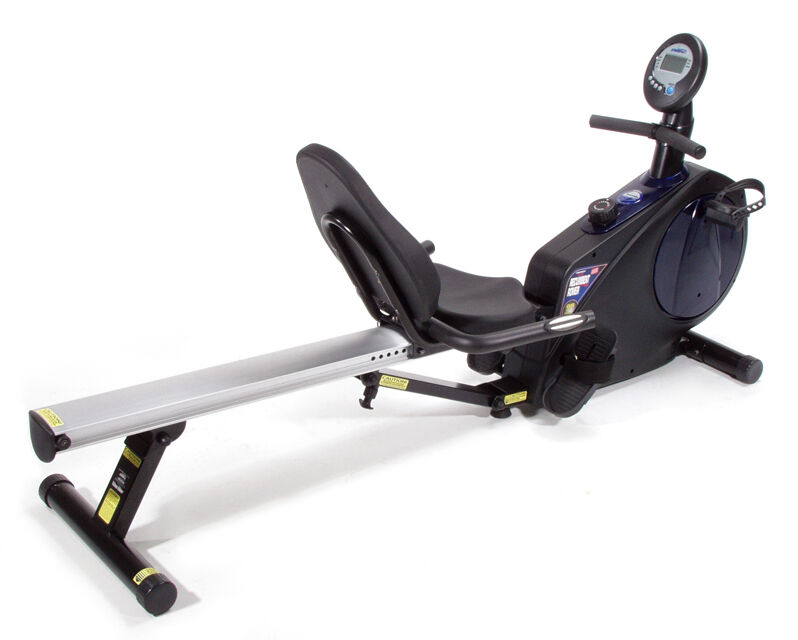 Home gym equipment is an area of the health and fitness market that has seen heavy growth in recent years with fitness fanatics choosing to construct gyms in their own homes as an alternative to pricey gym memberships.
A rowing machine can help to enhance cardiovascular fitness, as well as giving users the chance to build up their lower and upper body muscular strength.
The following guide gives details on how to use a stationary rowing machine correctly, how to choose the correct model and the best way to buy one safely and securely using eBay.
What Kind of Fitness Does a Rowing Machine Provide?
People making their first foray into home gym equipment acquisition can become bamboozled by the vast array of different equipment on offer.
Cross trainers and treadmills are good for cardiovascular fitness with a multi-gym perfect for strength training. A rowing machine, though, offers an excellent workout for people looking for a rounded level of fitness.
The levels of resistance can be adjusted with whichever type of machine is bought, and it means that a wide range of ability levels is catered for.
Resistance Type
Rowing machines are characterised as to the type of resistance they use during a workout.
Four main systems of resistance are commercially available and the table below explains each one in some more detail:
Resistance

Details

Air Resistance

Air resistance is created by a flywheel when a user pulls against it with the hand-bar.

A damper lever that sits on the outside of the flywheel can easily be adjusted to control resistance.

Machines tend to be large and are therefore harder to store.

Very high quality and the price usually reflects this fact.

Water Resistance

A flywheel dragging against water in a tank creates water resistance.

Add or remove water in order to increase or decrease resistance.

Similar machine to the air resistance model.

Closest a machine gets to a real rowing boat.

Hydraulic Resistance

Uses hydraulic pistons to create hydraulic resistance.

Older models are almost exclusively made like this.

Most appropriate model if space and budget are issues.

Noisy and changing the resistance is quite tricky.

Magnetic Resistance

Powerful electromagnets create magnetic resistance that is easily adjusted.

Affordable.

Similar to hydraulic resistance models, but take up a bit more space.
Correct Use of a Stationary Rowing Machine
Getting the most out of a rowing machine means making sure it's being used correctly and that exercise is being performed in a way that won't cause injury.
Using a rowing machine correctly involves perfecting three main phases: The Catch, The Slide and The Recovery.
The following sections outline how to do each one perfectly:
The Catch
Sit down on the seat and, if the machine has them, strap your feet into the harnesses provided and make sure they've been adjusted correctly.
Reach out and grab the handles with an overhand grip and keep arms and back straight, whilst all the time making sure the chain is at a horizontal level.
Move forward on the sliding seat and bend knees all the way until the shins are vertical.
Take care not to lean too forward or bend the knees too far as it causes injury.
The Slide
The main movement is known as the slide and is given its name due to the motion when moving backwards.
Whilst in the position with legs bent, move backwards on the sliding seat until knees are only slightly bent and almost straight.
When in the position, pull your arms towards you and over your knees until the bar is coming towards the chest.
Elbows should be pointing down towards the floor and against your sides once the bar is against your chest.
Your back will come slowly upright while performing the action, and care must be taken not to lean back too far due to the detrimental effect it has on the lower back and abdominal muscles.
The Recovery
In preparation for completion of the exercise let your hands, at chest level, move forwards with the bar in them.
When they are above the knees, you can start to move forwards towards the flywheel.
It's important not to rush this part of the exercise and it should take roughly twice as long to perform this part as it does the slide.
There are a number of other things to consider when using a rowing machine and they are as follows:
Warm Up – Always perform an extensive warm-up before using a rowing machine or any cardiovascular equipment.
It's recommended that for around 10 minutes users just pull the bar back and forth without using the legs at all.
This must be done at a low resistance and not tire you out.
Resistance Level – Don't be tempted to set the resistance at an unrealistic level, as you will become tired out very quickly and not gain a huge amount of fitness.
Instead, set the resistance lever at a low level and increase it throughout the workout if needed.
Practice the Technique – Do this at a lower level in order to make sure when performing at a higher resistance that rowing is being done properly.
Correct technique is one way to make sure that getting fitter will happen quicker and it will mean less chance of injury occurring.
Progression is a Key – When starting out on a rowing machine begin slowly and progress to a higher level later on.
A recommended starting point is working out for 10 minutes and then increasing this by incremental stages every day.
The same principals apply to resistance and both of these things will make sure that a good level of fitness will be maintained.
Make Sure It's Part of a Healthy Lifestyle – Buying a luxury piece of gym equipment must be combined with a healthy lifestyle in order to see long-lasting results.
As well as using the rowing machine, the buyer should eat healthily and do a variety of other cardiovascular work in order to vary the types of fitness.
How to Buy a Rowing Machine on eBay
Large-scale gym equipment is widely available on eBay, and the auction site remains one of the easiest places to kit out your perfect home gym for an affordable price.
When buying from eBay the buyer immediately benefits from a large number of highly knowledgeable sellers that are able to offer insight and help at every step of the way. If the answer isn't already on the product description, they will only be too happy to respond to an 'Ask the Seller' query.
To find rowing machines on eBay go to the Sporting Goods category from the long list of categories on eBay.co.uk.
From the list that follows, select the Exercise & Fitness sub-category.
On the left hand side of the following page go to Cardiovascular Equipment and it will give a list of all the common cardio machines that can be found in most gyms.
From the next list of options, click on Rowers to look at the site's selection of rowing machines.
A number of options will become available on the left hand side to enable the buyer to narrow things down by 'Brand', 'Resistance Type', 'Heart Rate' 'Monitor type', 'Condition', 'Price' and 'Auction Format'.
Some buyers may prefer to search for a specific item manually. To do this, simply type search terms into the box present at the head of any eBay page. Buyers can even change the search parameters in the drop down box to the right of the search bar to narrow things down even further.
With items of this nature, it's usually appropriate to do some background research on the seller. eBay makes this incredibly easy by providing an extensive transaction history for every eBay seller that easily lets buyers identify sellers with lots of negative feedback and therefore those to steer clear of.
Once happy with the item then either make a 'Bid', place your 'Best Offer' or choose to 'Buy It Now', depending on the auction type.
When ready to pay for items remember to use PayPal, so that it goes through as safely and securely as possible.
Conclusion
Buying home gym equipment is increasingly being seen as an affordable way to keep in shape without having to leave the comfort of our own homes.
People are investing in a whole host of different machines, such as trampolines, gliders, and exercise bikes, like never before and eBay is an excellent place to acquire such equipment.
Rowing machines provide as good a compromise between muscular and cardiovascular fitness as any machine characterised as cardiovascular.
When buying and then using a machine the following should be considered:
Which type of resistance is most suitable for the primary user?
Make sure that anyone using it does so correctly and knows exactly the best work out to perform.
Keep back straight and other muscles in correct positions to prevent serious injury.
With the help of guide and eBay, you can now find the rowing machine that is right for you.