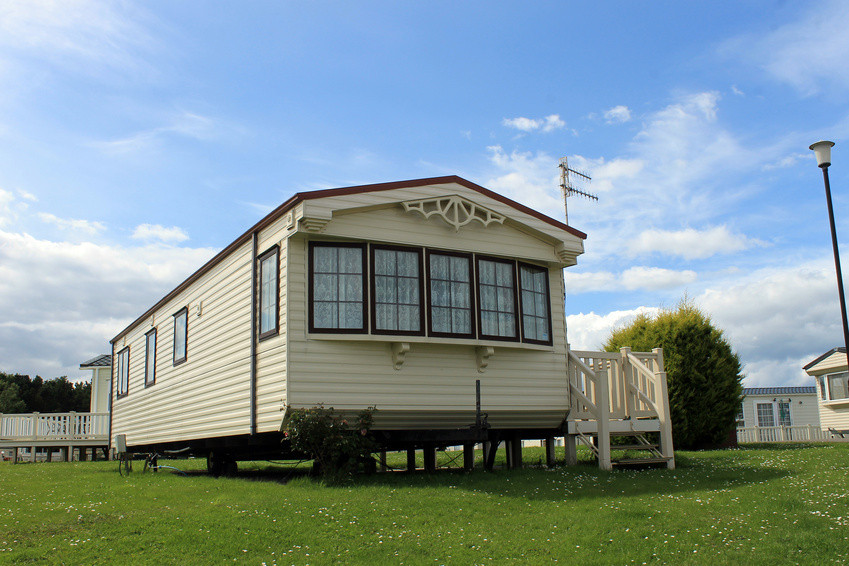 Offering a functional, casual alternative to standard hotel rooms, caravans are an ideal option for many holidaymakers in the U.K. In particular, families benefit greatly from the varied amenities available in caravan parks and villages. Those who have never considered a caravan holiday are encouraged to learn a bit more about this unique guest lodging option before booking their next trip. Most caravans for hire actually static, which means that although they are technically mobile, they are permanently parked on a private site or within a holiday park. Since they are not meant to move from place to place, this type of caravan differs from the touring variety, which can be towed behind a vehicle.
People looking for a spacious and affordable way to house the whole family while on holiday are likely to appreciate all that a static caravan has to offer. A standard caravan offers multiple bedrooms, as well as a lounge area and basic kitchenette. They are a satisfying choice for families looking to spread out and enjoy various activities while on holiday. In many cases, caravan rentals are cheaper than group hotel accommodations, and they feature a wide variety of amenities to keep both kids and adults happy.
The Benefits of a Family Caravan Holiday
If you are looking for an affordable way bring the whole family to the seaside or the country, a caravan offers several big advantages. For instance, those who like the idea of camping but find the particulars a bit too rustic are often pleased by the compromise a caravan offers. Rather than sleeping in a tent on the ground, holidaymakers can eat and sleep in their caravan instead. These compact yet comfortable domiciles are often just as well-appointed as a small home. This means families are able to self-cater their meals, which certainly helps cut costs, especially for large groups. Holiday parks and villages are located across the U.K., and many popular European tourist destinations also feature caravans for hire.
Factors to Consider Before Renting a Caravan
Many families return to their favourite caravan village year after year, making friends and memories that last a lifetime. When you are looking to save a little money without skipping this year's family holiday altogether, a caravan can be the perfect solution. Whether you hire one for a half-term break or a month-long getaway, most caravans come complete with everything a family needs to get by away from home. Since caravan villages and private sites are located throughout the country and abroad, families must first decide where they want to spend their holiday. Once a destinations is chosen, the next step is comparing available caravans to see which provide the preferred features and amenities.
Caravan Holiday Destinations
These days, more and more people in the U.K. are staying close to home when they go on holiday. Though this trend is largely due to economic reasons, tourists often find they are less stressed about planning and partaking in local trips. Static rental caravans continue to be a favourite amongst frugal families in the U.K., and the options for this type of holiday accommodation are quite vast.
Caravans are commonly located in rural or seaside settings. While a number of the most popular holiday villages are located in the south western portion of England, many tourists now seek out spots known for cultural significance or outdoor activities rather than crowded beaches. These are just a small sampling of various regions where you can book a caravan holiday in the United Kingdom:
Bristol
Devon
Cornwall
Yorkshire
Lancashire
If you are interested in travelling outside of England, consider renting a caravan for the family in Scotland or Wales. There are also plenty of units for hire in France and Spain, so your family's options are by no means limited by the decision to embark on a caravan holiday. Sunny European caravan holidays are especially popular during the dreary winter months, so be sure to book well in advance.
Caravan Location, Features, and Amenities
Once you determine where to holiday, look into various caravan options for your family. Take some time to review activities and amenities offered within the park, as well as those close by. For example, some holiday villages offer numerous family-oriented amusements like pools and playgrounds, along with games, gyms, and spas for adults. By researching promotional materials as well as reviews from past visitors, you can get a sense of the overall atmosphere of a particular caravan park before booking rental reservations.
While comparing caravan destinations, consider proximity to golf courses, beaches, amusement parks, or other forms of holiday entertainment. Likewise, think about where you can pick up essentials like groceries and personal items, especially if meals are to be prepared in the caravan. Also, remember to locate a pet-friendly park if you plan to bring the family dog along on holiday.
Additional Caravan Rental Tips
To book a holiday everyone can enjoy, remember to include the entire family in the decision process. Rather than choosing a caravan location at random, determine which features are most important to each individual and then choose a suitable destination based on their input. To make the choice less daunting, start out with a handful of possibilities and let the family decide which option they like best. Remember to keep caravan capacity in mind during the decision process. Large groups can always rent multiple caravans so the whole extended family can get together for some holiday fun.
How to Find Holiday Caravans for Rent
When you are ready to start perusing available caravans for hire, it helps to know where to find the biggest selection and best deals. In general, caravan rentals fall into one of two categories: they are either owned by privately citizens or by the park in which they are located. This means that you can look for caravans advertised directly by the owner, as well as those offered for rent by park or village management. While a brick-and-mortar travel agent can often help coordinate a caravan rental for your family, these days, more and more people book their holiday accommodations online. Internet classified advertisements and websites geared toward caravan holidays offer a number of options for tourists to consider. Additionally, owners sometimes list their caravans for hire at discounted rates on international marketplace sites such as eBay. By exploring a wide variety of options before renting a caravan, you can find the best possible holiday accommodations for your family at a price you can comfortably afford.
Rent a Caravan for Your Family on eBay
There are several ways to find holiday caravans for hire on eBay. You can either browse a wide variety of caravan options, or include a specific location in your search terms. To get started, simply input "caravan" into any eBay search box to see all there is to offer. To find results faster, try a targeted keyword combination such as "caravan Scotland". However you decide to shop on eBay, you can always customise and sort search results according to your preferences. Additionally, refinements help narrow down the results list so you can easily find the caravan rental that best suits your family.
Always Consult Seller Feedback
Since you are not always able to see a caravan before your holiday, descriptions and photos are often all you have to go by. Luckily, eBay allows past guests to leave seller feedback, which can be an important indication of how well the actual caravan compares to the description in the listing. When browsing caravans for hire on eBay, you can access the seller's feedback profile through the listing page. Always look at the overall feedback score as well as detailed seller ratings and written reviews before renting.
Conclusion
While families frequently go on holiday during the summer months of July and August, mid-winter trips to warmer climates are also popular. Regardless of the time of year, a caravan offers the perfect solution for people travelling as a group. Multiple bedrooms, kitchens with appliances, and indoor plumbing are among the many reasons why many families prefer caravans to camping. Rural caravan locations allow families to get away from busy city life for a bit of fresh air, relaxation, and most of all, fun. Those who enjoy the outdoors are sure to love the laid-back, casual atmosphere of a caravan holiday.
To ensure that everyone has a good time on holiday, try to rent a caravan that suits your family's personality and favourite activities. For example, groups that prefer beach holidays can look for a rental in sunny coastal regions like Devon or Cornwall. Families that are more interested in historical or outdoor adventures are often drawn to northern U.K. locations. As an alternative to staying within the U.K., you can rent a caravan in France or Spain during the long winter months for some much-needed time in the sun. While there are many ways to find caravans for hire in the U.K. and abroad, eBay offers a unique platform that connects people to great deals on rentals in many popular tourist destinations.