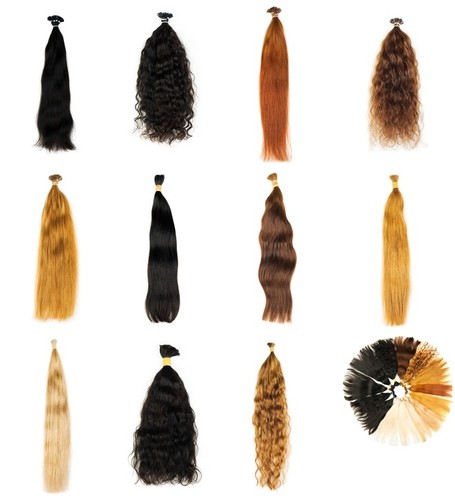 Hair extensions can be a great way to achieve new hairstyles without the maintenance and trouble of long hair. In the event that extensions become dry, tangled, or otherwise damaged, it is possible to repair them using a few basic steps. It is also important to maintain your hair extensions in order to keep them looking great and ensure continued use. Hair care products for hair extensions, such as shampoos, conditioners, and hairbrushes, are available from salons, specialised hair care retailers, and online sellers like those on eBay. You can also purchase new extensions through many of these same sources. Learn more about caring for extensions to keep them looking great.
Repair Hair Extensions
Hair extensions are susceptible to damage in several ways. If yours are dry, tangled, or otherwise damaged, there are some things you can try in order to restore them to their original condition.
Use a Moisturising Shampoo
The first option for restoring hair extensions is to wash them with a moisturising shampoo. To do this, wet the extensions and add a small amount of the conditioner. Massage the shampoo into the hair extensions, and then rinse thoroughly to remove as much of the suds as possible. Squeeze the water out of the extensions with your hands, and then lay them flat on a dry towel. Fold the towel over the extensions to cover them or use a second towel, and then press down to remove as much of the remaining water as possible.
Apply a Leave-in Conditioner
After you remove the excess water from the extensions, apply a leave-in conditioner. Too much can cause the bonds to become loose, so simply spray the conditioner in a light mist. Use a wide-tooth comb to spread the conditioner throughout the hair and straighten out all tangles. Finally, set the extensions on a towel and allow them to air dry.
Care for Hair Extensions
It can be difficult to properly repair hair extensions, especially if you attempt to re-moisturise them more than once. Fortunately, there are easy ways to protect the extensions and get plenty of use from them. Follow these steps to keep your hair looking great for as long as possible.
Wash Two or Three Times Per Week
Shampoo can strip hair of its moisture and sheen. For this reason, avoid washing the extensions more than necessary. Wait at least 48 hours after you receive your bonded hair extensions to wash them. After that time, avoid washing more than two or three times per week. Always use a conditioner when washing, and be sure to apply it only to the mid-section and ends to prevent oils from entering the bonds and causing them to loosen.
Brush the extensions thoroughly before washing to remove any snags or teasing, as this helps keep the hair straight. Wash your hair with the extensions while standing up in a shower, and avoid leaning over, as this can cause the hair to become tangled. Also, you should always wash the extensions with a rubbing motion up and down, never in circles.
Brush and Comb Carefully
Improper brushing and combing can cause the bonds of your extensions to come free or possibly even damage your natural hair. When possible, use a specially made hair extension brush. These items have a cushioned base and soft bristles to protect your hair and the extensions. When brushing, hold the bonds in your hands to prevent pulling on the roots of your hair. It is also best to work at tangles and knots from the ends of the hair and work up to reduce tugging.
Avoid Hair Products with Alcohol
Many styling products contain alcohol. Avoid using these on your extensions as much as possible, as they quickly remove moisture from the hair. When purchasing hair care products, always check the label and ensure the ones you buy are alcohol-free. Some manufacturers create styling products specifically for hair extensions.
How to Buy Hair Extensions on eBay
A broad selection of hair extensions and hair care products are available from the sellers on eBay. To find these items, enter keywords into the search field on any eBay page. You can refine listings by adding new terms or by clicking on relevant category links. Click on the name or image of any item in search results to see more information about the listing, such as delivery charges and the payment methods accepted by the seller. Check the positive feedback rating and number of completed transactions to find reliable and experienced sellers on the site.
Hair extensions offer a convenient way to lengthen hair and create new looks. Maintain your extensions and repair any damage that occurs to continue enjoying their benefits.