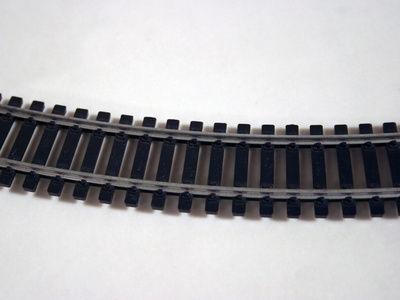 Model railroading is the art of using smaller scale replicas for the use of re-enacting the trains and locomotives that run on real rail tracks everyday.
Model railways enthusiasts often encounter problems with the railroads that their model trains run on. This may be down to natural damage that occurs from extensive use of a model railroad or impairment through an external factor such as weather damage if using a 'garden scale' model.
Whilst it may be easier to simply purchase a brand new railroad that has been damaged, repairing a single component may be a cheaper option.
There are a number of singular parts of model railroads that can be restored with replacement pieces available from auction sites such as eBay at reasonable and cost-effective prices.
Model Railroad Scales
If looking to repair any part of a model railroad, the whole process is made easier if the scale or gauge of the railroad is known and fully understood before looking to purchase a replacement part.
Here are the three most commonly used scales of railroad that substitute pieces can be purchased for:
G Gauge: G gauge railroads and locomotives are generally used outdoors due to them being the largest of the railroad scales that aren't used to carry passengers. The 'G' was originally given and named after the German word for 'big', which is 'Gross'. However, it is commonly referred to as the 'garden scale' because of the location it is used in most by collectors and model rail enthusiasts. G gauge tracks are most commonly 45mm apart so if one is looking to replace or repair parts from this scale be sure that they are of this specification.
OO Gauge: OO gauge railroads are mainly used indoors and are the most regularly used model railroads. The OO gauge is also the scale most catered for in terms of replacement parts, due to its popularity. As far as their size is concerned, the gap between the railroad tracks vary in size between 16.5mm and 19mm. Due to the variety in size, care must be taken so as to ensure that any replacement parts fit the required specification and gauge.
O Gauge: O gauge model railroads tend not to need as much replacing or repairing as other scales. This is down to the fact that not as much strain is placed on the railroad as O gauge is generally considered to be a 'toy' scale. This means that there are not as many engineering faults and track liabilities that occur. Whilst this is the case, eBay has a number of O gauge replacement parts that can be purchased at reasonable prices. O gauge railroads are 32mm in track width so be sure to look for substitute components at this scale.
Components of a Model Railroad
There are many components that make up the full composition of a model railroad. This section of the guide will offer information on the main components of a model railroad that encounter the most repairable problems and are therefore are extensively available for purchase:
1.Track: The track is the part of the railroad that the model train rides on. This can be damaged through overuse or on occasion, misuse. There are three different kinds of track:
Flex Track: This is track that can be purchased separately and then altered in its form before being permanently set with adhesive. Flex track can be cut to any size and bent to suit any degrees within reason.
Curved Track: Self-explanatory because of its name, these are pieces of track that have bends to enable cornering. The degree of arc in curved track can vary to suit most cornering requirements.
Straight Track: Again, self-explanatory in its design, these are straight pieces of track that are easily replaceable or repairable
2. Transformers: The
transformer
is an important part of providing power to the track. Most transformers contain a speed controller, a circuit breaker and the option to run the train in reverse. There are four commonly used transformer types:
Plug-in Wall Transformer: Plugged in to a mains electric power outlet, these transformers allow for a small amount of power to be provided for the track.
PC Mount Transformer: In terms of power, PC mount transformers hang in the balance between plug-in and chassis mount transformers.
Chassis Mount Transformer:Chassis mount transformers offer a lot more power compared to the two transformers mention above.
Toroidal Transformer: These are ring-shaped transformers that whilst being the most efficient power supplier are higher on the price scale and used by experts and long time hobbyists.
3. Points: Otherwise known as turnouts, points are used in the routing of trains if more than one track is being used. You can buy points that turn locomotives left or right. They can also be purchased for use on curved tracks. Other form of model railroad points are available that cater for three way turnouts and the crossing over of tracks.
4. Crossing: A crossing is the place on the track in which a train going in one direction crosses a track that takes a train in the opposite way. These crossings are available in a variety of degrees, ranging from 15-degree angles right up to 90 degrees.
Model Railroad Repair Tools
There are a number of tools that can be used in the repairing of model railroads. Before attempting to fix a damaged component or replace a broken part, be sure to have the right tools specific to the job in hand. Below is a table outlining the tools that are commonly used in the repair of model railroads:
| Tools | Description |
| --- | --- |
| Track Rubber | Track rubbers are used in the smoothing of track surfaces to limit damage to the wheels of the model and to the track itself. |
| Track Cutter | When replacing track, it is rare that track will be found that is already measured to specific requirements. Track cutters are used to cut track down to required size. |
| Wire Cutters | If it is an electrical problem that needs repairing then wire cutters may be needed in order to cut wire to size if wire is being replaced. |
| Voltmeter | A voltmeter is used for the measuring of electricity. It can be used to both spot a problem that needs repairing and for measuring how successful the repair has gone. |
| Hobby Knife | When cutting track or laying new track down there may be rough edges. A hobby knife can be used to cut these rough edges so that the track laid is smooth as possible. |
| Soldering Gun | Used for wiring and electrical problems, a soldering gun is an extremely useful tool in the repairing of electrical faults. |
| NMRA Gauge | An NMRA gauge is used in the measuring of track gauges, checking track points and wheel gauge. It is a multi-purpose tool that is recommended for every model train user. |
Buying Replacement Parts and Tools Online
When looking to repair a model railroad, there are a number of online resources that can be utilised in order to help.
With model railroading being a popular hobby amongst a lot of people, there are forums that specialise in the discussion of this specific type of model collecting.
These forums are useful when looking for price comparisons and brand recommendations. They also offer expert advice on how to repair model railroads and provide useful tricks and tools of the trade.
Browse these to gain further insight into the repairing of model railroads from other hobbyist and collector's points of view.
Also make use of online model retailer websites to gain an understanding of the prices that are paid for replacement parts and tools. This may be useful in the process of getting such items at more reasonable prices on the likes of auction sites such as eBay.
Buying Replacement Parts and Tools on eBay
eBay is host to both spare parts and the tools necessary for repairing model railroads.
To find the most suitable replacement part, visit the Trains/Railway Models section. This can be found in the Collectables category.
If there is a specific part of the railroad or tool that is required, use the keyword search bar to narrow the search, as well as making use of the filter tabs available on the right hand side of the page. These can be useful as they eradicate irrelevant results to your search.
Once the search has been narrowed to a specific product, be wary of the seller from which the part or tool is being purchased. Be thorough in the reading of the product description and make sure that the images provided of the product are clear and true to the condition described. Also, check the seller's previous transaction history to see the transaction experience that others have had with the seller. Asking the seller a question is also an option if one is unclear on a specific part of the transaction.
If the desired product has the option to place a bid then be sensible in doing so. It may be a wise idea to set a payment limit so as to avoid paying over the odds. Replacement parts are also available at Buy It Now prices but this is a facility that should also be used with care. For example, compare a Buy It Now price to one given on a specialist retailer's site.
With all this in mind, take eBay's Terms and Conditions into account so as to ensure an easy and secure transaction.
Conclusion
Repairing a model railroad can be narrowed down to a very specific electrical fault, or merely damage to a section of track. The easiest way to ensure a safe and effective repairing of a railroad is to be as knowledgeable as possible on the problem and the solution.
To avoid having to repair a model railroad regularly, maintain the railroad constantly by cleaning it and take the uppermost care whilst it is in use.