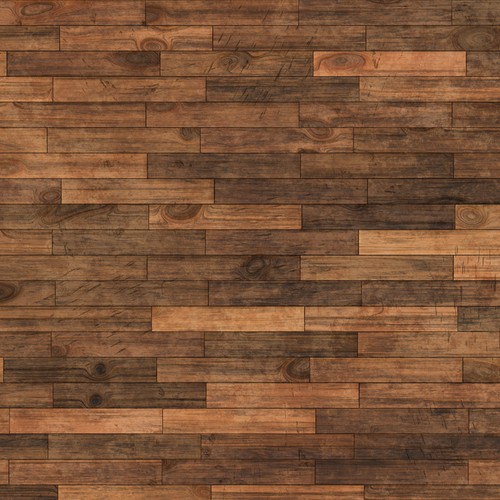 Even though it is one of the hardest woods available, owners of oak flooring still sometimes need to repair stains, gouges, water damage, and warping from humidity changes. A simple solution is to remove a board from a closet area that contains the same wooden floor, cut out the defective board from the main living area, and replace it with the switched-out piece of closet flooring. Then, owners can replace the closet floor piece with another piece of wood that, when stained, blends in and goes unnoticed in the darkened area. However, sometimes owners cannot so easily replace the flooring, so they need to repair their flooring following a few simple techniques and using a few tools they can find locally or on eBay.
Gather Tools and Materials
Before starting the project, gather or purchase materials to make the repair. Owners usually need hand tools, pieces of new oak flooring, a circular saw or jigsaw, sandpaper, carpenter's glue, and wood stain.
Matching the Oak Flooring
Many times homeowners use leftover wood to make repairs. If owners do not have the same wood flooring available, they should try to find a close match to their oak floor boards, keeping in that mind oak flooring comes in varying colours and grain patterns based on the type of oak, such as red or white. Owners should choose seasoned oak flooring over greener products to match an older floor. Flooring acclimates to the environment over time and becomes darker, so a drier wood can provide a closer match to existing flooring.
Remove the Damaged Flooring
Installers use nails to connect tongue and groove oak boards where the boards butt together. Owners can use a circular saw that contains a metal saw blade to cut through these nails while cutting out the defective piece of oak flooring. Set the circular saw to clear the width of the oak flooring to remove the old board. Some people make three separate cuts into the defective board and remove it with a chisel to avoid destroying surrounding boards. Many owners choose to use a jigsaw as it is offers some advantages for removing damaged flooring.
Power Tool

Advantages

Disadvantages

Runs faster than a jigsaw

Angle of cut does not change

Requires a skilled user to operate

Throws out sawdust

Gets into close areas

Makes a clean cut

Manoeuvres into curved edges

Cutting depth depends on length of saw blade

Runs slower than a circular saw
Before attempting any repair, owners need to be skilled at using whichever power tool they select.
Prepare the Surrounding Area
When owners remove the old board, there can be jagged edges on the surrounding pieces that need sanding using a coarse grade of sandpaper such as 60 grit to smooth out the edges. While sanding, avoid damaging the surrounding wood by using an electric belt sander or manual block sander, making sure to sand in the direction of the wood's grain. Make sure to save the old board to use during the staining process.
Install the New Board
Before installing the new piece, trim off the tongue edge to ensure a tight fit and cut the new board's length to fit the space. Owners can secure the new board in place using nails or glue. When nailing the board in, owners should fill the nail holes with wood putty to match the wood. When gluing, owners should use carpenter's glue or wood adhesive to adhere the piece permanently into the space.
Stain the New Board to Match
Owners should look for a wood stain that matches the rest of the floor. It may take a mixture of several stains to come up with the exact colour. The floor finish may be shellac, varnish, or polyurethane, so choose one that is as close as possible to the original seal. Owners should apply the stain to the patch using a paintbrush, making sure to avoid getting it on the surrounding boards. Be sure to allow the wood to dry for at least 24 hours.
How to Buy Materials to Repair Oak Flooring on eBay
Finding materials to repair oak flooring is easy using the Search bar on any eBay page. Type in search words such as oak floor boards, wood stain, or any other item needed for the project. Sellers list specifics about each item and shoppers can consult the seller's feedback rating, which indicates the seller's history with other shoppers.
Instead of replacing a complete wood floor, owners can replace damaged boards. With a little patience and hard work, owners can restore oak flooring to its original beauty using tools and materials they can find at local hardware shops or on eBay.