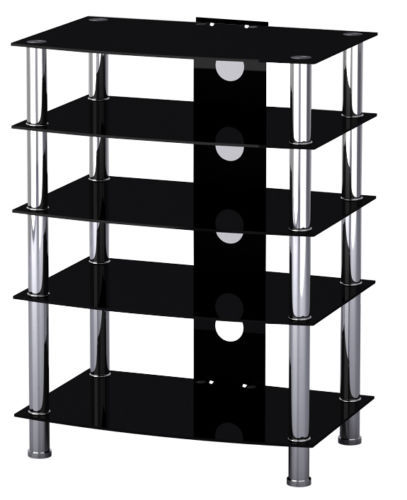 Just about every home has a TV stand, and it's usually the focal point of a living room or home theatre setup. It's normally upgraded when a new TV is bought, especially if the new TV is larger. Due to this, a TV stand is usually a piece of furniture that is bought and then forgotten about, apart from some routine dusting. However, as TVs get bigger and heavier with each new generation, an older TV stand can come under stress from the extra weight. This can eventually cause damage or break certain parts of the stand, which can put the expensive TV at risk. It's a good idea to periodically check a TV stand for signs of damage or wear. In some cases, a new TV stand may be required or basic repairs done if the problem isn't too serious. This guide will recommend how to check a TV stand, determine the severity of any damage, and then outline some common TV stand materials and what repair tools may be required.
Checking the TV Stand
First, the TV stand needs to be checked. Remove the TV carefully and place it in a secure area, out of harm's way. Carefully examine the stand, and pay particular attention to any joins or load bearing points such as the corners or where shelving meets the frame. If the TV stand is made of cheaper materials, such as plywood or particle board, make sure that the stand and any shelves have not bowed due to the weight placed on them. Also check for any swelling or other damage which can be caused by moisture in the air. Also look for cracks, chips, or scratches. Smaller ones can be covered up, but larger cracks may be a sign of more serious damage. If in doubt, consider repairing the unit, or even replacing it altogether.
Determine the Extent of the Damage
If any damage has been found in the TV stand inspection, look closely and decide how serious it is. If the TV stand is made of medium density fiberboard (MDF) or other engineered wood, a deep crack or break in the stand may be impossible to repair. In this case, it may be a good idea to replace it with a new one. On the other hand, if the repair that is required is not as serious, such as replacing a hinge or reinforcing a shelve with a stronger bracket, then this can safely be done with some basic tools and know-how.
Some Popular Materials Used in TV Stands
MDF is a term commonly used for medium density fiberboard. It's cheap, and often just as strong as regular wood. In some cases it's also lighter than real wood, making it a popular choice for furniture chains and manufacturers. MDF is commonly used in kid's furniture, table tops, and flat-pack furniture. Because MDF doesn't have a wood grain, it can be easily cut or drilled into without causing any damage to the surface. If the TV stand in question is made of MDF, repairs are usually fairly easy. Wood Veneers are made from thin pieces of wood which are glued to the surface of furniture to recreate the look of real timber. It's an effective and versatile method of creating expensive looking furniture on a budget. If the TV stand is made from wood veneers, care must be taken to make sure the veneer doesn't crack or split when drilling into it. Laminates are made from a layer of thin wood or sometimes cardboard, which is glued to a wood base and then sealed with a coating of special resin. Laminates are commonly used in kitchen bench tops, office furniture, and other furniture, including TV stands. The same precautions for wood veneers apply to working with laminated wood items. The top layer can split or crack if care is not taken.
Tools Needed for Basic TV Stand Repair
At the bare minimum, it's suggested to buy a basic claw hammer, screw driver set, craft knife, measuring tape, self-tapping screws, and a series of small brackets. Don't forget a pencil for marking screw points. Wood glue can also be useful, but remember to use it in a well-ventilated area.
Other Handy Materials for Basic TV Stand Repair
If a shelf is being replaced, take the measurements to a local hardware store and buy a matching piece of MDF or timber from the home handyman section. Most hardware stores can cut these materials to order and shouldn't charge extra for this service. Some paint, a splash sheet, and basic brushes can be used to repaint a TV stand that is old or has scratches or scuff marks. This is a simple repair job and can be done by kids if they are available. A spirit level can be used to make sure everything lines up perfectly, but this may not be necessary if only simple repair steps are being taken.
Preparing a Work Space
Take the TV stand from the room it's in to a well-ventilated area where tools can be laid out and everything is easily accessible. A garage is a perfect choice, but it can also be done outside, weather permitting. Keep any screws or bolts close at hand, and use a small lunch box or other container to keep them handy. Make a diagram on some scrap paper if the TV stand design is complex or there are more than a few components to keep track of.
Basic TV Stand Repairs
Hinges are easily replaced or tightened if they have become loose over time. If the hinges are attached to glass doors, make sure they are held securely before removing the hinges. A second person would be a great help in this situation. If the TV stand is slightly out of shape, metal L shaped brackets can be screwed onto the corners to increase the structural integrity. Add a coating of wood glue to both surfaces before screwing them together to make a good seal. The same type of brackets can be used under shelves to make them stronger. A new shelf can be added by carefully removing the old one and replacing it with a pre-cut piece of MDF or timber. This can be a good way to increase the storage capacity to fit more movies or CDs.
Buying a New TV Stand on eBay
If the TV stand is too damaged to repair at home, or it's simply too small to accommodate a new TV, the only option may be to buy a new one. A great place to buy TV stands or any other furniture item, is on eBay. To navigate to the right area to search for TV stands, go to the eBay homepage. Once there, select Home & Garden from the left hand side menu, and then mouse over Furniture & Living, before choosing Furniture from the pop-out menu. From the left hand side menu again, select TV & Entertainment Stands to see thousands of TV stands available to buy. If the selection is too broad, a series of tick boxes on the left hand side can be selected to narrow down the search results. Under the Type menu option, select Stands to start the search. Then, further down the left side menu is a Materials sub heading, which allows certain TV stand materials to be selected. Steel is a popular choice these days, along with more traditional solid wood varieties. The eBay system can even search for TV stands based on the size of the TV being displayed. Every size is catered for, from smaller 15" TV sets up to massive displays .
Conclusion
A TV stand is an often overlooked piece of furniture but can offer years of trusty service if maintained and checked regularly. Basic repairs can be done at home to keep a TV stand in good shape, but sometimes years of service can leave a TV stand in bad condition. In this situation, buying a new TV stand from eBay makes perfect sense. Make sure to buy one slightly larger than necessary to make sure it's future proof.