The Astra G remains popular as a used vehicle more than a decade after the last new model rolled off the production line. Owners enjoy customising these cars with angel eye headlights and other accessories that once belonged only to top performance cars. Replacing Astra G headlights takes a bit of effort, but it is possible for owners to take care of this chore on their own.
Purchase the Correct Astra G Headlights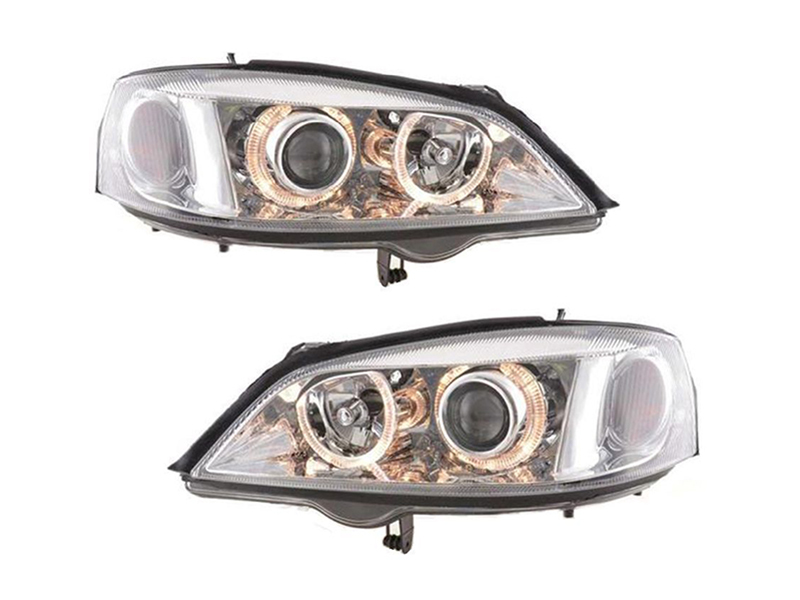 Unlike some other Astra models, Astra G OEM headlights are sealed beams, which means the entire headlight assembly requires replacement. Aftermarket headlights include black frames for LED or Xenon lights, preassembled Astra G angel eye headlights, and projector headlights with LED daylight running lights.
Replace Astra G Headlights
Replacing Opel Astra G headlights requires releasing the front bumper and the grille. Some people completely remove the bumper, but others simply release the top of the bumper and let it rest on a cushioned surface. The second approach places more stress on bumper clips. Either way, obtaining extra Vauxhall bumper clips when purchasing the headlights is a smart way to make sure delays do not occur due to broken clips.
Step by Step Installation

Put a thick cloth or mat on the floor in front of the car for the bumper. Undo the two bumper screws in each front wheel arch lining. Open the bonnet and undo the three screws that hold the top of the grille. Gently pry the grille from the bumper. Likewise, pry the bumper from its connection with each arch. Remove the two plastic clips at the centre of the bumper and use a flat head screwdriver to unfasten the clips holding the centre of the bumper in place. Pull the bumper toward you and lower it to the ground. Unfasten the three screws holding each headlight in place. Carefully unfasten the electrical components from the clip holding them. Reverse this process to install the new lights.
Upgrading to Angel Eyes or LED Headlights
When new headlights are different from the ones previously used, the wiring harnesses are also different. Be sure to carefully follow the installation instructions. Angel eyes and LED wiring usually connects to wiring for parking and signal lights. However, multiple wires are at both ends of these connections. Those who are uncomfortable with electrical 'trial and error' may prefer to have a mechanic complete this upgrade.
Preventing Condensation in Astra G Headlights
It is possible to avoid condensation in the headlights. Open the bonnet and look for two nipples about 20 cm on either side of the latch. Turn these counter-clockwise to slightly increase the cushion they create for the bonnet. Finding the right adjustment is trial and error, but the right setting allows enough additional airflow to prevent condensation.