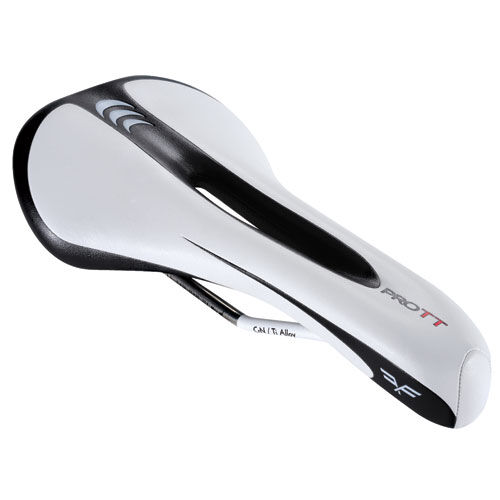 Bicycle saddles may need replacing for a number of different reasons. For example the saddle may be damaged or it may not match the cyclist's style of riding. Either way, the replacement of a bicycle saddle can be made easy through an understanding of the components of saddles and the equipment needed to affect their replacement.
There is a variety of different saddles on the market and each type requires its own approach to replacement. Some saddles are fixed via a vice or grip, whereas others are screwed into place to assure stability and sturdiness.
Replacement saddles for all riding styles, (for example, racing saddles) and their fixing tools can be found on auction sites such as eBay at very reasonable prices. This guide will take prospective buyers through the anatomy of a saddle, and the methods needed to replace one.
Category of Bicycle Saddle
When purchasing a new saddle, the best way to ensure a good deal is to find out as much as possible about the different types of saddle. Here is a table to guide buyers through saddles to suit all riding styles and techniques:
| Type of Saddle | Description |
| --- | --- |
| Cruiser Saddle | Cruiser saddles tend to be found on bikes used for light recreational purposes or for the commute to work. They are designed to allow for maximum comfort whilst one is cycling, as well as enabling riders to maintain an upright position comfortably. Riders of cruiser saddles sit upright, so considerable pressure is placed on the saddle from the human body, hence the added cushioning. Those riders who choose cruiser saddles place less emphasis on riding fast as their movement tends to be limited by this saddle. |
| BMX Saddle | Whilst those who ride BMX bicycles recreationally tend not to make extensive use of the sitting position, preferring instead to adopt a standing posture, BMX saddles are still available for purchase and can be used on other types of bicycle. The majority of BMX saddles do not have a lot of cushioning and are narrower than, for instance, cruiser saddles. This allows for a greater level of movement whilst riding, something that is particularly important for cyclists who wish to race or execute stunts. |
| Racing Saddles | Racing saddles are common amongst cyclists who enjoy racing, as well as those who ride road bicycles. Whilst they are used by cyclists who wish to ride long distances, these saddles don't have a lot of cushioning and support. They are much like BMX saddles in that they are extremely narrow. The thinner nature of the nose of a racing saddle allows cyclists to achieve a greater level of movement. They typically lean forward so as to place pressure on the handlebars and pedals, enabling them to ride a great deal faster. Racing saddles can be painful during their initial period of use so be sure to either try out a few or ask for recommendations before finalising a purchase. |
| Comfort Saddles | Comfort saddles for bicycles are similar in design to those that are considered to be cruiser saddles. They are often wider than racing saddles and contain a larger amount of cushioning for added comfort. However, they are also made with the intention of being used for road bikes and mountain bikes as their added suspension and cushioning means that they are most suited to those who wish to cycle over rougher terrains. An indication of a comfort saddle can often be found in the form of holes which run the length of the saddle and relieve pressure on the parts of the body that make contact with it. |
Bicycle Saddle Parts
Once a type of saddle has been decided upon, it is a wise idea to understand the different components that make up the saddle itself. This is helpful in discerning the reasons why a saddle may need replacing or how to maintain a bicycle saddle's condition in the future. Here is another table explaining the different components of a bicycle saddle and its functions:
| Bicycle Saddle Part | Function |
| --- | --- |
| Shell | This is the part of the saddle on which the cyclist sits. It is otherwise referred to as the frame of the saddle and can be made from leather stretched over an outer frame. However, shells are commonly made from synthetic material such as carbon fibre or nylon for a higher level of comfort and robustness. Shells can be adapted to the varying types of saddle that are available and can be customised to suit certain weights or body shapes. The shell of a bicycle saddle can often be damaged through misuse, for example in a crash or incorrect storage. Whilst shells can be purchased separately they can be difficult to attach to the other saddle components. |
| Suspension | The suspension on a bicycle saddle is one of the more fragile components in the make-up of the saddle. It is designed to absorb shock and to limit the amount of vibration that occurs whilst riding. Because of its function the suspension of a bicycle saddle is the most frequently reported form of damage. This is especially true of mountain bikes, as they tend to encounter rougher terrains than, for instance, racing bikes or road bikes. Again, saddle suspension can be purchased as individual components but the fitting of saddle suspension is not recommended if one is unfamiliar with assembling bicycles. It is often better in terms of both safety and finance to purchase a replacement saddle as a whole. |
| Rails | The rails of a bicycle saddle often encounter damage. Whilst they are purpose built to provide support and fore and aft adjustment on the saddle, they can be easily broken. Rails are commonly 7 millimetres in diameter and can be found in a number of different metals, including titanium, carbon fibre, steel or aluminium. |
| Cover | The saddle cover is the material that covers the shell. It can provide the cushioning for a saddle in the form of different kinds of foam or, where there is little or no cushioning, can be a means of aesthetic decoration. Covers can often be damaged through the incorrect storage of a bicycle, through general wear and tear or simply through overuse. There are a wide variety of materials, colours and designs used in the manufacturing of bicycle saddle covers. |
Fitting a Replacement Bicycle Saddle
When fitting a replacement bicycle saddle, it is wise to be aware of the tools needed to do so. Whilst some bicycle saddles may be easily replaced through a vice-like saddle attachment system that simply clips and unclips, some bicycles require more of a complex saddle fitting. If a saddle is attached to the bicycle via a series of nuts or screws then an adjustment wrench is necessary.
Regardless of a bicycle's saddle fitting system, one should have a tape measure so as to ensure that the distance between the top of the saddle and the pedal is the same as the measurement of the inseam of the cyclist's leg.
Replacing a Bicycle Saddle Using eBay
eBay is home to all of the equipment and components necessary to replace a bicycle saddle. Whether it's an individual piece one is looking for, or a saddle as a whole, the site offers buyers the chance to find what they require at entirely reasonable prices.
The advantage of using an auction site such as eBay is that there are sections of the site with listings dedicated exclusively to the purchase of bicycle parts.
To view these listings, visit the Sporting Goods category of the site. From there, choose the Cycling option and make use of the Bike Parts filter tab. The option to view listings for Saddles & Seatposts should then be made available. If the listings are still not specific enough, make use of the keyword search bar at the top left hand side of the page to tailor the search to individual requirements.
There are a number of purchase options available to buyers on eBay, such as:
Placing a Bid
Using the Buy It Now option
Using the Best Offer option
There are also a number of things one should do before settling for a purchase:
Check the seller's previous transaction history.
Make sure clear images of the product are provided.
Read the product description to make sure that it matches the images.
Be aware of the eBay and PayPal terms and conditions.
Conclusion
The replacement of a bicycle saddle need not be a difficult, time-consuming or expensive process. Using the information in this guide, one can be sure that an appropriate item will be found.
Researching all available products with the confidence of some prior knowledge of bicycle saddles can lead not only to a correct choice of saddle, but also to the opportunity to find an inexpensive deal.
Purchases can be made in the confidence that money transactions will be securely handled. Whether it is a cruiser saddle or a comfort saddle one is looking for, eBay provides a wide marketplace with a multitude of choice and bargains.