Replacing an LCD screen can be an expensive procedure. You can avoid a large portion of the expenses by replacing the laptop LCD screen on your own. The procedure requires only a few basic tools and a fitting replacement screen. With some guidance on how to pick the right screen and how to make the swap, anyone who has some basic technical knowledge can do it.
Necessary Tools
To replace the laptop screen, you need a few basic tools, usually including a set of small flat head screwdrivers, cross head screwdrivers, plastic pry tools, and metal pry tools. A small knife can replace the metal prying tools, and a camera may come in handy to document the whole process. Some fixing tape and glue can also be of great help during this procedure. Many of these tools come in a laptop tool kit.
Removing the Frame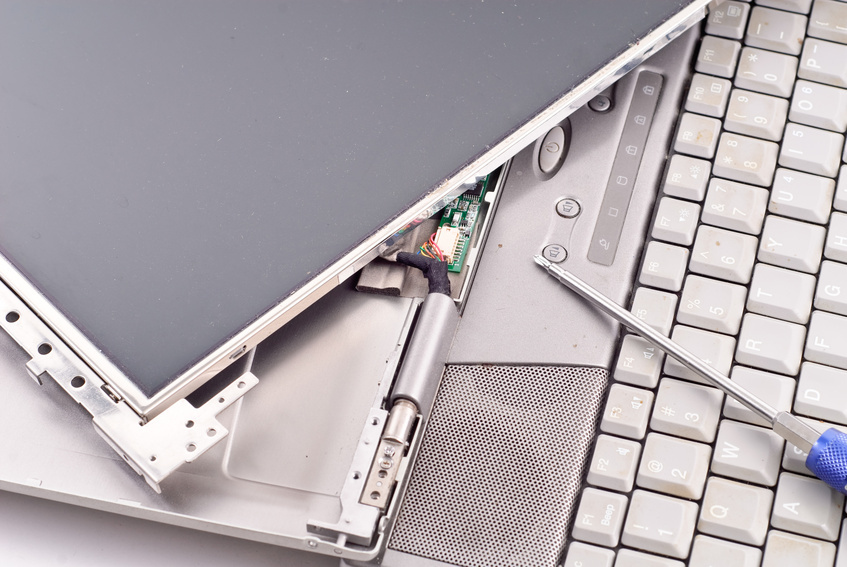 Completely disassemble the lid of the laptop. Start by removing the support screws that hold the frame. Their positions vary from one model to another, but the screws are usually on the same side as the screen surface. They can be hidden behind the lid bumpers, so remove the bumpers to make sure that no screws are left unnoticed. When all screws are removed, the frame can still be firmly connected to the lid with clasps. Gently use a plastic pry tool to separate the frame from the lid without poking inside and scratching the exterior surface.
Removing the LCD Screen
Look at the edges of the lid. The screen should be secured on more than one point with additional screws. Remove the screws and use a metal pry tool or a knife to release the screen from the connection points. Once the screen is loose, gently manipulate in a way that allows you to remove all the connectors. With the removal of the connectors, the screen should be free from the laptop. Document these steps with a camera to make sure you can retrace your steps to install the replacement LCD screen.
Installing the New Screen

Repeat all steps in reverse to install the replacement screen. Start by fixing the connections in place onto the new screen. Use fixing tape to secure the main connector as the lid sees a lot of movement. You can even fix the camera cable to the back of the screen to ensure there is no movement in the back. Put all screws back in place and turn on the laptop to see if the replacement was successful. Once you are sure that the new screen works fine, use glue to return the rubber bumpers to their original place.