No one wants to toss a favourite necklace in the bin or donation bag due to a broken clasp, but taking it to a jeweller can be time consuming and expensive. However, it is a simple process to fix a necklace clasp at home with a new clasp and a few simple tools. Needle nosed pliers, a magnifying glass, and a bit of patience are all you need to replace a necklace clasp and have your jewellery looking and functioning like new.
Types of Necklace Clasps
Understanding how the different claps work can help you select the perfect clasp for your necklace. The most common clasp is the spring ring clasp. This kind opens when you push backwards on a small lever that slides along the circular ring. With the clasp open, it is simple to insert the chain loop attached to the other end of the necklace to complete the circle. A lobster clasp has a tiny spring in the mechanism that keeps the arm closed until you push on the lever. Lobster claws are secure clasps that are very popular and are somewhat easier to open than spring ring clasps are. Box clasps are two-piece clasps that attach to opposite ends of the necklace. Pushing down on the exterior lever on a wedge shaped piece of metal compresses the clasp so it slides in and out of the opening. Magnetic necklace clasps are easy to use, but can come loose if caught or pulled, resulting in the loss of the necklace.
Examine the Necklace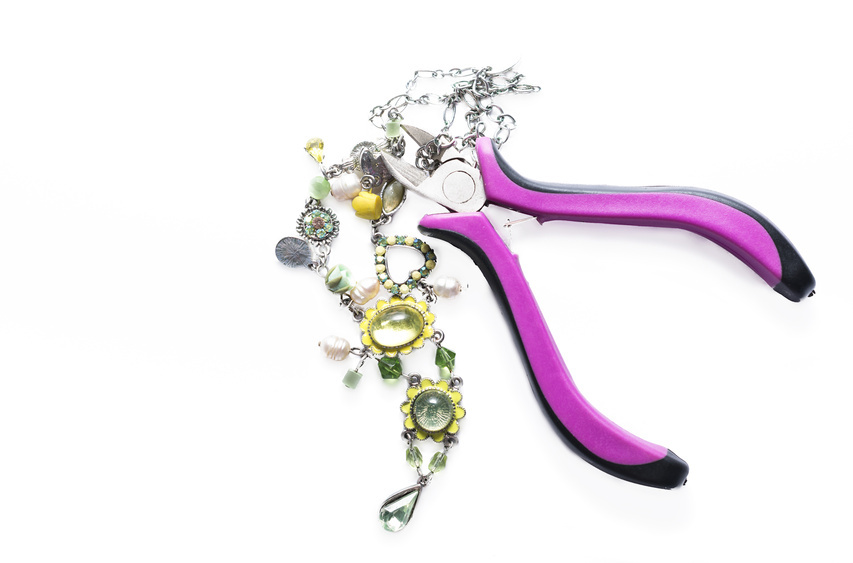 Examine the necklace carefully and note which style of clasp you need as well as whether the O or jump rings need replacing. If you have a vintage piece, there are vintage necklace clasps available. Be sure to purchase jewellery fasteners of the same metal as the one you are replacing. Be sure to use gold clasps on gold necklaces, and sterling silver lobster clasps for sterling. To replace your necklace clasp, you need needle nosed pliers, a magnifying glass, small regular pliers, a new clasp, and jump rings if the old ones are broken.
Replacing the Clasp

Open the jump ring on the end of the necklace that holds the clasp to the chain. You do this by finding the small slit in the metal and using needle nosed pliers to pull the O-ring apart. Do this by grasping the ring with two pairs of pliers and pulling them apart. The ring should open easily. This is a good time to replace the old O-ring as well, if needed. Slip the new clasp into place and close the O-ring by pushing the two halves together with the pliers.