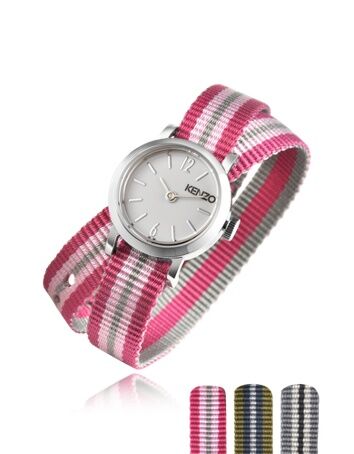 Replacing a watch band at home can save money and time compared to taking it to a jeweller. With a few tools, buyers can follow some easy instructions to replacing their band. Individuals have a few options when it comes to band type. For those who want a stylish band for a formal occasion, they can consider a leather or metal band. Buyers looking for a new band for their diving watch can choose a durable nylon or rubber watch band.
Watch bands are sold at most jewellery stores and major department stores. Many buyers head online to find a good quality watch band at a competitive price. eBay has a wide selection of men's, women's, and children's watch bands for sale. Consumers looking to replace a watch band should learn about the tools and steps required to remove an old watch band and replace it with a new one. Knowing about the different types of bands available helps individuals to make an informed decision about which replacement watch band to buy.
Tools Required for Replacing a Watch Band
It can be expensive taking a watch to the jeweller's to have the band replaced, and being able to change a watch band at home is a useful way to save money. When a watch band becomes too worn, damaged, or broken, it needs to be replaced. Some people even choose to replace their watch band to give a different look to their watch. Once a buyer has purchased a new watch band, there are a few tools necessary to replace the band. They include a polishing cloth and a spring bar tool.
Polishing Cloth
A watch polishing cloth is a soft cloth designed to clean and polish watches, sunglasses, and other types of jewellery. It is lint-free and does not scratch the glass watch face. Some polishing cloths, such as the Cape Cod polishing cloth, can even help to remove scratches and blemishes from the metal watch surface. They are pre-moistened with a special metal polishing substance and reusable. Cape Cod cloths can be used on stainless steel, gold, silver, aluminium, and chrome. The polishing cloth is used to set the watch on when replacing the strap.
Spring Bar Tool
A spring bar tool is used to remove the spring bar from the body of the watch. It has a two-fork prong at one end and a pin point at the opposite end. The type of watch determines what end of the spring bar tool is used. For watches that have a small outer hole at each outer side of the watch case where the spring bar fits securely into, individuals may use the pin point end of the tool. Watches that do not have this hole to access the ends of the spring bar should use the fork end of the spring bar tool.
Preparations to Replace a Watch Band
Changing a watch band can be a fiddly and tricky thing. It pays to have all tools and equipment neatly laid out, ready for use. To replace a watch band with ease and comfort, have enough clear space available, a sturdy flat surface, such as a kitchen table or kitchen bench top, and sufficient overhead lighting to see the small parts clearly. If one has any available, it pays to have a spare spring bar handy in case one gets lost or also needs replacing.
Unbranded spring bars tend to be less expensive than branded spring bars, and are ideal for use on inexpensive watches. Owners of top quality watches are advised to purchase spring bars made from the same brand as their watch. Omega, Rado, Rolex, and Seiko, are just some of the brands who make spring bars designed specifically for use with their watches.
Removing the Old Watch Band
Removing a watch band can be done quickly and safely. In order to easily and effectively remove a watch band, simply follow these steps.
Step 1: Position the Watch Safely
Fold the polishing cloth into a square and place the watch face down on the cloth. This prevents the face of the watch from being scratched and helps stop the watch from sliding around. For those who find this a little too fiddly, they may like using a watchmaker's bracelet holder to keep the watch securely in place.
Step 2: Remove the Spring Bar with the Spring Bar Tool
Using the spring bar tool, gently insert the fork end of the tool over the end of the spring bar between the watch band and the lug that holds it in place. Push the tool inwards, towards the centre of the spring bar. One end of the spring bar will be freed. The spring bar is able to come completely free from the watch. The watch band should now be free from the watch. Repeat this step to remove the second watch band.
Step 3: Remove Spring Bars
Once both bands have been removed, gently remove each spring bar from the end of each band. If spring bars are in good condition, they can be used to attach the new watch band. If they are damaged or weak, they should be replaced with new bars.
Attaching the New Watch Band
Once the old watch band has been removed, ensure the spring bars are in good condition. If not, replace them with new ones. Attaching the new watch band is as simple as removing the old band. Simply follow the three steps below.
Step 1: Insert Spring Bars into the Watch Band
Gently insert the spring bars into each end of the new watch band so that they are centred. Each end of the spring bar needs to be visible, extending past the sides of the watch band.
Step 2: Insert One Spring Bar End
Gently insert the bottom end of the spring bar into the pinhole, ensuring the watch band is positioned up the right way. The outside of the band should face outwards.
Step 3: Secure Spring Bar into Place
Using the fork end of the spring bar tool, position the other end of the spring bar towards the opposite pinhole. Pushing the spring bar down with the tool, line up the spring bar so that the second end slips into the second pinhole. Take care not to scratch the body of the watch. Repeat this step with the second spring bar. Both watch bands should now be securely in place.
Different Types of Watch Bands
Watch bands come in a range of types. Each varies in durability, quality, and price. Some watch designers offer their watches with extra straps designed specifically for that specific type of watch. Many people like to match their watch strap to their outfit or the type of dress code they are wearing. For example; a metal watch strap may be used for more formal occasions, while a nylon or leather strap may be used for everyday wear. The following table provides a list of the popular types of watch bands and a description of each type.
| Watch Band Type | Watch Band Description |
| --- | --- |
| | Durable band that is comfortable to wear; more expensive than other types of bands; come in a wide range of colours and patterns; can be wide as with many men's bands, or slim and elegant, popular with women |
| | May be stainless steel, gold, silver, gold or silver plated, or titanium; metal bands are very durable and can look very sophisticated; spare metal watch bands can be expensive to purchase and range significantly in price |
| | Durable and hardwearing, suitable for sports watches and diving watches; comfortable and relatively inexpensive depending on the brand of watch strap |
| | Rubber watch bands are easy to clean, ideal for sporting and waterproof watches; can tend to be less durable than other types of bands as they can crack and split with long term wear |
The choice of watch band comes down to personal preference and budget. Buyers should consider where they plan to wear their watch before making any final watch band purchase.
How to Buy a Watch Band on eBay
If you want to find a watch band to buy on eBay, simply type "watch bands" into the search bar located on eBay's home page. This gives you an overall idea of what type and brand of watch bands are available. To filter these results further, you can search using a specific keyword phrase, such as a men's Omega stainless steel watch band or a Breitling leather watch band. Alternatively, you may like to refine your search by using the filter options, which include searching by gender, brand, condition, price range, or strap material.
When you have found a watch band you would like to purchase, read the listing description to find out what payment options the seller allows. It is recommended to buy on eBay using PayPal. PayPal is a secure online payment system used by most eBay users. Payments are sent quickly and safely using your credit card or bank account.
Conclusion
Individuals may choose to replace their watch band because their current one is damaged or broken, while others like to change their bands regularly to match their outfit. It is not difficult for individuals to change the band on their watch by themselves. With a few inexpensive tools, like a polishing cloth and spring bar tool, they can quickly and effectively replace their watch band with a new one. The type of watch band a buyer chooses comes down to personal preference and style. Some individuals like their watch bands to be leather with a wide strap, while others prefer something thinner and more minimalistic. The popular types of watch bands include leather, metal, nylon, and rubber.
Buying a new watch band is simple at eBay, an online site where local, national, and international sellers list a wide range of different types and brands of watch bands at various prices. eBay enable buyers to buy with confidence from reputable sellers so they can have an enjoyable eBay buying experience.