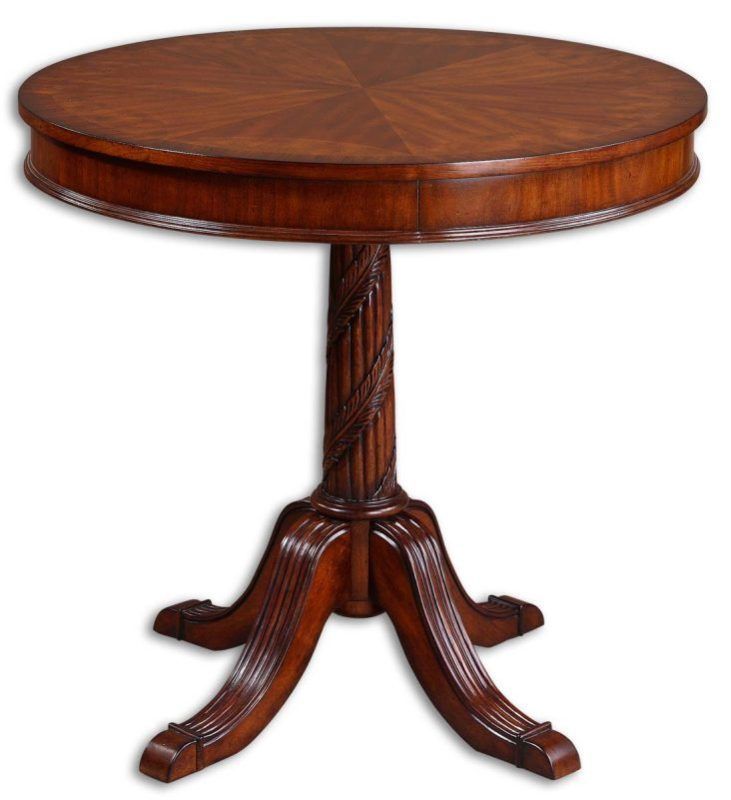 Scratches on wood furniture come from everyday events such as bumps, dings, and even cat claws. Often, owners' first impulses are to cover up the scratched furniture to hide unsightly damage. However, owners may peruse eBay or their local hardware store for an array of products such as paste wax, markers, stains, and touch-up crayons that can eliminate scratches and keep a favourite furniture piece looking good. When approaching a restoration project that involves wood furniture, owners should try to use a gentle hand while making the repair to preserve the existing finish as much as possible so that the refurbished area blends in rather than stands out.
Restoring Scratched Wood Furniture
Furniture owners need to determine if the scratch is only on the surface, involving just the finish, or if the scratch penetrates deeper into the wood. Both situations require several steps to restore the damaged wood. In addition, owners need to determine whether the furniture's finish contains old coatings of polyurethane, shellac, varnish, or lacquer and therefore requires a different restoration technique.
Repairing Finish Scratches
When glancing at the wood's surface from any angle, a surface scratch does not appear darker than the surrounding wood. Rubbing the finish with a paste wax usually takes care of the problem. Before applying the paste wax to the wood's surface, remove any built-up dirt and wax using a furniture polish remover. Then, use a small amount of the paste on a clean cloth and rub it into the wood, allowing 20 minutes of drying time. Finish the restoration by buffing off any residue. In place of a clean cloth, ultra-fine steel wool works just as well when applying the paste wax. In some instances, furniture oil removes superficial scratches as well.
Repairing Deeper Scratches
A deep scratch stands out from the furniture's overall appearance and has a different colour than the surrounding wood. Fill in the scratch with an appropriate colour of shoe polish paste, furniture marker, crayon, or eyebrow pencil to match the wood's colour. Next, rub in paste wax, remove any excess filler, let dry, and finish by buffing the wood's surface. Some scratches disappear with a wood stain that blends the scratch into nearby wood. Use a brush to apply the wood stain, wipe it off in 15 minutes, and buff. Apply several coats of the stain until the scratch is no longer noticeable.
Repairing Scratches in Surface Coatings
Cracks and scratches due to sunlight and temperature changes can appear on surface coatings. Owners should determine what coating is on their furniture using the clean corner of a soft rag or a cotton swab saturated with a specific solvent in a hidden area before attempting repairs.
Type of Surface Coating

Characteristics When Tested

Solvents like paint remover crack the varnish without removing it

Rubbing a coin over the finish flakes it

Lacquer

Lacquer thinner makes finish appear smooth and dissolves lacquer

Shellac

Denatured alcohol makes shellac liquefy but not dissolve

Rubbing a coin over the finish flakes it

Polyurethane

Rubbing a coin over the finish makes no change in appearance
Once a furniture owner knows what type of coating to treat, owners can restore the furniture. A varnish coating usually needs complete refinishing and a polyurethane finish usually requires light sanding with 600-grit sandpaper, buffing with fine steel wool, and polishing with paste wax.
Restoring Shellac and Lacquer Coatings
To restore shellac or lacquer coatings, clean the furniture with mineral spirits. Then, use a natural bristle brush to apply solvent to the wood's grain, working quickly. Brush on denatured alcohol for a shellac finish and lacquer thinner for a lacquer finish. The goal is to liquefy the coating and not remove it. At first, the finish appears shiny, but after 30 minutes, looks dull. The, buff the furniture with fine steel wool as if polishing the wood and follow with a paste wax. The furniture needs refinishing if owners can still see the scratches after this process.
How to Buy Repair Products for Scratched Furniture on eBay
Shoppers can find products for removing scratches from furniture by typing keywords into eBay's Search bar such as "paste wax", "furniture marker", or "wood stain". On the product listings page, shoppers can further narrow the choices using the categories and other filters. Upon finding the product and preferred seller, shoppers can purchase it with a few clicks of the mouse.
A scratched piece of furniture seems like a crisis until owners realise that specific products get rid of unattractive nicks. Instead of rushing to a professional refinisher, owners can restore furniture easily in just a few steps without having to know a lot about refinishing furniture.