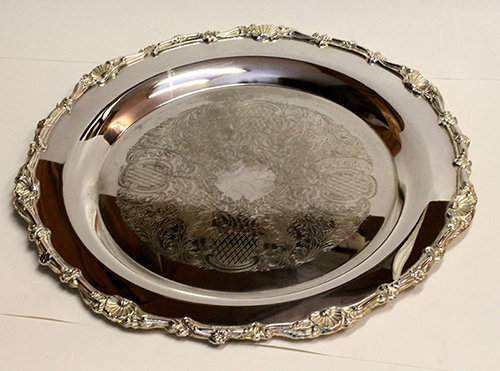 Silver - plated items and dishes are often treasured and handed down through the family for use at special events. However, they also tarnish over time, and lose their silver in spots. Owners have two options when it comes to restoring silver plating: an immersion silvering method and old-fashioned electroplating. Whereas electroplating puts down a heavier coat of silver, it involves toxic chemicals, including cyanide. Therefore, people most use a professional plating service. However, owners of silver-plated objects can try immersion silvering in their home for those items only needing some plating in worn spots.
The Process of Silver Plating
Silver plating works by creating battery conditions between free-floating silver and a copper or brass base. In terms of electroplating, a DC current is used, and the plating thickens onto the base even when the brass or copper are covered up. This method is far better for items where longevity or durability is an issue, but it is not extremely safe to do at home since it involves working with cyanide-based materials. However, a few companies, such as Clean Earth Plating Solutions and Spa Plating Silver Tank Solution, sell silver-plating solutions or systems that are not cyanide based. Because of the necessary equipment, these systems are somewhat expensive. Although some experts feel that the colour is not exactly right, it is usually good enough for limited home use.
The Immersion Method
The immersion method of silver plating works without electricity and costs less than buying an electroplating system. Instead, it uses chemicals to set up battery conditions. You can either wipe the chemical on or dip the object into a chemical bath. The chemicals in the solution interact with the copper or brass, creating a thin layer of silver plating. The process stops as soon as the exposed copper or brass is covered. This method is great for touching up thin spots in plating or filling in mild corrosion areas.
Silver Plating at Home
You can find a number of silver-plating solutions on the market, such as Nushine, Tableau, or Spa Plating. These chemicals make it easy to restore silver plating to worn items without having to send them into a professional. However, you should go through several steps before using the chemicals.
Preparing the Item
Many times, people think an item may need replating when it really only needs a good cleaning. Therefore, the first step is cleaning with water and a gentle cloth. For details that are hard to get at, use cotton swabs.
Next, remove any tarnish to restore the original gleam. Silver dips are available for purchase, and they act by removing the top layer of silver. You can either dip small items in the solution or put some of it on a cloth to rub across a larger item. Afterwards, rinse and dry the item completely.
Silver Polish
If the piece looks better but not shiny, consider working with an anti-tarnish silver polish. This particularly works well on antique silver dishes or silver instruments, such as flutes. Simply put some on a soft cloth and rub it on the silver's surface. Afterwards, you need to rinse and dry the piece again.
Immersion Silver Plating
Finally, if cleaning and polishing the item still shows worn spots or places where the silver is missing, then consider plating with an immersion system. In looking for the right chemicals, consider the amount of silver concentrate in the solution and how easy it is to use. Systems are often like the silver dip solutions. You only need to dip a small item, such as a fork or jewellery, for a few minutes in the solution, or wipe it across the thin spots for larger items. As soon as a thin layer forms completely over the non-silver area, the chemical process stops. Afterwards, you can wash the item and dry it completely.
How to Buy Silver Plating Solutions on eBay
eBay has a number of silver-plated items for sale, along with the cleansers, dips, and silver-plating solutions to take care of them. You only need to put the brand name or general name, such as "plating solution", into the search bar found on every page. Once the list appears, you can sort the selections by price range, location of item, and condition. Look for the badge that states " eBay Premium Service", which means the seller has an excellent track record with buyers and offers fast and possibly free shipping service.
If old silverware, serving dishes, or even an old instrument, like a trumpet, has some wear spots, you have choices other than throwing it out or sending it for expensive replating. At-home methods are often cheaper, quicker, and more convenient, and eBay makes it easy to get the solutions you need to fix any silver-plating problems.