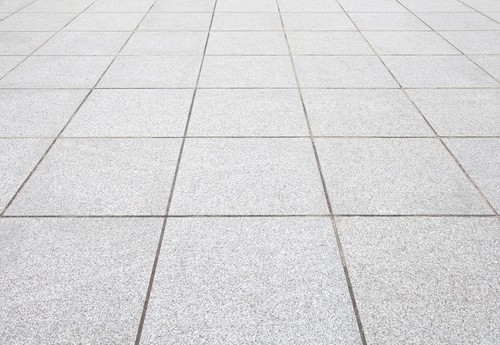 When it comes to flooring, tiles are the best choice for many areas in a home. The fact that tiles are water-resistant makes them perfect for bathrooms and kitchens. Their durability makes them ideal for high traffic areas, such as a foyer, where carpet would get tracked up and hardwood would get scuffed. Best of all, the variety of tile colours and patterns give homeowners tons of design options. As great as tiles are, they do, however, have one glaring flaw: the grout. Grout is easily stained or cracked, sometimes to the point of ruin. Ruined grout must be restored. This guide illustrates how to fully restore tile grout and keep tile floors looking immaculate for years to come.
Cleaning Dirty Grout
The first thing to do is inspect the grout and determine what it takes to restore it to its former self. If the grout is simply stained, it may be restored with a good scrubbing. This requires a nylon scrub pad, or any kind of scrubbing tool that does not scratch the tile, and an all-purpose cleaner strong enough to get the job done. Cleaners that tackle calcium and lime deposits are ideal. Deep stains and mildew may require a specialty tile cleaner. These acid-based chemicals are designed to pull stains right out, with little to no scrubbing at all. Homeowners who wish to avoid harsh chemicals may consider using a steam machine, which uses high temperature water vapours to soak into the porous grout and break up the stains from deep within. If it turns out that the grout cannot be cleaned, it needs to be replaced instead.
Removing Old Grout
The first thing to do when replacing grout is to completely remove the old grout. There are a few different ways it can be done. The first method for grout removal is a hammer and chisel. This is done by holding a chisel or large flathead screwdriver against the surface of the grout at a 45 degree angle and gently tapping the end of the chisel with the hammer. The impact easily breaks up the old grout, allowing it to be removed in chunks. Another method would be the use of a grout removal tool. These specialty tools have a unique diamond or carbide tip on the end that can easily cut through old tile. Instead of using a hammer, the force of a person's hand is enough to bust through the old grout so it can be cleaned out of the seams. The final method for removing grout involves power tools. A dremel tool, known also as a rotary tool, is by far the fastest and easiest way of getting rid of old grout. Choose an attachment designed for grout removal and simply run the tool along the grout line until all the damaged grout has been removed.
Mixing New Grout
Grout is nothing more than powdered grout mixed with water. Each package of grout mix specifies the grout-to-water ratio. Find a clean tray or bucket to mix the grout and pour in the ingredients exactly as the package says. Grout can harden fairly quickly once it is mixed, so a person should refrain from mixing more grout than he or she can lay in 10 or 15 minutes. Once it runs out, simply mix up a new batch and continue. A properly mixed batch of grout should have a consistency similar to cake icing. Poorly mixed grout can stain or crack easily and be difficult to maintain. The best way to avoid this is the follow the manufacturer's mixing directions to the letter.
Applying The Grout
To apply the freshly mixed grout, one needs a special tool called a grout float. The grout float is a hand tool used to pack and spread the grout along the seams. Scoop some grout mix onto the bottom of the float and run the float back and forth across the seams at a 30 to 45 degree angle. Do this until each seam is completely packed with grout. Once packed, lay the grout float flat and run it along each seam. This scoops up any excess grout. Scrape excess off on the side of the grout bucket, and continue until it is all removed. Finally, use a wet sponge or cloth to wipe down the tiles around each freshly laid grout line to clean up any leftover grout residue. After the grout has set up overnight, wipe it down again. After that, the grout should be completely cured in five days. Now that the fresh grout has been laid, it is a good idea to coat it in grout sealer, which protects the grout and keeps it looking fresh for years to come.
How to Buy Supplies to Restore Tile Grout
Before restoring tile grout, one needs to require the tools and supplies mentioned above. It is also recommended that a dust mask and safety goggles are worn during grout removal. Most of the necessary items are available at local hardware stores. For better deals, many of these items can also be found online. Websites like eBay carry a large variety of home improvement items and provide extremely simple search methods for finding the right tools for the job. Once all the supplies are gathered, follow this guide to have your old tile grout fully restored and looking brand new in no time.