Vintage Corgi toys can be a challenge to collect because they were not an item that sat on a shelf. Children most likely played with them and damaged them, so it is up to the collector to restore Corgi pieces to their original glory.
Strip the Old Paint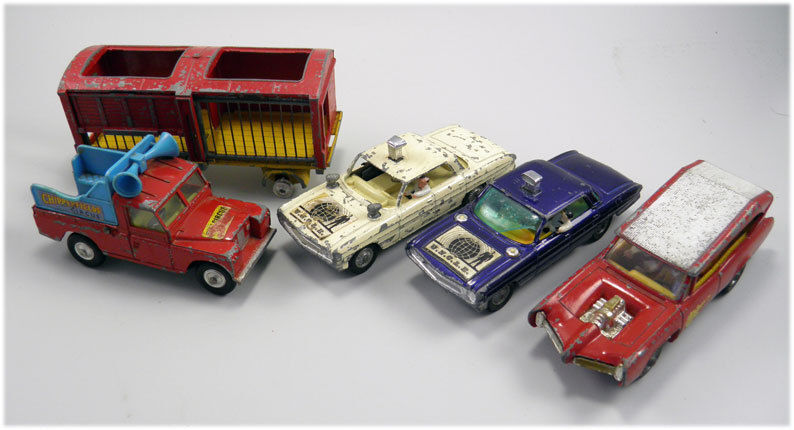 Stripping the paint helps the collector determine how much body damage there is. Use masking tape to cover up the parts of the Corgi car that need protection. Gently rub the paint stripper over the metal until the paint is gone. For tougher spots, combine one part water and one part fizzy drink in a bowl and submerge the die-cast vehicle. Wait for the bubbling to stop before pulling it out. Then, simply wipe off the paint. Be sure not to leave it in too long because the mixture will eat away at the metal.
Repair Body Damage
If there are missing metal pieces, use an epoxy based metal repair kit. To do this, place a small piece tin foil as a backing to support the new metal. Apply the mixture from the repair kit onto the foil and slightly on the toy so that it all stays attached. Let it sit overnight to dry. Use a file or fine grit, wet sandpaper to shape the new metal piece. For dents, simply use a body filler to fill in the dented area and then smooth it down with fine grit sandpaper after it dries.
Wash and Apply Primer
Wash the vintage Corgi truck or car in warm, soapy water to remove all residue. Spray a thin coat with a light coloured primer in an aerosol can. Let this layer dry and apply another coat of primer. When finished, examine the car for scratches that the primer may have revealed. If any, use 400 grit sandpaper to smooth the area.
Paint the Vintage Corgi Vehicle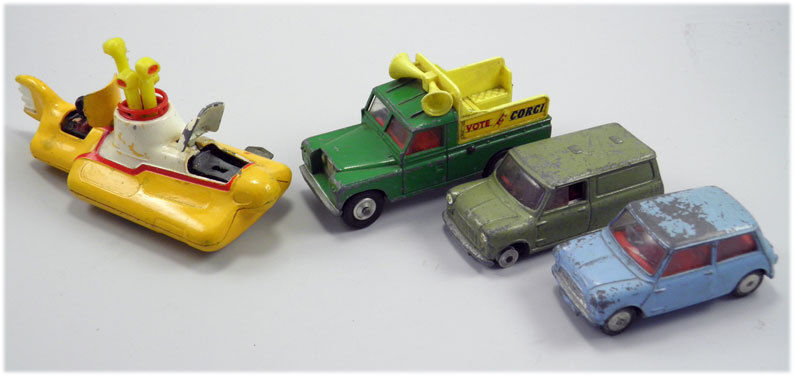 Painting old Corgi cars requires attention to detail. Tape off any areas that should not be painted, but if the die-cast car is too small for that, hand paint it using a fine-tipped paint brush. Using a brush often leaves streaks of paint, so apply very light coats and only work on one side at a time. This side should face upward so that the paint does not run. Using an aerosol paint can is the easiest and harder to mess up because it goes on evenly. Spray on ultra-light layers to prevent any paint from running, and let the layers dry completely before applying another layer.