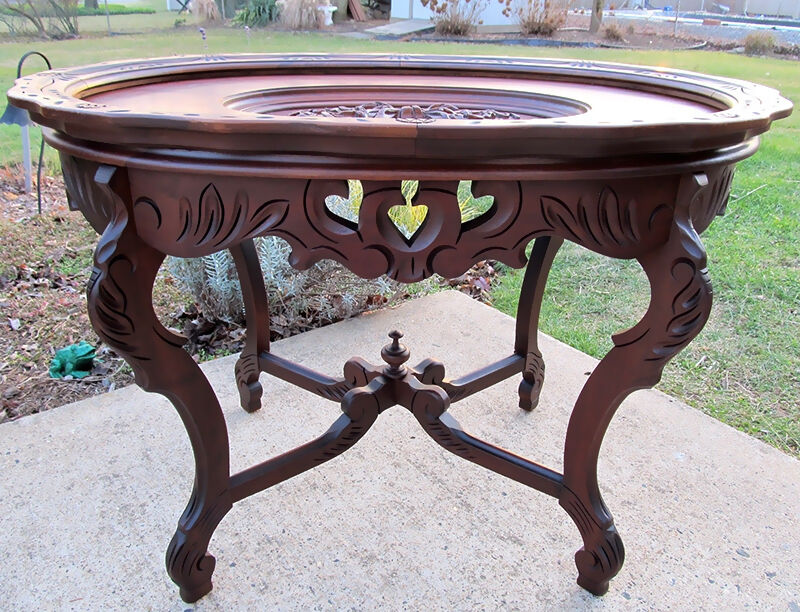 Sturdy and beautiful, walnut furniture stands the test of time. However, even the hardiest walnut furniture scratches over the years, scuffs, or simply loses its appearance. It is also a fun project to restore vintage pieces and bring them back to life. For consumers who wish to revive a table or dresser that has been sitting in the garage, or enjoy restoring flea market or thrift shop finds, restoring walnut furniture takes some time but has surprisingly amazing results. Buyers should not get rid of old walnut furniture, but instead, they should invest a bit of time in restoring the furniture back to its original beauty to get more use out of the pieces.
Getting Started
Consumers who plan on stripping and restoring a piece of walnut furniture should prepare adequately for the task. Only work in a well-ventilated area due to the proximity to chemicals, and always wear gloves, safety goggles, and a face mask to avoid inhaling wood stripper, lacquers, or dust while completing the restoration.
Clean the Furniture
Alleviate most walnut furniture issues with a good cleaning. To clean walnut furniture, use a cleaner meant for walnut. Rub the wood cleaner into the furniture using a microfibre cloth, and scrub away layers of dirt with fine steel wool. Steel wool works well for dingy wood or spots where water residue has stained the wood furniture.
Another option for very dirty furniture is mineral spirits. Apply the mineral spirits sparingly with a soft cloth, then follow this up with the wood cleaner and wipe away all cleaning residue with a clean cloth.
Repair the Furniture
Walnut furniture with scratches, damage, or cracks needs special attention. Use oxalic acid along with sandpaper to remove heavy stains from wood. Some consumers opt for commercial stain removers made specifically for wood. Orange oil or linseed oil rubs away dingy spots and revives old furniture. For minor scratches, add wax and rub it into the scratch with steel wool, or purchase retouching wax sticks specifically for wooden furniture.
Buff out stains with steel wool, but for badly beat up walnut pieces with deep scratches or damaged spots, stripping the finish and adding a new surface is the best option. Refinishing a piece covers any difficult-to-remove stains, and fills in stains that go below the surface. Replace knobs, drawer pulls, or other hardware before completing the next step.
Strip and Sand the Furniture
Employ a chemical stripper to remove the finish from an old piece of walnut furniture. Do this with the aid of a microfibre cloth, steel wool, and a paint scraper to help remove the finish that coats the furniture. Peel away the finish gently to avoid damaging the piece, until all of the coating is gone. Then wipe away any traces of the chemicals remaining on the piece.
Once the finish is gone, sand the entire piece to get it ready for refinishing. Sand the wood smooth, and do this with fine-grain, 100-grit sandpaper, or for large pieces, a power sander. Be sure to only sand the surface; too much sanding damages the piece.
Refinish and Polish the Furniture
Now, apply new wood stain to the piece of walnut furniture. First, tape over any hardware to protect it. Add wood or stain with a wide paintbrush in long strokes. It is a smart idea to add more than one coat of stain depending on the desired results. For buyers who wish to do something unique to a piece of vintage walnut furniture, there are many creative options.
A few options include using colourful paint or special effects paint such as antique paint or painting patterns on the piece. Furniture decals are a fun way to liven up an old piece. Once the stain or paint is dry, finish the piece with a polyurethane sealant and allow the piece to dry overnight. Once it is dry, buff it with a dry cloth or clean it with wood cleaner.
Maintaining Walnut Furniture
To keep walnut furniture looking lovely for years to come, take steps to maintain the wood pieces. Avoid setting glasses directly on the furniture, and dust the pieces with a soft microfibre cloth often. When furniture pieces get dirty, use natural items to clean them such as orange oil or lemon oil, vinegar diluted in water, or olive oil.
How to Buy Furniture Restoration Supplies on eBay
If you have a retro piece of walnut furniture and you want to restore it, or you are looking for a piece to restore, turn to eBay for your furniture needs. Use any page's search bar to key in items such as "walnut furniture" or " wood stripper" to gather the items you need to create brand new pieces of walnut furniture from your old pieces. Leave feedback for your authorised seller once you have received your items.
Every piece of old furniture has a story to tell, and though many walnut pieces may look beyond repair, some of the hardy ones are worth the time and energy to bring them back to life. Get creative with various stains and shades to make a one-of-a-kind piece for your house.