Even quality fabric sofas can start to fade, sag, or suffer damage over time. In order to avoid the expense of purchasing a whole new piece of furniture, there are a number of steps you can take to restore your sofa or fabric sofa bed. Understanding the resources available to you as you take these steps can make the restoration process faster, easier, and perhaps less expensive.
Use Stain Removers
Stains come from many sources in a busy household, from wine to markers or juice. If left untreated, these stains can build up over time and mar the appearance of the sofa. When faced with stained fabric, the first step is to attempt to remove the staining using any number of cleaning supplies. Tonic water may remove very new stains. For more stubborn, or older, stains, chemical solutions, such as specialised fabric stain removers, may provide the strength needed to clean the fabric.
Cover with a Sofa Throw
Another simple and inexpensive step to take when restoring a fabric sofa is to cover it with a throw. A throw is a simple blanket or piece of fabric used to cover the sofa in order to keep it safe from the damage and stains that accumulate over time. You may either purchase a throw or create one yourself by following steps you can find online. Throws tend to be loose and fairly casual covers, and can slip off the furniture, so fastening the cover to the furniture with safety pins is a good idea.
Repair Upholstery

Another, though potentially more expensive, option for restoring a fabric sofa is to repair the existing upholstery. Stain removal is a good first step, but sometimes, stains will resist removal, or additional damage, like tears or fading, may require a little more attention. You may consider dyeing the upholstery with a fabric repair kit or fabric paint or dye, but you can also find an upholstery repair professional to fix your furniture. Some will even allow you to supply your choice of upholstery fabric or other sofa material to ensure you get exactly the look you desire.
Replace Sofa Cushions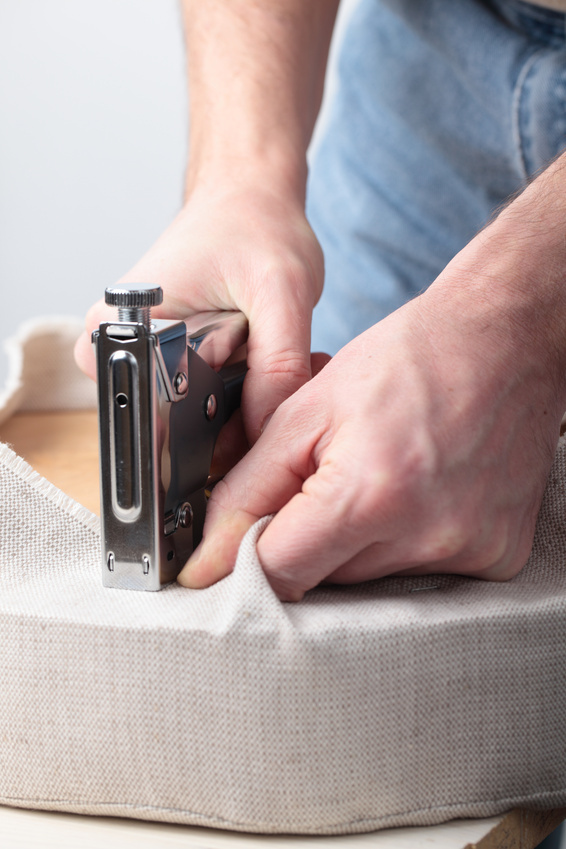 Cushions that are flat, sagging, or otherwise damaged may benefit from replacement. Many fabric stores will cut your foam to size, allowing you to easily obtain the type and size of replacement sofa cushion you need. The only other step is to remove the old foam and put the new foam inside the covers of the sofa. You may also replace old sofa cushions to refresh the look of the furniture.
Replace Support Webbing
Sagging seats may also be indicative of broken or worn out support webbing underneath the cushions. You can replace the webbing yourself, with a little bit of effort, or you may hire a professional. The process generally requires removing all cushions and padding, and reweaving new webbing into the old space.