If it is time to make that rusty metal garden table look like classy vintage furniture instead of junk, then owners can easily restore their metal table and chairs back to their original glory. Metal rusts over time, thanks to exposure to wet climates, and sun fading removes even more of its splendour. Fortunately, getting rid of rust and restoring colour is actually quite easy.
Clean and Remove the Rust from the Metal Garden Table
The first step is to completely remove all the rust and any flaking paint from the metal table. Goggles and a face mask are necessary to avoid inhaling small particles of rust and paint. After donning protective gear, owners can use a stiff, wire brush to scrape the entire table vigorously. Some of the larger rusty areas may take a little time to rub off all the layers of rust. Once that step is complete, it is important to clean the table thoroughly with soap, water, and a hard-bristled brush to remove all the dust, rust, and grease. It is sometimes necessary to repeat these steps more than once to remove all the trouble spots.
Protect Against Future Rust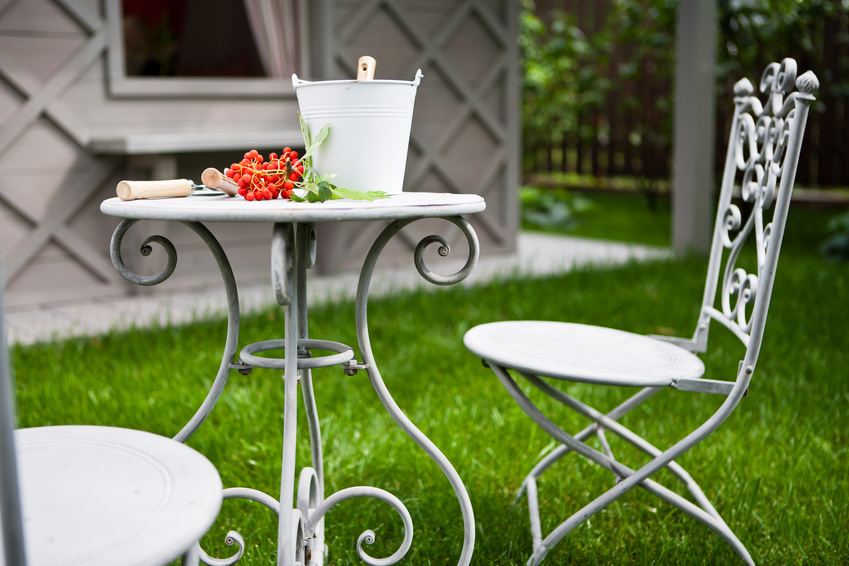 It requires more than rust removal to prevent rust from occurring again. In order to prevent the rust from reappearing, users have to prepare the metal. The first step is to use a rust converter, which reacts to any deeply embedded rust that is no longer visible and converts it into a chemical barrier to prevent additional rusting. Next, users need to apply primer to the furniture. This not only helps prevent rust, but it also makes the final layer of paint look smoother and more even. If the first layer is not even, a second coat may be necessary after the first coat dries.
Paint the Metal Garden Table

After the primer dries, it is time to apply the desired paint colour to the metal garden table. If the table has any wire grates on it, spray paint is the easiest option. However, it is easy to paint solid metal furniture with a brush. Black is very traditional, but many owners prefer to spice up their yards with bright, attractive colours. A final clear coat protects the furniture from sun fading and peeling.