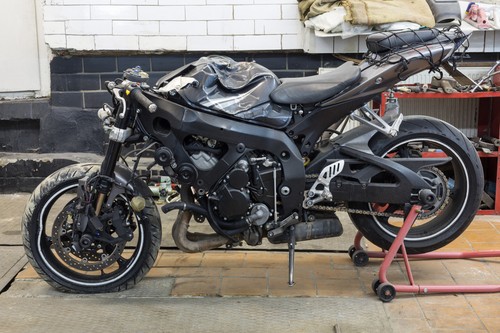 Restoring a used motorcycle is a great idea if you are looking for an affordable means of transportation. In a few easy steps, you can turn an old, unusable item into a fully functional vehicle. Because old motorcycles are so easy to come by, motorcycle restoration is a very lucrative business. When looking to refurbish old motorbikes, it is important to choose the right vehicle to begin with. Some of them are not worth the trouble, such as when they are missing pieces that are very expensive to replace, which can be a problem with some vintage motorcycles. If you are thinking of restoring a motorcycle, it is important to learn about how to refurbish power systems, carburettors, plugs, and frames.
Restore the Battery and the Fuel Delivery System
Power is essential to keep a motorcycle running properly. To ensure the motorcycle battery is in good condition, check its fluid level and fill it to the top with either battery acid or distilled water. Afterwards, try to charge it using the 2-amp setting. If the battery does not charge to 75 per cent capacity, you need to replace it.
The fuel delivery system is key to the optimum performance of any motorcycle. Therefore, draining the tank, evaluating its present state, and fixing any problems you might find is an important step. Once you drain the tank, check it for rust. If there is flaky rust, clean the tank using soapy water and a handful of pennies. Do this by filling 2/3 of the tank, introducing the pennies, putting the lid on, and shaking it. It is also important to replace the fuel line if it leaks, to rinse or replace the fuel filter if gas is not flowing properly, and to clean the fuel valve.
Clean and Restore the Carburettor and the Plug
Motorcycle carburettors are simple mechanisms; you do not need to be an expert mechanic to fix them. The first step is to remove the bowl, the float, the needle, and the piston, and then clean them using carburettor spray. Next, reassemble all parts of the carburettor in reverse order, taking care that all mechanisms are functioning properly.
Then, it is time to check the motorcycle plug's condition and clean it using compressed air, a brush, and carburettor cleaner . If the plug is beyond repair, find a compatible replacement. In this case, it is very important to gap the new plug to manufacturer's specs. Another key step of the process is checking the plug for compression using a pressure gauge.
Restore the Frame
If you want to restore the frame of an old motorcycle, look through catalogues or magazines to check out the original model's appearance. Once you establish what the bike looked like in the past, you have to decide which parts you need to create the look you are going for. The next step to restore a motorcycle to its original shape is to sandblast, prime, and paint the frame, the tank, and the fenders. Depending on the model, this may be easy or not, and it is important to resort to an expert if you do not have the necessary experience.
Accents and accessories really make a difference in a motorcycle's appearance. For example, LED lights can change your bike's look dramatically. From grips to light kits and filler tank caps, there are many great options to add a personal touch to your restored motorcycle.
Test Your Restored Motorcycle
Once the paint is dry, there is compression, the gas is pumping, and the plug is functioning, try out your motorcycle. Before you take it for a ride, it is advisable to secure new quality tyres and have the brakes inspected by a reputable mechanic. Finally, to ensure the bike stays in mint condition for a long time, you should store it properly, clean it often, and polish metal parts regularly when not in use for long periods.
How to Buy Parts to Restore a Motorcycle on eBay
When looking for parts to restore a motorcycle on eBay, you can simply go to any page on the site and type a few keywords into the search bar. To ensure that you get a quality product from a reliable seller, read the full product listing and check the vendor's feedback ratings. Buying parts to restore an old motorcycle on eBay has many advantages. It can help you save both time and money. Additionally, the question feature allows you to interact with the seller to make sure you choose the right parts to fully restore your motorcycle to its past splendour.