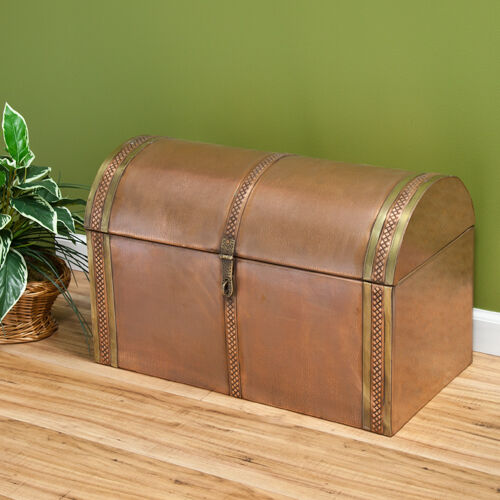 The charm and functionality of antique boxes makes them a favourite of collectors and non-collectors alike. But, as with any antique, the likelihood of finding one in pristine condition is rare. It may have gone through multiple owners and received varying degrees of attention or neglect over the years. Or it may have sat on the same windowsill for 50 years, undisturbed but vulnerable to sun, heat and humidity damage. This guide provides information and instructions on how to restore an antique box and outlines the factors that should be considered prior to beginning a restoration project.
Factors to Consider When Restoring an Antique Box
The first thing to understand is that antique boxes are valuable because they are antique, and looking the part is not necessarily a bad thing. So, while restoration may be aesthetically pleasing, it may reduce the historical value of the box, as well as its value for future resale. It comes down to a judgement call: is the box degraded enough to render it less valuable than a restored version?
Invariably the box will offer up clues. For example, Rococo period boxes were often made of solid mahogany. This darkly beautiful wood is particularly susceptible to sun damage. Comparing pristine mahogany to the mahogany on the box will give an indication as to how much it has been bleached. Other materials were also applied to the exterior of wood. These include enamel, ivory, tortoiseshell and mother-of-pearl. Each of these is quite fragile and should be examined for cracks, chips and abrasions. Various metals, such as brass, silver and gold were often affixed to the outside of wood as well. Sometimes proper polishing is all that's needed, but check for dents and creases too. Various decorative devices like edging, banding, inlay and stringing may also need repair. Artistic accents like hand-painting, penwork, chinoiserie and decoupage may also need attention.
It's never a bad idea to seek the advice of an expert when examining an antique for all the above factors. Ultimately, the owner is presented with a number of options:
Leave the box as is because restoring it may lessen the value.
Restore the box to increase its aesthetic value, even though its monetary value may be reduced.
Restore the box to increase both its aesthetic and monetary value.
Once these options are carefully weighed up and the degree of work required is established, the box owner can decide to embark on a self-restoration project or, refer the box to a professional.
Parts and Features of Antique Boxes to Restore
There are many styles of antique box and not all share the same parts and features. Below are some of the more common components that will need repair and restoration.
| Part | Description |
| --- | --- |
| Solid Wood | Mahogany, fruitwood, yew, harewood, satinwood, partridgewood, kingwood, rosewood, amboyna, ebony, coromandel, zebrano and sycamore |
| Veneers | Thin wood, usually exotic or expensive, affixed on top of a cheaper wood |
| Lid | Can be hinged on one side or, removable |
| Hinges | Many small boxes may have ornate or stylized hinges |
| Lock | Sometimes used to secure the main lid, though other interior elements may also have a lock |
| Body | The main structural part of the box that holds its contents |
| Ivory | A common decorative exterior of 18th century tea caddies |
| Mother of Pearl | The material which makes up the outer coating of pearls, applied to the exterior for decoration |
| Tortoiseshell | From Hawksbill turtles, applied to the exterior for decoration |
| Straw | Assembled at different angles to create pictures on exterior |
| Gold | Some small boxes could be solid gold, otherwise, gold may be strategically affixed to wood or totally encase the wood |
| Silver | Some small boxes could be solid silver, otherwise, silver may be strategically affixed to wood or totally encase the wood |
| Brass | Some small boxes could be solid brass, otherwise, brass may be strategically affixed to wood or totally encase the wood |
| Edging | Narrow strips, often metal, affixed to the boxes edges and corners |
| Banding | Often metal, wrapped around exterior of box |
| Inlay | Material inserted into a depression in the wood |
| Stringing | String or ribbon wrapped around exterior of box |
| Hand-painting | Done directly onto the wood or, onto gesso and thin paper |
| Penwork | Most penwork was done in fine black lines on the lid or front and featured stylised motifs of flora and fauna |
| Chinoiserie | Layered Oriental lacquer applied on top of a very thin wood base. |
| Repousse | Metal that has been shaped or ornamented by hammering from the reverse side to create a low relief design. This metal could be affixed in various sizes to a wooden box or, used to completely cover the outer surface. |
| Parquetry | Wood pieces of square, triangular or other geometric shape used to form a decorative mosaic, usually on the top or front of the box |
| Marquetry | Pieces of veneer used to form decorative patterns, designs or pictures |
| Engraving | Could be on wood or metal |
| Paint | Lighter woods were sometimes painted whole, or in part |
| Oriental Lacquer | Applied to outer wood to create a hard, impervious surface |
| Papier mâchè | Applied to outer wood to create a hard, impervious surface |
How to Restore an Antique Box
Wipe over the box with a soft lint-free cotton cloth that has been dampened with a small amount of oil soap. Dust the inside with a soft shaving brush. If the wood is bare, as with some inner areas of the box, switch to a solvent-based cleaner. Use a toothbrush or toothpick to clean out any crevices. If this has markedly improved the box's appearance then now might be a good time to stop.
Remove any working parts like hinges, locks, handles, drawers and shelves. Clean, oil and polish these, then check to ensure they work. Many original antique replacement parts can be found online at eBay or other antique sites. It might also be possible to find a similar box or 'parts box' to mine for better items. If all this fails, then new parts can usually be found to match closely enough. This is, however, the least attractive option.
Tighten any loose screws and gently tap in any loose nails.
Apply suitable wood glue to any loose joints.
Carefully remove any chipped varnish with a suitable stripper.
Examine any decorative accents on the box. Some can be removed for individual cleaning. Things like ornamental plates, inlays, banding etc. may be loose or easily removed.
Now is the time to re-stain or repaint a solid wood antique box. Consult a professional for the appropriate materials and technique based on the original wood. Also, if any wood is rotten or broken beyond repair, a new piece will have to be crafted; consult a professional for this too. Decorative exteriors like ivory, tortoiseshell or metal can also be cleaned at this point using mild soaps and the appropriate polishes.
After the wood or exterior material has been restored it's time re-affix the various parts that were removed. Attach them carefully, ensuring not to scratch the woodwork or spill any glue.
How to Care for an Antique Box after Restoration
UV light is damaging to antique wood, turning clear finishes yellow or opaque. Curtains or shades should be used to diffuse or block the sunlight on antique boxes where the wood is exposed. Heating and air conditioning ducts, fireplaces and stoves should also be avoided as the heat that these things emit can shrink the wood, loosening glue joints, veneers and inlays. Changes in humidity can also cause wood to expand and contract with similarly negative results.
Antique wood does not need to be nurtured with oil to keep it from drying out. Lack of moisture does this, so hot dry areas should be avoided. Oils will temporarily enhance the finish, but they leave a residue that can attract dust and dirt over time. It is best to use a high quality paste wax which is stable, long-lasting, non-permanent, and offers protection from moisture and dust. A thin coat of wax applied annually will suffice. In between waxing, dust the box with a soft, lint-free cloth on a regular basis. Dampen the cloth slightly and turn frequently as a dry rag can cause scratches. Wax may not be appropriate for surfaces with a deteriorating finish. Consult a furniture restoration specialist if unsure how to proceed.
Soft cleansers and cloths are also fine for the various outer shells such as ivory, enamel, mother of pearl and marble.
Finding Antique Boxes on eBay
Once you determine the type of antique box you want to purchase, visit the Antiques portal on eBay, find the 'Decorative Arts' sub-category, then click on the 'Boxes' sub-category and start searching item listings. The Categories list on the left-hand side of the eBay page helps to narrow the search.
Searching for Antique Boxes on eBay
Search eBay listing titles for specific words when shopping for antique boxes. For example, to find antique snuff boxes, type 'antique snuff boxes' into the search box, and then click the Advanced button to customise the results. Also visit eBay's Search Tips page for more advice on searching for antique boxes with keywords. If you can't find the exact antique box you want, try shopping eBay Stores.
Conclusion
The charm and beauty of an antique box is undeniable. Undertaking a restoration project is both interesting and rewarding, but consult an expert first to determine how the restoration will affect its value. If buying an antique box is an option then eBay is a great place to explore the various styles and types available. Another good resource for information is eBay's Complete Guide to Buying an Antique Box. Once you have collected this information, you can buy an antique box safely and securely on eBay.