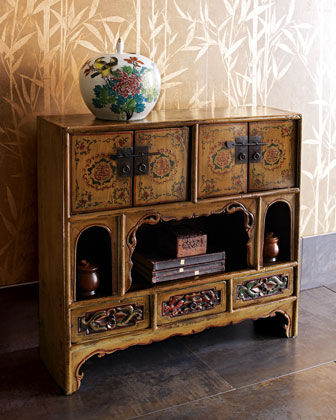 Antique cabinets can bring a touch of history and elegance to a room. But as with anything else, time can take its toll, and it is sometimes necessary to take measures to restore these memories of a bygone era to their former glory. There are many reasons why an antique may need restoring. Sometimes, owners may neglect to pay the care and attention that is necessary to preserve an antique, as the process can seem overwhelming. Whilst it does take some time to restore an antique furnishing, the advantages far outweigh the disadvantages, and owners will be left with a breath-taking piece of history to take pride of place in their home. This guide provides information and instructions on how to restore an antique cabinet, and outlines the factors that should be considered prior to beginning a restoration project.
Discover Antique Cabinets
In today's world, many people favour mass-produced furnishings, which come at relatively cheap prices. Adding just one antique to a room can bring a sense of coherence and maturity, and the best thing is, fine antique furniture is almost guaranteed to last a lifetime. Often those who own antique furnishings were given them as an heirloom. These items have sentimentality, and so it is a nice idea to restore pieces to their former glory to ensure they will be around for future generations to enjoy.
If you happen to have a piece of antique furniture that needs sprucing up, there are a few considerations to be made. Most importantly, it is crucial that owners first have the item appraised by an expert. This is because the item may be rare or unique, and so any restoration attempts may decrease its value considerably. If you have determined that the item is not a one-of-a-kind piece from a notable cabinet-maker such as Thomas Sheraton, you may proceed with restoring it. However, the key to restoring any antique is minimal invasion. The less you do to the piece the better, as the main objective of a restoration is simply to give the item's appearance a boost through some careful cleaning.
Materials of Antique Cabinets
When restoring an antique cabinet, the material you will be predominantly dealing with is wood. Below are some of the types of wood that are commonly used in antique furnishings:
| Material | Description |
| --- | --- |
| | Colour ranges from a deep brown to a reddish tone, and sometimes has a stippled grain effect. |
| Beech | Tends to be an attractive shade of pale brown with a unique dappled grain. |
| | Muted in colour, oak tends to darken with age to a vivid brown. |
| Rosewood | Dark brown with a distinctive grain. Popularity of rosewood grew in the early 1800s. |
| Kingswood | A dark brown wood with a black grain effect. Often used for parquetry. |
| Yew | Reddish-brown in colour and commonly used from the 1500s onwards in antique furnishings. |
| Maple | An attractive light wood freckled with characteristic markings. Birds-Eye Maple, a similar wood, is also popular. |
| | Walnut is a durable hardwood and typically golden brown in colour with a unique grain. |
Factors to Consider Before Restoring an Antique Cabinet
Before tackling any restoration project, it is recommended that owners take the piece to be examined by an antique professional. Look for markings or initials that may give a clue to its origin, which will indicate the piece's age and rarity. Also appraise the item, consider its craftsmanship and look for any hand-carvings. If it is a very ornate piece with intricate detailing, leave it alone. Any restoration efforts – whether a light clean or a major overhaul – should be left to professionals, and in such cases, experts will more than likely suggest it is wise to simply leave the piece as it is.
If an item of antique furnishing isn't a work of genius from the 17th century, but has an original finish and an attractive patina, it will still be of considerable value to someone. Therefore, it is important to keep it looking as close to its original state as possible. Before considering restoration, try giving the piece a good clean with a soft cotton cloth and some high-quality furniture polish. If joints appear loose, simply add a little glue to hold them together securely. If this advice is still not enough, think about how much restoration it would take to make the piece presentable, and figure out how to do it in the least invasive manner.
How to Restore an Antique Cabinet
1. Examine the cabinet carefully
Check for markings or indications that the piece might be valuable. Consider hand-carvings, intricate details, craftsmanship and materials. If possible, always consult a professional beforehand, as restoring a fine antique cabinet may decrease its value to collectors.
2. Take Care
Wipe over the cabinet with a soft lint-free cotton cloth that has been dampened with a small amount of oil soap. Clean out any crevices with a toothbrush or toothpick. Has this improved the cabinet's appearance enough? Decide whether further work is needed.
3. Consider how much restoration is too much
As a general rule, the less amount of work done when restoring an antique cabinet, the better. If any replacements are needed for small parts; such as drawer handles, pulls and shelves, the items can be found online at antique furniture parts sites. The new parts may not match the originals exactly, but they can usually be matched closely enough.
4. Identify pieces/areas for replacement
Examine the cabinet carefully to determine where and how to glue or screw on the replacement parts. Attach them carefully, ensuring not to scratch the woodwork or spill any glue.
5. Get advice
Consult a professional on how best to replace any wooden pieces that show signs of rot. Crafting a new piece of wood that closely matches the original is always best done by a master carpenter or expert craftsman.
6. Try not to refinish
Always avoid refinishing a piece. Repainting or staining an antique cabinet can reduce the cabinet's value, not to mention its original beauty and charm. Proper cleaning should suffice, and in some cases, a little light sanding could be considered. Regular waxing with good furniture polish or beeswax will help to restore its original look, and will build up a rich patina.
Tips for Restoring an Antique Cabinet
Seek expert advice – It is crucial that owners always consult expert advice before restoring an antique cabinet, as doing so may diminish its value considerably. Sometimes restoring a cabinet carefully can greatly improve an item's condition and appearance, but it is always safer to err on the side of caution. If you are happy that the piece is not of considerable value or one-of-a-kind, proceed with the restoration.
Be patient – Depending on the size of the cabinet, a restoration project can be time consuming and often takes in excess of 30 hours to complete.
Safety first – Always work in a well-ventilated area when using cleaning products, waxes, oils, glues, sandpaper and tools.
Don't touch – As tempting as it may be after waxing an antique or gluing on a replacement part – don't touch it until it is completely dry. It is wise to leave the cabinet overnight, maybe even longer.
How to Care for Restored Antique Cabinets
When the hard part of restoring the antique cabinet is over, there are several recommendations that owners should follow to ensure their piece stays in good condition. Most importantly, when cleaning antique furniture, it is important not to use household furniture sprays to polish them as they can cause damage to the woodwork. Instead, use a cotton cloth for everyday dusting and apply a thin layer of beeswax to the cabinet once or twice per year. This will help build up a rich patina. In addition to beeswax, the following items are also recommended:
Good quality furniture paste
Lint-free cloth, cotton cloth or cheesecloth
Gloves
Lemon oil
Finding Antique Cabinets on eBay
Once you determine the type of antique cabinet you want to purchase, visit the Antiques portal on eBay, click on Antique Furniture' then 'Cabinets' and start searching item listings. The Categories list on the left-hand side of the eBay page helps to narrow the search.
Searching for Antique Cabinets on eBay
Search eBay listing titles for specific words when shopping for antique cabinets. For example, to find an Edwardian drinks cabinet, type 'Edwardian Drinks Cabinet' into the search box, and then click the Advanced button to customise the results. Also visit eBay's Search Tips page for more advice on searching for antique cabinets with keywords. If you can't find the exact antique cabinet you want, try shopping eBay Stores.
Conclusion
Quality pieces of fine furniture never go out of fashion, and antique cabinets are no exception. It is worthwhile investing time and effort into restoring an antique cabinet, however, it is advised that owners first consult an expert to determine whether restoring their antique cabinet will affect its value. Only once this is known should owners proceed with a restoration. If you are considering buying an antique cabinet, there are many places to start looking. Begin your search online on the eBay website and explore the styles on offer. Before buying, decide upon the look, material and purpose you would like your cabinet to have. Once you have collected this information, you can buy an antique cabinet safely and securely on eBay.