Whether inherited or purchased, antique furniture makes an excellent addition to any home. However, most items need some restoration to bring them back to their original condition. The process to restore an antique wardrobe varies depending on the condition and complexity of the piece. With enough time and the proper tools, owners can carry out simple repairs themselves.
Cleaning
Because of its age, an antique wardrobe has likely built up a layer of dirt and grime. Cleaning thoroughly should be the first step of the restoration process. If the piece is otherwise undamaged, cleaning may be all it needs. Moreover, it reveals other damage that may not have been visible earlier. Clean using a vegetable-based soap and warm water applied with a soft cloth. A toothbrush helps reach inside corners and deep carvings, while a sharp wooden dowel helps dig out grime. Avoid cleaning gilded areas with this method, and instead dust them with a soft brush. To ensure that the soap does not damage the finish, test it out first on a small, non-visible area. If it removes lacquer, continue with a solvent-based cleanser instead. This avoids swelling the wood. Additionally, naphtha or mineral spirits remove wax build-up. For hard to remove wax, very gently sand with the finest grade of steel wool available to avoid dulling the finish.
Replace Broken Parts

Antique wardrobes are over a century old, and some components, such as legs, may be damaged beyond repair. In such cases, restorers can either find an exact replacement or make one. Since finding the exact piece is difficult, making a replica is more common. Though any wood can be used for the replica and finished to match the antique armoire, wood that matches the original adds value. The most common woods used in these pieces are hardwoods, including mahogany, oak, pine, walnut, and maple.
Restoring the Finish and Polishing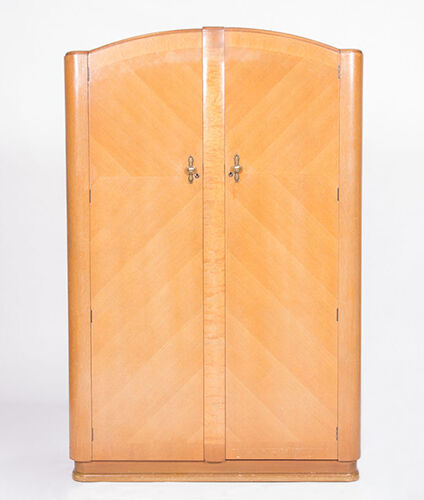 Even if a wardrobe's finish is intact, it can look dull and lifeless after cleaning. In this case, waxing it with paste wax revives the surface. In most cases, owners can touch up minor blemishes on an otherwise intact finish. These include small areas of worn finish, scratches, nicks, and white or milky rings. This is the preferred approach because it keeps the wardrobe's original finish in place. However, if the finish is coming off, cracked, or sticky after cleaning, then refinishing is a necessity. It is also a good option for a blemished finish or one that has turned dark. Applying a modern finish after stripping the old one is an effective way of restoring a wardrobe's exterior. However, some restorers take the extra step of using finishes that match those originally used. Opt for French polishing with more recent antiques, but avoid it with antique Georgian or Edwardian wardrobes because the technique completely removes patina.