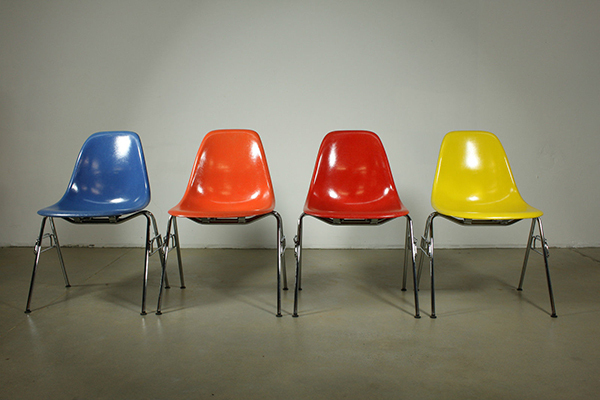 Fibreglass is a popular material for individuals who enjoy "do-it-yourself" projects. It is an easy material to use and is strong and lightweight, making it ideal for several different types of objects. That is why a number of people enjoy taking the time to restore old Eames fibreglass chairs . Many of these chairs are quite durable and enthusiasts can find them in relatively good shape. Restoring these chairs can involve mending cracks in the fibreglass, replacing lost parts, or simply polishing the fibreglass to its original glossy finish. A good place to find Eames fibreglass chairs and the materials necessary to restore them is on eBay.
Mending Fibreglass
When mending cracks that occur in the surface of an Eames fibreglass chair, it is important to take several steps to ensure the repair does not interfere with the appearance of the chair. First of all, owners should take the time to sand down any rough edges using fine sandpaper or a sanding block. After sanding the edges, the next step is mixing an epoxy. Some good brands to try are System Three Epoxies and West System Epoxy.
The instructions for mixing the chosen epoxy are located on the packaging, and owners should follow them closely. Owners should then apply the epoxy to the area they want to seal, attempting to get it as far into any nooks or cracks as possible. Following this application, they should reinforce the epoxy with a piece of fibreglass matting for additional strength. After the epoxy dries, owners can then sand down the repair site and apply model paint to match the original colour of the chair.
There are several materials owners may need to acquire in order to mend the fibreglass portion of their chairs.
| | |
| --- | --- |
| Material Needed | Usage |
| | Sand rough edges or nicks on cracks in the fibreglass |
| Dust mask | Prevents inhalation of any fibreglass dust |
| Epoxy | Fills in and bonds gaps and cracks in the fibreglass |
| Fibreglass matting | Covers the area on which owner uses epoxy to reinforce and make a uniform appearance |
| Model paint | Matches the colour of the repaired area with the rest of the chair |
Having these materials on hand can help owners make repairs quickly and efficiently when they go to restore their fibreglass chairs.
Replacing Parts
Eames fibreglass chairs do not require many parts to maintain a good-looking and functional chair. If the owner has a sound fibreglass seat to work with, the only other parts necessary depend on what kind of base or legs the owner wants to install. Some put on Eiffel bases, while others opt for a rocking chair base. Owners typically mount these chair bases with shock mounts set with epoxy and use a spider base to set the legs. Some design enthusiasts recommend using a quick dry epoxy to ensure the mounts do not drift while they set.
Polishing Fibreglass
When restoring an Eames fibreglass chair, an essential step after patching it and putting it back together is polishing the fibreglass to a high sheen. First, the owner should clean the surface with a lint-free cloth to ensure no dust or debris is present that could scratch the chair too deeply. Next, the owner should sand the chair gently. After sanding and rinsing, owners should allow the chair to air dry to avoid any fabric fibres from cloth that might disturb the finish. Following this smoothing and cleaning process, owners can apply a clear coat or polish.
A good finishing product that many fibreglass enthusiasts recommend is Penetrol, which is also a paint conditioner. Another option is Owatrol Easy Surface Preparation. The advantage of using a paint conditioner is that it typically lasts longer than a standard clear coat. The application should take place in an environment free of dust to avoid disrupting the finish, and owners should apply the conditioner liberally, as applying too little conditioner can cause streaking.
How to Buy an Eames Fibreglass Chair
Furniture craft enthusiasts enjoy restoring Eames fibreglass chairs because it is rewarding but still easy to do. A great place to find a chair and the materials needed to restore it is on eBay. Shoppers can use eBay's search function to find an Eames fibreglass chair from a reputable vendor. If the chair is in rough condition, they can then shop for supplies such as a new chair base, shock mounts, sandpaper, and paint conditioner to get the chair looking like new again. It is easy to spot reputable vendors on eBay for all of these supplies, as eBay's feedback function allows customers to leave comments about a seller's customer service, ensuring shoppers can find good vendors from which to buy their chair rehabbing supplies.