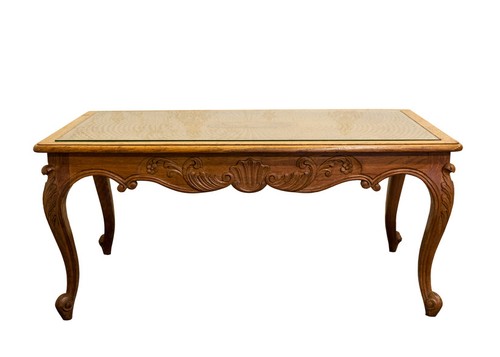 Oak tables are fine pieces of dining room furniture that many people regard as investments. These tables often remain into a household for extended periods, but the downside is that the passing of time may cause damage to an oak table. Instead of disposing of the old oak table, some owners choose to restore it. Restoring an oak table can be a challenging task for those who are not experts in furniture refinishing. By learning the basic steps for restoring an oak table, anyone can restore an oak table to its original condition without causing any further damage.
Gathering the Materials
The materials the owner needs to restore an oak table may differ according to the type of restoration and refinishing involved. Essential pieces of equipment include paint stripper, one or more paintbrushes, a scraper, fine to medium grade sandpaper, polyurethane finish, sand sealer, steel wool, wood stain, and wood glue. Users should also make sure they have a pair of leather gloves to protect their hands, as well as some soft cotton towels and tack cloths for keeping the working place clean. When choosing the varnish stripper, buyers should consider the type of polish on the table. For example, a fine steel wool soaked with turpentine works well for a wax polish, whereas methylated spirits are a good choice for French polish.
Steps for Restoring an Oak Table
The first step for restoring an oak table is to inspect it carefully and decide whether any particular part needs replacement. Next, users need to strip all the old varnish with the help of a varnish stripper. To do so, users should make sure they read the product's instructions, as leaving the product for too long may damage the wood. Working in small sections is best for avoiding damages.
Using Sandpaper
After removing the old varnish completely, it is time to use the sandpaper. Using a fine to medium sandpaper is essential in order to avoid leaving heavy sanding marks on the surface of the table. Users can start by sanding the table with a medium sandpaper and move to a finer one after finishing with the bad areas. When using the sandpaper, users should always follow the grain of the wood. This helps maintaining the surface of the wood smooth.
Applying the Wood Stain and Polyurethane Finish
After removing all the dust with a soft cloth, users should apply a coat of sand sealer over the entire surface and wait for a few minutes to allow it to soak into the wood. Users should then remove the leftover sealer and use sandpaper again before applying the wood stain finish with a new brush or a soft rag. The amount of stain one should use depends on the level of darkness desired. After applying the wood stain and leaving it to dry completely, it is time to apply the final polyurethane finish. To do so, users should make sure they use a new, clean brush. Users can apply as many polyurethane finish coats as they wish, provided they allow each coat to dry thoroughly before applying another.
Tips and Warnings
The task of restoring an oak table involves the use of strong chemicals, so people should make sure they choose a well-ventilated room. Wearing a filtered face mask is also a good idea for avoiding problems that chemical fumes may cause. If an oak table features a large amount of carved or ornate surfaces, it often takes longer to restore it. Finally, many of the materials required for restoring an oak table are flammable, so users should make sure they dispose of them carefully and make sure children and pets do not get in contact with them.
How to Buy Oak Restoring Materials
Restoring furniture requires quite a few materials and choosing them may seem like a daunting task. When shopping for materials to restore an oak table, it is always a good idea to buy them all in one place. This allows for better budgeting and helps consumers save time. By choosing to shop for oak restoring materials on eBay, you can find all you are looking for with just a few clicks. All you need to do is type the name of the materials or tools you need into the search bar of eBay and browse through the results. With the right materials, you can start your restoration project right away, and enjoy the beautiful oak table for several more decades.