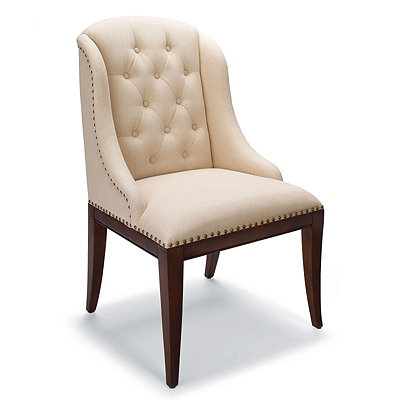 Although formal dining room chairs are not used every day, even the most durable materials wear over time and start to look dingy. Luckily, reupholstering a dining room chair is a very easy job, even for someone who is unable to do simple craft projects. Adding fresh fabric to your dining room chairs is an affordable way to brighten up a dining room or breathe new life into chairs that have seen better days. It is even possible to add padding and upholstery to chairs with hard seats to give them an entirely new look. Following a few simple tips, you should be able to accomplish this rewarding do-it-yourself project. Of course, it is necessary to first purchase a set of dining room chairs, which, if you are willing to reupholster, is very economical. This first step is easily done in a furniture store, a thrift shop, at a moving sale, or even online from eBay.
Select Fabric for Reupholstering Dining Room Chairs
Since reupholstering dining room chairs requires disassembling the chairs and rendering them temporarily unusable, it is a good idea to select the fabric before beginning the process. It is best to use upholstery fabric since it is specifically designed to stand up to the daily use and abuse that dining room chairs suffer. If you have difficulty deciding upon a fabric, consider bringing home swatches of a few different colours and patterns to see which one works best in the room. In general, it is better to choose darker colours or busy patterns that do not become dirty or stained too quickly.
Choose Correct Yardage
The number of yards of fabric necessary to reupholster a set of dining room chairs varies depending on a number of factors. Most important is the amount of dining chairs there are, since of course eight chairs requires twice as much fabric as four. Do not forget to include any spare chairs that are possibly held in storage. The depth of the cushions on the chairs is also a factor. The best idea is to measure the chairs before purchasing the fabric. Buying a few extra yards is optimal in case a chair becomes damaged in the future or the first attempt at upholstering does not go smoothly.
Remove Seat Cushions from Chairs
In order to properly reupholster dining room chairs, it is necessary to remove the seat cushions from the chairs. This process is usually completed by simply loosening or removing the screws that hold the cushions in place. These are found on the bottom of the chairs. In some cases, the chair cushions are attached to the base of the chairs with staples rather than screws. This makes the cushion-removing process a bit more tedious, but it is still possible. The easiest way to remove these furniture staples is with a pair of needle-nose pliers. Grasp the staples with the pliers, one by one, and ease them out of the wood. This requires some patience, but eventually the cushions come loose.
Remove Cardboard Bases from Chairs
Once the cushions are separated from the base of the chairs, check to see if there is a section of cardboard attached to the bottom of the cushions. These are typically attached with staples. If there is a piece of cardboard, remove it carefully from each cushion. If the cardboard stays intact, you are able to reuse it after you have replaced the upholstery. If it becomes damaged, it is a good idea to replace it with fresh cardboard or other heavy paper.
Replace Dining Room Chair Cushioning
If the chair cushions are still in good shape, replacing the padding is not necessary. However, you need to purchase new padding material if the padding has become beaten down and is no longer comfortable. If the padding is not thick enough to begin with, or if you want to add padding to hard chairs, buy extra padding to err on the side of caution. There are a few types of materials which are used for this part of the project.
| Material | Pros | Cons | Cost |
| --- | --- | --- | --- |
| Polyurethane Foam | Specially designed for furniture; wide variety of thicknesses | Sometimes difficult to cut and work with | ££ |
| Cotton Batting | Cost-effective; widely available; easy to work with | Not very durable | £ |
| Memory Foam | Durable; comfortable | More expensive; more difficult to obtain | £££ |
Polyurethane foam is specifically designed for use as furniture padding and therefore is the most popular choice. However, either to save on costs or to upgrade the cushioning on a set of dining room chairs, it is possible to venture beyond this type of foam.
Measure and Cut New Chair Cushioning
Once the preferred padding is selected, it is necessary to cut it into the correct size and shape for the chairs. It is a good idea to create a pattern out of paper or cardboard and use that to measure the foam. Trace the shape of the pattern onto the foam using a pen or pencil and then cut along that line. Thick foam is sometimes difficult to cut and using a knife is necessary for more ease. Foams which are not as thick are generally cut with standard scissors.
Attach Foam to Chairs
Once the foam is cut for all the chairs, it is ready to be attached to the seats. There are foam adhesives which are specifically designed for furniture foam and upholstery. Follow the instructions on the adhesive's packaging for best results.
Measure and Cut Dining Room Chair Upholstery Fabric
When the foam is attached to the seats, begin to measure the fabric for the seat cushions. Cover the seats and foam with fabric and leave a few centimetres on each side so as to allow the fabric to be stapled down. Once one piece of fabric is cut down to the desired size and shape, use that piece as a pattern for the rest of the chairs, rather than measuring again and again.
Attach Fabric to Cushions
When the fabric is cut you then start assembling everything. Lay the fabric out on a clean, flat surface. The nice side of the fabric should be facing down. Place a seat cushion in the centre of the fabric. Pull the fabric taut and wrap one edge around the seat cushion. Hold it firmly and place a staple in the centre of one edge. Then place a staple in the edge opposite the first staple. From there, continue stapling down the fabric while holding it taut. Once the first two edges are complete, staple the other two edges using the same technique. Repeat this step for each dining room chair cushion.
Trim Down Upholstery Fabric and Attach Cardboard
Once all edges of the fabric are stapled down, trim loose ends until the bottom of the cushion is flat. It is a good idea to flip the cushion over to make sure that the fabric looks right and that there are no strange puckers or bubbles before putting the finishing touches on the bottom of the cushion. Once you are satisfied that the upholstery looks right, attach the cardboard bottom to the cushion. Repeat this process for every cushion.
Attach Seat Cushions to Chairs Once Again
Once the fabric on the chairs is attached securely, they are placed back on the chair bases. Attach the seat cushions as they were previously attached, either with screws or staples.
Add Fabric Protector to Reupholstered Dining Room Chairs
Before using your freshly upholstered chairs, it is a good idea to add a coat of fabric protector to the cushions. These sprays, such as Scotchgard, protect the fabric in the likely event that something is spilled on the chairs. It creates a slippery outer coating so that stains are more easily removed and chairs stay looking fresh, clean, and new for as long as possible.
How to Buy Dining Room Chairs and Upholstery Fabric on eBay
Buying a new dining set is sometimes a discouraging and expensive endeavour. However, by reupholstering existing chairs, you are able to save on overall expenses. On eBay, there are many dining sets or even lone dining chairs which are available for purchase. One of the benefits of buying dining chairs from eBay is that it is possible to find stylish, antique dining chairs at low prices, and then refurbish and reupholster them yourself. The materials mentioned throughout the guide are also purchased on eBay. Everything from upholstery fabric to batting and foam is easily searchable via the search bar on every eBay web page. Typing in "Dining Chair &" or "paisley upholstery fabric &" renders dozens of results. If at any point there are too many options, filter the search results by price, geography of the seller, and condition of the product.
When you have found a set of dining chairs or fabric which you like, be sure to ask the seller all the questions you may have before agreeing to go through with the purchase. In the case of dining sets, they are usually quite large and therefore shipping expenses are a factor. Be sure that you are clear on how much shipping is going to cost before making your purchase. Most eBay sellers answer your questions clearly and quickly so that you can complete your purchase with no lingering doubts.
Conclusion
Reupholstering furniture truly brings new life into a room. While reupholstering a sofa is a huge undertaking, reupholstering dining chairs is fairly simple. Reupholstering is many times incredibly affordable and the project itself is a fun way to add colour and excitement to your dining room. Spending just a little bit of money on fresh upholstery fabric gives your chairs and dining room an entirely new look. It is possible to find beautiful fabrics in a huge range of colours and patterns to suit any taste and any colour scheme. Adding a fresh and vibrant colour is not the only reason to reupholster dining chairs. Besides brightening up the colours of sagging chairs, you can also choose to add new cushioning which makes chairs more comfortable and even helps them last longer. With just a few measurements and a staple gun full of staples, you are well on your way to transforming your dining room.