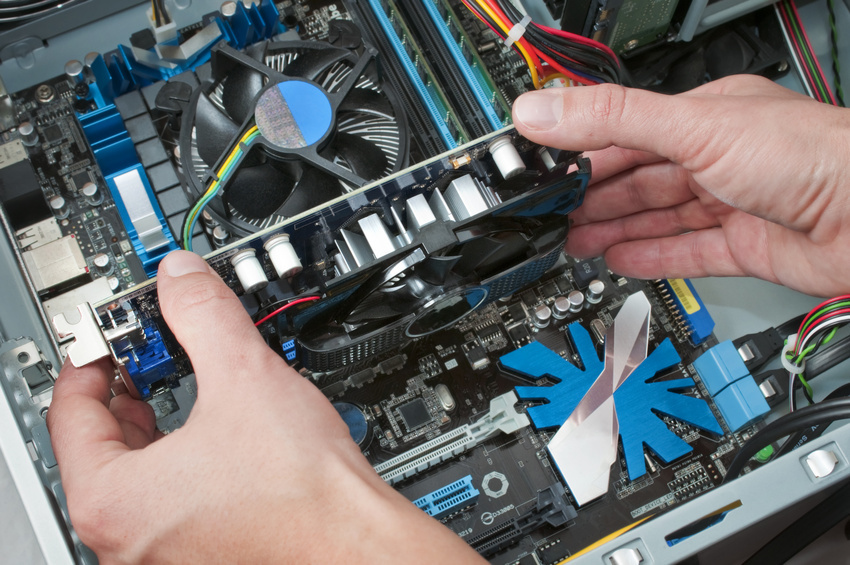 If you did not specify a particular power supply when you purchased your computer, the store probably sold you a computer with the industry standard. Gamers and others who use powerful applications often need to replace the power supply with one that can handle added demand. Whether you need a 500 W or an 800 W power supply, you can safely replace your PC power supply at home with a few tools.
Open the Computer

Before you open your computer, take this opportunity to clean the outside of the PC case, which will help keep dirt and dust from entering the unit while you replace the power supply. Be sure to disconnect all cables from the case, including the mains supply. Then place the computer flat on a table with the rear of the computer facing toward you. Note the screws holding the side onto the case.You usually need a Phillips screwdriver to remove them, although some cases feature thumbscrews that you can remove by hand. Then remove the panel and set it aside.
Remove the Power Supply

Be sure to use an antistatic wrist strap or mat whenever you work on the interior of a computer. Before removing the power supply, you need to remove all of the power connectors from the different components installed throughout the computer. Do not forget to disconnect the motherboard. Check carefully when removing the power from the motherboard, as some have multiple connectors to the power supply, be thorough! To remove the power supply, you may need to hold on to the power supply with one hand while removing the screws that hold it in place with a Phillips screwdriver. Be sure to save these screws to attach the new power supply. Carefully set the old power supply aside for proper disposal or resale.
Install the New Power Supply
Place the power supply in the unit and install the screws to hold it in place. Tighten the screws, but do not force them too tight or they may break. Once the new power supply is in place, connect the motherboard and any other power cables that you removed. Be sure that all of the cables attach completely. Reattach the motherboard cables to the new computer power supply. Perform a visual check of all your computer parts to be sure everything is in place before closing the case. Before putting the side back on the case, attach all of the outside cables and the main power supply and turn on the computer to ensure everything works properly. Finally, reattach the case.