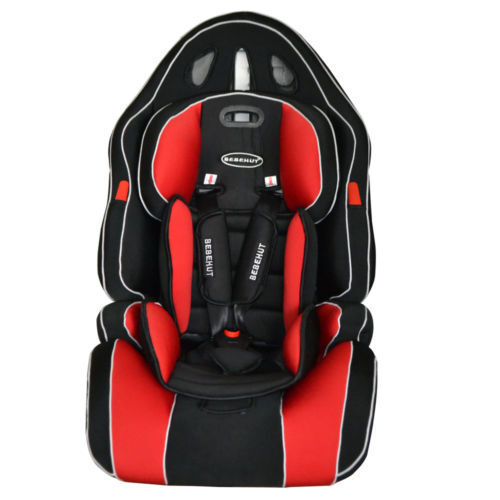 A car seat is designed to protect children from injuries during collisions. A child safety seat has several names that are interchangeably used. Some of them are infant safety seats, child restraint system, restraint car seat, and just car seat. Several health and safety programmes teach parents how to safely use car seats, and others offer them as incentives for participation in a certain programme.
Motor collisions are one of the main causes of fatal injuries. Choosing the right car and car seat is extremely important for the security of the owner and his or her loved ones. Several automobile manufacturers integrate car seats into their vehicle designs, while others leave it for the consumers to choose a car seat. More often than not, the latter is true, and consumers select car seats according to their own preferences.
Basic knowledge of the various types of car seats, including how to choose one, install one, and use one correctly, are important considerations to safely use a car seat. Car seats of all types can be acquired from traditional brick and mortar stores as well as online. eBay, for example, offers a huge collection of child safety seats that are available in many different styles with various features.
Types of Car Seats
Car seats are classified mainly on the basis of age and weight ranges of children. Most brands offer options for both infants and older children.
Infant Car Seats
Infant car seats are made specifically for infants and often have handles to carry them easily as they are smaller than car seats for older children. More often than not, infants are placed in rear-facing seats. Infant seats are designed for kids up to 14 kg, on average.
Convertible Car Seats
Research studies and crash test results indicate that rear-facing car seats are safer than front-facing seats for small babies and are typically used for children between 2 kg and 22 kg. Rear-facing convertible seats are often used for children who weigh less than 9 kg and are under two years of age. Some models, however, allow children as heavy as 15 kg to be in the rear-facing position. Generally speaking, children should be kept in rear-facing seats until they are two years old or have reached the maximum height or weight limit indicated by a seat's manufacturer.
Rear-facing convertible seats can easily be turned into forward-facing seats when the time is right. This should be done when the child has reached the limits for weight, height, or age, as advised by the manufacturer's manual.
Combination (or Combo) Seats
Combo seats are also known as 5-point boosters. In fact, they are simply forward-facing car seats with a 5-point harness system in place. By removing some webbing, combination seats can be turned into a belt positioning booster.
Booster Seats
As mentioned before, high back belt positioning booster seats can be made from combo seats. Other forms include lower back and backless boosters. The differentiating factor between the high and low back booster seats is the head support, and in the case of countering the impact of side-impact collisions, the improved protection. High back boosters are particularly useful for vehicles with no headrest and bench seating.
The main purpose of booster seats is to provide elevation to a child so that the shoulder belt does not rest against the child's neck. Generally, the recommended weight range for booster seats is between 18 kg and 45 kg. It is recommended that the children should be seated in the backseat of a vehicle until the age of 13.
Choosing a Car Seat
It is not easy for first time parents to control their nervousness. A good way of reducing this is to talk with family and friends and other parents, do some research online, and then make an informed purchasing decision according to their own preferences for keeping their children safe and comfortable.
There are numerous options to choose from when it comes to buying a car seat. A buyer should base the decision on his or her needs more than anything else. The buyer should determine, for example, if the car seat is for infant use or for a larger baby or toddler. Parents should explore the various models and brands and read other parents' comments on different review websites to get a better idea of what works well and what does not. For detailed comparisons of the shortlisted car seats, buyers can read consumer reports and check to make sure the car seat has passed the Federal Motor Vehicle Safety Standards (FMVSS) test.
It is better to have a car seat for a baby up to 9 kg installed in the rear-facing position for security. The car seat may have to be retired after a year or so and another car seat purchased that is front-facing and capable of protecting a larger child that weighs up to 18 kg. Preferably, this larger car seat should have a 5-point or 3-point harness system. Choosing such a seat is a wise investment as it keeps children secure and comfortable for several years.
The locking mechanism should be such that it is not easily unlocked by a naughty child but can easily be manipulated by an adult. For an added advantage, the strap design should not be a style that easily twists or jams. For kids who weigh more than 18 kg, a booster seat is a good choice. In fact, many states require the use of booster seats up to a certain age and size.
Considerations for Safely Using a Car Seat
LATCH (lower anchors and tethers for children) technology is mandatory for cars manufactured after September 2002, and this greatly reduces the risk of incorrect installation of car seats. Nonetheless, there are some factors to consider for safely using a car seat.
Right Seat
A buyer should make sure the specifications of a specific car seat match the specifications of the child using the seat. The seat must match the child's characteristics in weight, height, and age, not just one or two of the three. The manufacture date of a particular seat should also be checked, as safety standards often change over time, and an older seat may not be up to code on safety.
Right Place
The right place to install a car seat is the backseat. For babies and young children under 13 years of age, the backseat is the safest place for them to ride.
Right Direction
Research and crash tests have shown that rear-facing car seats are safer than forward-facing seats. Therefore, as a parent, one should keep the car seat in this position for as long as possible. It is preferred for children under two years of age to ride in rear-facing seats, but many young children outgrow the weight or height limitations on rear-facing seats long before two years. Once a child exceeds the height or weight specifications of the car seat, he or she should be switched to a front-facing car seat. The seat belt should always be locked and tightened to hold a car seat steady, and the top tether should also be attached.
Inch Test
An 'inch test' should be conducted to ensure that a car seat is properly installed. If the seat moves more than an inch (2.5 cm) when it is shaken at the base sideways and front to back, then it should be reinstalled properly. If it does not move more than an inch, the installation is fine.
Pinch Test
A 'pinch test' should be conducted to make sure that the harness is properly and tightly buckled. If excess webbing appears when pinching the strap at the shoulder of the child, then the straps need to be adjusted.
How to Buy a Car Seat on eBay
Online shopping has tremendously reduced the hassle of consumers worldwide, and you can easily buy items of your own choice with a single click from within the comfort of your home. An easy way to buy car seats on eBay is to use the search bar on the eBay homepage or any other page on the site. You can enter relevant search terms, such as 'car seat', ' infant safety seats', 'infant seats', or 'booster seats', to see the available listings. For some queries, eBay also suggests related searches that may help you find the right product. You can also filter the results according to your own preferences.
To save on delivery charges, you should enter your postcode to find local listings for the desired product. This is especially true when buying a bulky item like a car seat. If an item is available in your vicinity, check to make sure the seller agrees to a local pickup. As soon as you have completed the transaction with the seller, you can stop by and pick it up at an agreed upon time.
Conclusion
Car seats have several interchangeable names, such as child restraint systems, restraint car seats, infant safety seats, and so on, but they all have the same purpose. The basic purpose of car seats is to provide extra protection to infants, toddlers, and young children in motor vehicles in order to avoid severe injuries in the event of an accident.
Choosing the right kind of car seat to fit the age, weight, and height of a child is critical for safety. Some manufacturers integrate restraint car seats into their automobile designs, while others leave it for the customers to choose car seats according to their own preferences. The different types of car seats include infant seats, convertible seats, combo seats, and booster seats. Knowledge of the various types of car seats and the considerations for safely using a car seat are imperative to a child's safety. eBay features car seats in various brands, models, and price ranges, or buyers can visit local baby stores and some department and discount stores to find suitable items.