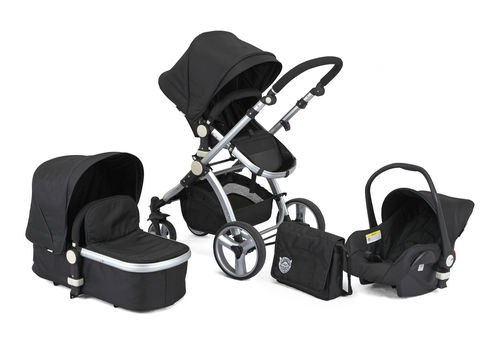 There is no greater joy than bringing a bundle of joy home after nine months of anticipation. However, life with a baby quickly becomes challenging when it comes to leaving the house with the baby. Taking children on the go can be chaotic and exhausting. Since kids quickly tire of walking and tend to wander, young parents may be intimidated by taking their children with them when they are running errands. However, whether they are buying groceries, browsing the shops, or going to an amusement park, having a pushchair to transport the little ones makes daily tasks much less complicated.
This helpful contraption can be found in brick and mortar stores that specialise in baby accessories, as well as online at large marketplaces like eBay. Because pushchairs are easily collapsible to fit in a car, safety is essential when operating them. By understanding how pushchairs and their safety mechanisms work, both errands and kids can be handled with ease, and parents can rest a little more easily at night.
Components of a Pushchair
Before learning how to operate a pushchair, it is important to identify the various parts. A better understanding of how a pushchair works can help a new parent use it without complications.
Part

Description

Canopy

Fabric cover on top that shades the seat from sun, rain, or other elements

Guard Rail

Horizontal plastic bar across the front of the seat

Prevents the child from falling forward or getting out

May be possible to add snack trays, cup holders, and other accessories to guard rail

Handle Grip

Tallest bar that parents use to navigate the pushchair

Hands should remain on the handle grip while opening or folding the buggy closed for storage

Seat Cushion

Comfortable and soft fabric chairs for the child

Standard pushchair has one seat cushion

Some models may have multiple seat cushions for more than one child

Waist Belt

Safety strap with a childproof buckling feature

Prevents the child from sliding underneath the guard rail

Some models may have a safety harness instead of a waist belt

Footrest

Flat, plastic bar below the seat for children to rest their feet if they are tall enough

Swivel Wheel Lock

Locks the front wheels so that they cannot swivel or turn

Ideal for jogging pushchairs

Locking the front wheels reduces the risk of crashing at fast paces

Wheels

Made of rubber or plastic

Three or four wheels is the standard for most pushchairs

Recliner Lever

Lever behind the seat cushion to recline the child's seat

Brake Lever

Usually a foot-operated lever on the wheels

Activates the brake to stop the pushchair from rolling

Open/Fold Lock

Usually foot-operated

Allows the pushchair to be opened or folded for storage

Basket

Frees up the hands of caregivers by providing storage space for baby essentials, packages, purses, etc.
All of these elements should be in good working order to ensure the safety of the child in the pushchair. A broken wheel, for example, could cause a baby to essentially be shaken during the entire ride or even present a tipping hazard.
Pushchair Accessories
Not all pushchairs come with features like a basket or a cup holder. When shopping, it is important to take into consideration the desired components of the pushchair. For instance, if one's location is in an area that experiences extreme weather like snow or very cold temperatures, a plastic weather guard is an essential accessory to purchase on the side. Other accessories that can be purchased include body support inserts, sunshades, and wrist straps.
Safely Using Pushchairs
When putting children in or taking them out of a pushchair, it is important to establish a routine method to ensure they are safely transported. Forgetting a step can compromise the security of the pushchair and the safety of the child.
Opening and Closing the Pushchair
To open the pushchair, an adult should grasp the handle bar and engage the open/fold lock with the foot. The pushchair should be checked to make sure it is securely locked by moving it around, lifting it, and pushing on the seat cushion. Once the pushchair is locked into place, the foot-operated brake lever should be engaged to prevent the stroller from moving while the child is placed in the pushchair.
To fold the pushchair for stowing, the handlebar is grasped, and the parking brake is disengaged by foot. The open/fold lock is pressed with the foot to allow the pushchair to collapse for storage. It is important to make sure that children are not near the pushchair before beginning this process. Likewise, it is essential not to use one's hands to operate any of the levers when closing the pushchair. If there is an issue operating any of the levers with the foot, it is possible that there is a problem with the pushchair, and it is not safe for use.
Putting Children in the Pushchair
Before putting a child in a pushchair, the wheels should be securely locked by operating the brake lever with one's foot. Then the canopy can be pulled back to make strapping in the child easier. A child should always be strapped to a pushchair with a safety harness or a waist belt, both of which are adjustable as the child grows. If the guard rail was lifted to place the child in the seat, it should be closed and locked before placing the canopy back down, unlocking the brakes, and moving.
Jogging with the Pushchair
Staying in shape is very important for new parents who tend to get very little rest and have very little free time. However, jogging can be a fun way to mix up the daily routine on the way to the park. It should be noted, however, that jogging with a pushchair can be a dangerous activity if not done safely. To prevent accidents while jogging, a pushchair should be kept in top condition, and the front wheel should be swivel locked to prevent it from turning unexpectedly. The child should be strapped in with a full harness, as it prevents extra shaking or bouncing and protects the child from falling out during the jog. If the pushchair only has a waist belt, a safety harness is an accessory worth buying.
Water should be packed for both the runner and the child, along with snacks and toys to keep the little one occupied. In cold weather, even if it is sunny outside, the child should be bundled warmly because running only keeps the adult warm, not the child. In extremely cold weather, plastic winter guards may be another investment-worthy accessory. It is incredibly important not to let go of the pushchair and run 'hands-free', as one can easily lose control. Buying a wrist strap to keep one's hand attached to the pushchair may be a good idea for jogging parents, as well.
Shopping for Pushchairs and Accessories
Whatever function may be desired for a pushchair, whether it is for simple shopping transportation, jogging, or travel, a wide variety of available models can be found in brick and mortar stores where baby accessories are sold. Large online marketplaces like eBay also tend to offer an even larger selection. Accessories for pushchairs can be found in brick and mortar stores and online, as well, and websites like eBay make the search simple and enjoyable.
Finding Pushchairs and Accessories on eBay
There are several ways to begin the search for the perfect pushchair on eBay. The site offers a very large and very diverse collection of baby accessories, and the sites easy-to-use search engine is standing by to help you find what you need. Once you have decided on the type of pushchair you want, simply type keywords like ' jogging pushchair ' into the search box, which can be found on the homepage as well as on all the other pages of the site. Likewise, when shopping for pushchair accessories on eBay, enter key phrases such as ' pushchair toys ' into the search box.
It is important to research the reputation of sellers on eBay before committing to a purchase. Looking at the feedback that was left by previous customers helps eBay shoppers feel more confident when making a buying decision. Additionally, once you complete your own purchase, you have the opportunity to submit your own feedback, as well, to assist other customers in the future.
Conclusion
Having children is one of the greatest milestones for many people. However, accomplishing simple tasks like going to the store or staying fit can be challenging after a baby is born. Having a simple mode of transport for children when on foot makes life much easier, and it keeps children safe and secure and out of trouble.
However, it is important to operate the mechanisms of a pushchair safely. The many pinch points on a foldable pushchair increase the risk of hurting oneself or the child if not used properly. By following the instructions on safely opening and closing a pushchair and learning the specific operating rules, both parents and children remain healthy and happy.
Not all pushchairs come with bells and whistles like baskets, cup holders, and sunshades. It is important to know what features are desired before purchasing a pushchair. Certain features can also be purchased after the fact and installed later. Both pushchairs and accessories can be found in most brick and mortar baby stores and online at websites like eBay. After purchasing a safe and easy-to-use pushchair, parents who are on the go can feel more confident about taking the little ones along for their trips around town.