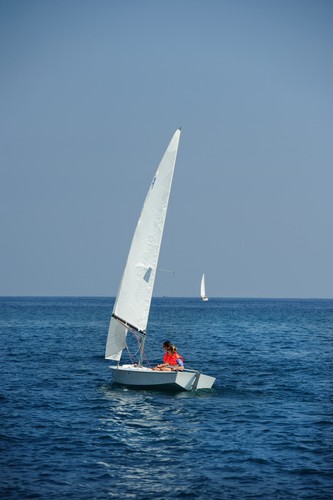 Sailing a dinghy can be challenging and relaxing so long as the sailor knows know to do so properly. By definition, a dinghy is a type of small boat, often carried or towed for use as a ship's boat by a larger vessel. The origin of the word is either from Bengali or Urdu. Additionally, the term may also refer to a small racing yacht or a recreational open sailing boat. Utility dinghies are usually rowboats or have one outboard motor, but some are rigged specially for sailing. Because the smaller sailing dinghy responds quickly to manoeuvres and is a fraction of the cost, it is more suitable for beginner training in sailing than full-sized yachts. The sailor needs to determine if he or she wants to learn on a 2-metre or 6-metre vessel.
While some dinghies are meant for emergency use only, or ancillary purposes, others are crafted for racing. Learning to sail a dinghy properly can help the sailor avert danger and arrive at his or her destination safely.
Hardware Terminology Needed to Sail a Dinghy
Each sport requires a set of terminology in order for the sportsman to understand what is going on. The following chart defines several important hardware terms used when sailing a dinghy.
Term

Definition

Strong Ring

Located on the bow

Secures the painter

Used for towing and anchoring

Rings (beyond the strong ring)

Two rings, one on each side of the dinghy, including the strong ring help in lifting the dinghy and securing it for storage

Also known as rowlocks

Sculling Oarlock

Also known as a notch

On the transom

Requires less space than a traditional oarlock

Used as a sampan

Lazy Painter

An extra line with a loop in the end to tow the dinghy behind a larger vessel

The Painter

The line that anchors the boat to a dock
While the terms above are not all inclusive of dinghy hardware terminology, the chart does provide an overview of common definitions. There are several online tutorials which talk about the initial terminology, so reviewing those prior to taking a dinghy sailing course, or going out to sea, is one way to be more prepared.
Other equipment considered mandatory, and sometimes legally required, on a dinghy includes:
This equipment should be in water-resistant bags and tied securely to a thwart or stowed inside a locker.
Dinghy Propulsion
There are three ways a dinghy can move. The use of oars, the use of a motor, or the use of a sail, all move the dinghy from location to location with varying degrees of ease.
Oar Propulsion
Using oars to move the dinghy requires a bit of strength and stamina. Smaller dinghies or those less than 3 metres are ideal candidates for oar manoeuvring. Beyond 4 or 5 metres, the dinghy should have two or three more rowers. Self-rescue dinghies have two sets of rowlocks, or oarlocks, with a middle seat which is adjustable for more efficient rowing positions. One sculling oar with an oarlock on the rear transom can serve as a compact emergency oar. Dinghies that are inflatable lack a rigid bottom and are difficult to row for long distances.
Motor Propulsion
The second option for dinghy propulsion is the use of a small motor. About two horsepower per metre can reach hull speed. If the motor goes up to ten horsepower per metre, it puts a flat-bottomed dinghy on an inverted plane. For example, a 3-metre (10-foot) dinghy with a 15 horsepower outboard motor and a hard V-bottom hull can reach up to 40 km/h. Gas tanks are typically located under the rear thwart. The engine always sings up so the dinghy can ground the vessel without damaging anything. Since the transom might need to be cut down in order for the engine to fit, the engine well should be used to prevent low waves from flooding the boat by splashing over the transom.
Sail Propulsion
Some oar- or motor-propulsion dinghies have sails as well as their particular accoutrements. However for the vessels which are strictly operated with sails, the sailors need to be mindful about mastering the techniques.
A gunter with a two-piece folding mast passed through a thwart and resting on the keel is the typical sailing ring for a dinghy. To raise it, the sailor must pull a rope called a halyard. A single-sail rig is preferable over a bermudan or marconi because a gaff rig is simpler with zero stays to attach. Also, a single-sail rig has a low centre of force. The bottom of the main sail does not have to have a boom in order to avoid hitting the vessel's passengers with a spar. Further, a sprit rig has no boom so the sailors benefit because the sail can be brailed up and out of the way against the mast when rowing or motoring.
Common Rigs in Sailing a Dinghy
Lug rigs are common in small dinghies since they are a single sail type. They remain standing and balanced with a bit of space forward of the mast. Also, they can be used without a boom. As of 2011 more compact power kites have become available to manoeuvre dinghies. Although they are easier to install, they require more attention from the sailing participants.
Sailing Traditional Dinghies
A traditional dinghy has a lee board which is hooked on the side. While this does not split the cargo, a sailing rudder is usually tied or clipped to a simple pair of hinge pins or pintles. It is clipped or tied to the transom with a longer bottom pintle so the rudder can be mounted one pintle at a time. Lee boards and rudders have swivelling tips so the dinghy can land. To make a compact package, the rudders are often arranged so the tillers fold against the rudders.
Sailing Racing Dinghies
A racing dinghy usually has a daggerboard or centreboard to sail upwind better. The trunk is in the middle of what is otherwise the cargo area. Dinghy races are put together by organisations such as the Royal Yachting Association, Canadian Yachting Association, and National School Sailing Association. Competitors from across the world are invited to complete each event. Each event has a varying number of participants on board the vessel, but each participant needs to have proven themselves in previous competitions in order to race.
Introductory Steps to Sailing a Dinghy
Although there are differences in sailing with various sails, oars, and motorised engines, there are a few introductory steps sailors should study before setting sail. Reading how-to manuals are no substitute for receiving professional training in sailing a dinghy, but these should get most elementary sailors set on the right path.
Point the dinghy in the desired direction.
Let out the main-sheet until the front of the sail starts to flap.
Once the main-sheet starts to flap, pull on it until the flapping comes to a stop.
The sail is now set to an optimal degree.
Learn how to read telltales.
Once the inside telltale flaps, trim the sail by pulling it in.
Once the outside telltale flaps, ease the sail by letting it out a little at a time.
Repeat as necessary.
Again, the steps above are not a substitute for certified instruction, but they do provide useful terminology for novice sailors. A tell-tail is a piece of fabric or yarn attached to a stay. A stay is any one of several wires which hold a mast in place on a sailboat or dinghy, and used in pairs on each side of the job. One tell-tail is located on the port stay and another is located on the starboard stay.
How to Buy a Dinghy on eBay
Buying a dinghy on eBay is a rather simple process. Simply type the model or characteristic of the dinghy into the search bar located on any page. Next, if the options are too plentiful you can filter according to the seller's geography, price of the dinghy, and condition of the dingy or associated parts. If you find that you were too strict in your initial search, you can perform a more generic search and once again filter according to your specifications.
When browsing the various product pages be sure to notice the seller's feedback. If the sellers have consistently positive feedback, a small ribbon is posted next to their names. Additionally, if they have negative feedback from prior buyers you can review it on their sellers' pages. Just as feedback helps you purchase a dinghy on eBay, your feedback also helps other potential buyers determine if they want to buy from that seller, or perhaps reconsider that particular dinghy model.
Conclusion
Whether using a dinghy as a main mode of transport or keeping it stowed on the side of a yacht, learning to properly sail a dinghy is crucial. Beyond a life jacket and steady shoes, you should be aware of the wind and tide conditions before sailing. If the waters are too rough and you do not feel steady, do not venture into open waters. However, if it is an emergency situation and you must sail your dinghy to safe waters or land, be sure you are as slow and steady as needed while battling the waves and currents. When it comes to safety, quality movements surpass the distance gained in a short time frame.
When looking to purchase a dinghy for the first time be sure to ask the seller any questions you might have before making the purchase. Whether sailing a local lake or travelling across the English channel, it helps to be prepared and practise on your dinghy beforehand. Buying a dinghy on eBay permits you to interact with sellers and fellow buyers prior to purchase so you can better tailor the purchase to your needs and talents.