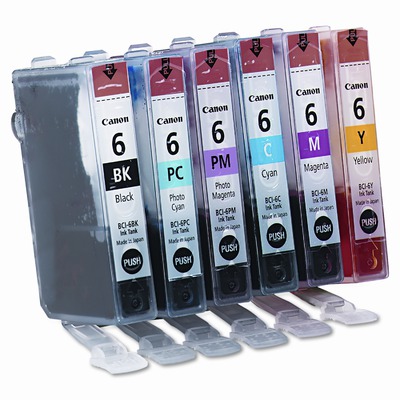 The expense associated with the purchase of an ink cartridge can be a relative thing. Those who have a small volume of printing tasks might not even be aware of the cost of a cartridge. However, users who have a great number of printing tasks and print in large volumes do notice that the price of the ink greatly influences the overall cost of printing. Paying close attention to the price of the ink is one way in which a user can lower the cost per page. Another way to achieve the same result is by selecting a more ink-efficient printer.
No matter how often the printer is used, there is money to be saved by purchasing cheap ink cartridges. The cartridges can be found in office supply stores, computer stores, and Internet retailers such as eBay. Selecting the right cartridge can be done easily once the buyer becomes familiar with the factors that influence its effectiveness. The knowledge of the different types of cartridges available can help one acquire the right kind of cartridge for one's needs. Additionally, it is helpful to know how one can utilise the tools on eBay to obtain ink cartridges at the right prices.
Genuine vs. Generic Ink Cartridges
The choice between the original brand cartridges and the generic comparable brands can be a matter of debate. If the price is used as a decisive factor, the generic type is more appealing. However, there are many generic cartridges of poor quality sold on the market at low prices, and therefore, prior research should be done to weed these out. Seek information on customer satisfaction and assessments of costs per page achieved.
There is also a growing trend of prices dropping on genuine cartridges in order to compete with the generic brands. Which type is more cost effective cannot be generalised and, with fluctuating prices, it is increasingly difficult to choose the cheaper one. Having no precise way of determining which one is more affordable, one good tactic is to choose a couple of models that deliver satisfactory results and find good offers on those models.
Choosing Between Retailers
The price of ink cartridges varies between retailers. Choosing the right retailer can considerably lower the expenses. Retailers that sell cartridges in bulk usually have better offers. Prices might also vary over time, so it a good idea to scan the market before each purchase to take advantage of limited-time offers at lower prices. Many people stock up on cartridges when the price is favourable. A few months supply is not a great financial setback, and it greatly improves the printing economy.
Recycling and Refilling the Ink Cartridges
To get the most out of a cartridge, it should be refilled as long as it is usable, and recycled in the end rather than just thrown in the trash. Refilling and recycling are two ways in which users can keep the costs of ink cartridges low. Different types and sizes of refill kits can be found, and using them is quite simple. The refill kit is also reusable, so when the ink runs out, the only item one needs to purchase is a new bottle.
Only a small amount of money is received for recycling a cartridge, but it is still better than nothing, and there is the added benefit of being more gentle on the environment. Those who have many printing tasks and prefer not to refill the cartridges can gather a considerable amount of empties over a few months. The small price received for each individual cartridge can add up to an amount that can be used to buy more ink.
Frequency of Printing
The frequency of printing plays a large role in the overall efficiency of a printer. Those who rarely use their printers can have up to six times less efficient printing, which defeats the purpose of buying a cheap ink cartridge. Careful selection of the printer is also helpful in maintaining cost efficiency. It is therefore a good idea to read the reviews and seek advanced information on ink usage for printers.
Ink Cartridge Size
The ink is not the only thing one pays for when purchasing a cartridge. The cartridge itself has value that affects the price. Some inkjet printers are compatible with cartridges of different sizes. The bigger a cartridge is, the better. Knowing about the different sizes of cartridges and their properties can help the buyer choose one that offers good value for the money. If there is any doubt about whether or not the cartridge fits, one can refer to the many compatibility charts available online.
Starter Cartridges
The starter cartridge is the one that is sold with the printer. This type of cartridge sometimes contains only test amounts of ink which runs out after printing a few pages. Starter cartridges can even be smaller in size, which makes them an unwise choice for refilling.
Normal Cartridges
The normal size, or standard cartridges, are those that are commonly found in stores. They are universal in terms of compatibility and can be installed in many printer models. Aside from brand cartridges, the compatible ones made by different vendors are also commonly made in the standard size. The standard cartridges are used to calculate the printer cost per page, so the numbers are not relevant for other types of cartridges.
Extra Large or XL Cartridges
As far as brand cartridges, these are among the cheaper ones. Extra large cartridges do require greater initial investment, but they have a larger capacity which provides better cost per page. These are also better suited for refills as the process is done less frequently in this case. When choosing an XL cartridge, it is important to keep in mind two things. First, these cartridges cannot be fitted in all printer models, so check for compatibility, and second, other brand standard cartridges can still be cheaper.
Continuous Ink Systems
The continuous ink systems consist of large ink containers placed outside the printer. They are connected to the cartridges installed in the printer with tubes, and they feed ink through them. This basically uses the same concept of refilling cartridges manually, only it is more simplified and cleaner. Continuous ink systems, however, are more useful to individuals who have large amounts of printing tasks.
Undesired Types of Cartridges
Some cartridge types cannot produce a cost-efficient copy that can compete on the market. The two cartridges types that should be avoided in printers are the tri-colour cartridges and those with a built-in print head. Those who own printers which use either type know that the only way these printers can create a cheap copy is if they refill the cartridges themselves.
Tri-Colour Cartridges
A tri-colour cartridge is a unit that houses three different inks inside. There are inkjet models which have a separate black cartridge and a tri-colour cartridge containing cyan, magenta, and yellow. If the cartridge is viewed in terms of capacity, it does not fall short when compared to other separate colour cartridges.
However, the tri colour cartridge has a fatal flaw. Any time one of the colours is depleted, the whole cartridge is rendered useless. The printer can detect the absence of a colour within the cartridge and refuses to start printing even if that particular colour is not needed for the task. This way, those who have no desire to refill the cartridge often find themselves throwing out large amounts of ink.
Cartridges With Print Heads
The print head is also a replaceable part of the printer. The printer usually goes through a great deal of cartridges before the head needs to be replaced. Some printer architectures are designed with the cartridge and the head as a single unit. This is unfavourable, because the replacement of the head with every new cartridge makes for a very high cost per page.
How to Buy Cheap Ink Cartridges on eBay
You can find some really great offers on ink cartridges on eBay. With so many cartridges to choose from, there is bound to be a cheap one that offers good performance. There are many ways in which you can access eBay's large assortment of cartridges. As always, using the search bar is a fast and easy solution. Entering a query such as 'ink cartridges' returns the desired results. The number of different cartridges makes it a bit difficult for a buyer to find the desired one without refining the search. Using the name of the specific cartridge in a query grants more fruitful results. The subset returned then is more relevant to the buyers' needs.
If you are unfamiliar with the cartridges used by a printer, it is still quite easy to find the right one. Just find a listing that involves the printer, look up the specifications, and locate compatible ink cartridges.
The listings of ink cartridges can also be reached via the category menu on eBay. Starting from a relevant category such as 'Computers, Tablets & Networking' and navigating through the 'Printers, Scanners & Supplies' subcategory, the available cartridges can be found within the 'Ink, Toner & Paper' section.
Conclusion
For a cartridge to truly be deemed cheap, it should meet a certain level of requirements while providing a lower price than its competitors. The only measure that can tell whether the cartridge is cheap or not is the cost per page it delivers, but the manufacturer's claims cannot always be trusted. Determining which one is cheaper is almost impossible, but there are some basic guidelines that can direct the buyer.
Cartridges come in different sizes, made by different manufacturers and sold by different merchants. Bigger cartridges usually provide better value for the money spent. When it comes to manufacturers, generic is cheaper than brand, but it might not be as effective. Prices offered by different vendors can also vary a lot, and a buyer should keep an eye out for limited time discount offers.
Still, these guidelines might not be enough for a buyer to make the right choice. One thing is for certain, there is no cartridge cheaper than the refilled one. As one looks for ink cartridges, one can utilise the many functionalities and the large inventory that eBay provides.