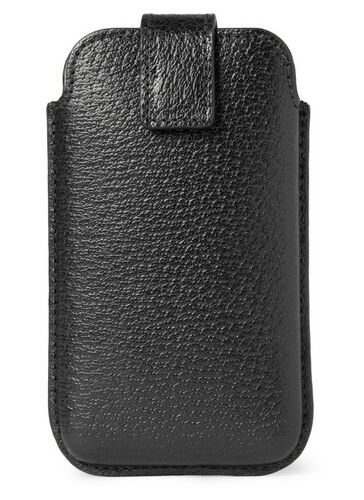 A large range of materials can be found used in the manufacture of modern mobile phone cases and covers. Many of these are plastic-based materials with enhanced properties, such as polyurethane, silicone, nylon, vinyl, and others. Each of these has its unique characteristics that offer an enhancement of some kind to the finished product. Because of their unique special qualities, however, these special plastic materials may add significantly to the overall price of any mobile phone case made from them. Fortunately for those on a budget and looking for ways to save money, there are many other types of plastic that are used, too, which are a lot cheaper to produce.
Plastic Phone Case Pricing
Many mobile phone covers are advertised simply as being made from plastic, without specifying the type of plastic that is used. That usually means that there's nothing special about that particular form of plastic, and that it offers no special advantages, such as being fire resistant or have enhanced impact absorption properties. The use of that particular form of plastic in making the phone case will contribute less to the overall price, but it will still produce a reasonably durable, impact resistant and protective mobile phone case. Under normal use, most people wouldn't notice that their plastic mobile phone case was any less durable, resilient, or protective than what would be expected from any mobile phone case.
Other Price-Contributing Factors
While the type of plastic used in making a mobile phone case may help to keep the price of it to a minimum, other features, as shown in the following table, are likely to raise the price if included. To save even more money when buying a plastic mobile phone case, keep in mind those features that may add to the price. If they're not necessary, choose a plastic phone case that doesn't offer them. There are plenty to choose from.
| | | |
| --- | --- | --- |
| Type | Fitted cases and flip cases | Fitted plastic cases for specific phone models often cost more than looser-fitting plastic wallets that are able to take various models of phone or even MP3 players. Most Flip cases that are available are made from polyurethane-based synthetic leather, but many cheaper plastic cases are also available. |
| Finish and design | Plain, glossy, jewelled (crystal, diamante), metallic, and pictorial | Finishes such as diamante, metallic and printed pictorial designs on plastic phone cases can add to the price. Stick with plain or glossy finishes for the best prices, but don't miss out on any reduced-price mobile phone cases with printed designs that haven't been as commercially successful as their sellers had hoped. These are often reduced in price to clear unsold stock. |
| Accessories | Hand straps, belt clips, and armbands | Some plastic phone cases may come with accessories such as hand straps or belt clips or can be designed in the form of an armband (mostly for cyclists and runners). Phone case clips and straps can be very useful, but they can also add to the overall price of the case and aren't actually necessary. |
| Phone case brand | Phone manufacturer or independent manufacturer | Plastic fitted phone cases designed for a particular mobile phone may be made by the phone's manufacturer, but there will usually also be several cheaper, generic versions of it made by independent companies. Being cheaper doesn't necessarily mean that the phone cases are going to be inferior in any way. Good quality, independently-made phone cases that are designed to fit a particular phone are intentionally priced lower in order to compete with those made by the phone's manufacturer. By offering similar quality for less money, independent phone case manufacturing companies can tempt a good number of customers away from the more expensive cases of the phone's manufacturer. |
Where to Find Affordable Plastic Mobile Phone Cases
Although mobile phone cases of various types can be found in some High Street outlets, such as mobile phone shops, department stores, and supermarkets, the choice is limited. Online shopping is a far better option. Plastic phone cases of all types, colours and finishes are available in countless numbers online. They can be browsed and compared at leisure. Being advertised online means they will be located anywhere in the world, but there's no need to buy from any online source abroad. Plastic mobile phone cases are available in huge numbers here in the UK, and buying from a UK-based online seller avoids international delivery charges and extended transit time. In fact, many UK-based sources offer free delivery within the UK, although usually only to mainland UK addresses due to the extra delivery charges that the seller will incur when the phone case posting to outlying areas.
Buying a Used Plastic Mobile Phone Case
Buying a used plastic mobile phone case can result in a significant saving. There are many available, and most of them aren't old enough to have suffered much, if any, damage through wear and tear. While a few used plastic mobile phone cases can sometimes be found advertised locally, such as in a newsagent's window or in the local press classified ads, there are far more used plastic phone cases available online. That means that there are far greater bargains to be had online. When checking out any advertisements for a plastic mobile phone case, always make sure there is a decent-sized, clear photo of the actual case being sold. A good sharp photo will show the condition of the phone case clearly. A photo that isn't sharp won't reveal small blemishes, marks, and scratches that the phone case may have picked up since it was first purchased new.
How to Find Inexpensive Plastic Mobile Phone Cases on eBay
To find inexpensive plastic mobile phone cases on eBay, the obvious first step is to enter the search term "plastic mobile phone cases" into eBay UK's search function, which is clearly positioned at the top of the homepage. Although that returns a good number of plastic phone covers for sale, it's an unsorted list that would be impractical for browsing and comparing. It contains every type of phone case and cover from simple socks to fitted cases and wallets for a wide range of phones. The next step is to look in the categories column on the left-hand side of the page and burrow down through them from Mobile Phones & Communication to Mobile Phone & PDA Accessories and then to the deepest level category, Cases & Covers. Having reached the most relevant category, the full range of filtering options becomes available. As the category still contains thousands of plastic mobile phone cases, the filtering options are necessary to find the required type of phone case. For example, if a case designed for a popular brand phone is required, choose the Brand filter and then select the appropriate model of phone from the displayed list. If a plastic flip case is required, the Type filter can be applied and Wallet/Flip Case can be selected. Many other filters are available, but one that is very important when trying to save money is the Price filter. Enter the required price range and all phones outside that price range will be automatically eliminated from the search results. What's left is a list of plastic mobile phone cases of the right type at an affordable price. Choosing the best one is then a simple matter of comparing the plastic phone cases in the search results.
Conclusion
Buying a mobile phone case made of a general, non-specific, plastic with no special properties, instead of buying one made from a more expensive material with enhanced properties, is certainly a way to save money. Keep in mind, too, all the other cost-cutting options mentioned. Nobody likes to pay more for a mobile phone case than they're obliged to, and with inexpensive plastic as the chosen base material of their next mobile phone case, they don't have to.