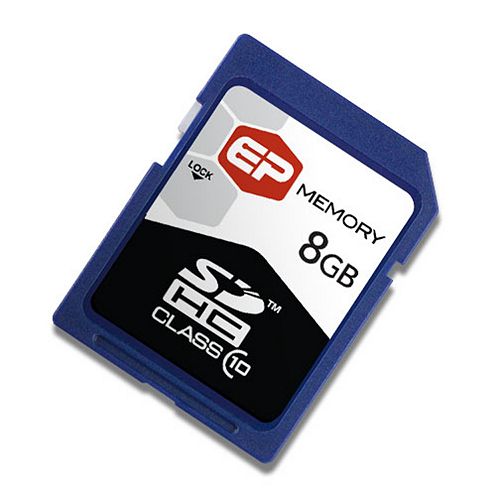 SDHC, or Secure Digital High-Capacity cards are an evolution of SD cards, which are only capable of storing up to 4GB of data. An SDHC card is capable of storing up to 32 GB of data, 8 times more than a standard SD card. Many modern electronic devices use SDHC memory cards for storage, including devices such as mobile phones and tablet computers.
About SDHC Memory Cards
SDHC cards are a popular way of expanding storage on mobile phones and tablet computers. Tablets usually use the full size SDHC cards, while mobile phones more often than not use Micro SD sized cards. These cards have a number of security features available, which is in part what makes them so popular for these portable devices. SDHC memory cards can be password protected, and can be commanded to erase any data from the card in the event of an incorrect password being entered, which is a useful feature should the device containing the card go missing and fall into the wrong hands. Some mobile phones will lock the SD cards to the phone. This means that if the phone should get lost or stolen, any personal information that may be stored on the memory card cannot be accessed from a computer or another phone, adding an extra level of security for the phones user in an age where people are giving an increasing amount of personal information away on their mobile phones.
Choosing an SDHC Memory Card
There are many things to consider when choosing an SDHC memory card. The choice between a regular size SD card or Micro SD card will depend on the device it is used with. The class of the SDHC card refers to its speed, and as some devices are not fully compatible with faster speed cards this is also a very important consideration. The capacity of the card is something else which needs to be thought about. All of these factors will affect the price of the SDHC card, although it is possible to save money by buying an unbranded or lesser known brand of memory card, many people prefer the security of buying an SDHC card from a well-known and respected manufacturer.
SDHC Memory Card Physical Size
SDHC cards come in 3 sizes: Full size, Mini SD, and Micro SD. Full size and Micro SD cards are the two which are most commonly used. Micro SD cards can be placed in an adaptor so that they can be used with a full sized SD card reader. However, there is little point in buying a Micro SD card for permanent use in a device taking a full sized card as they are more costly than their full sized equivalent. If the device already comes with a memory card, it will usually say on it what size the card is. If it does not, the instruction manual should say which size of card to buy. The below table gives the size of the various cards and can be used for clarification.
| | |
| --- | --- |
| Full Size SD | 0mm x 24.0mm x 2.1mm |
| Mini SD | 5mm x 20.0mm x 1.4mm |
| Micro SD | 0mm x 11.0mm x 1.0mm |
If buying a Mini SD or Micro SD sized SDHC memory card, look out for ones that come with an adaptor for a full sized SD card if there is any possibility that they will be need to be plugged directly into a computer, either now or in the future, as while many come with an SD card reader in, few have built in Mini SD or Micro SD card readers.
SDHC Memory Card Class
It is important to check the instructions that come with the device for what speed SDHC cards are compatible, as even some modern devices struggle to cope with faster SDHC speeds. Some devices will also show the class of device near the slot that the SD card plugs into. It will be a "C" with a number within it, for example C10 for a Class 10 device. Unless it is a requirement to quickly capture a large quantity of data, for example quick succession camera shots, recording HD videos or quickly transfer a large quantity of data, it shouldn't matter too much what class is used, for example a Class 2 card will still be adequate for storing data such as photos or music. Some devices may recommend a minimum speed, and if this is the case, it is advisable to adhere to this so as to not cause any problems when trying to use it, as in the worst case scenario it could cause data that was already stored to become corrupt and irrecoverable.
| SCHC Memory Card Class | Minimum Speed |
| --- | --- |
| 2 | 2 MB/s |
| 4 | 4 MB/s |
| 6 | 6 MB/s |
| 8 | 8 MB/s |
| 10 | 10 MB/s |
SDHC Memory Card Capacity
SDHC cards can store up to 32GB of data. The larger the capacity, the more expensive the card will usually be. While devices which state they are compliant with SDHC memory cards should be capable of reading cards of up 32GB, users of some devices find that this is not always the case. For this reason it is advisable to check the documentation, as there is no need to spend extra money on a card with extra capacity if this cannot be utilised, or even worse, causes the SDHC memory card to not be read at all. An SDHC memory card will typically store 4GB, 8GB, 16GB or 32GB of data.
| SDHC Memory Card Size | Approximate Storage |
| --- | --- |
| 4GB | 800 songs or 2000 photos or 7 films or a combination of the above. |
| 8GB | 1600 songs or 4000 photos or 14 films or a combination of the above. |
| 16GB | 3200 songs or 8000 photos or 28 films or a combination of the above. |
| 32GB | 6400 songs or 16000 photos or 56 films or a combination of the above. |
SDHC Memory Card Manufacturers
In an ideal world, the make of the SDHC memory card should not matter, however, some people prefer the peace of mind of buying a card from an established and well known manufacturer. Brand named SDHC memory cards are often perceived as being more reliable, and they usually come with a good length warranty from the manufacturer in the unlikely event that it goes wrong. Having a reliable memory card is vital if important or irreplaceable data is going to be stored on it.
Finding SDHC Memory Cards on eBay
SDHC memory cards can be found in a number of places on eBay. Full sized SD cards are most commonly found in the Camera & Photo Accessories section, while Micro SD cards are more frequently found in the Mobile Phone & PDA Accessories category. Another way of finding SDHC memory cards is to search for a term such as "SDHC card" or "SDHC micro card" from the eBay homepage as this will search all categories. To find SDHC memory cards in the Camera & Photo Accessories section, first select Electronics & Technology from the menu on the left hand side of the homepage. From here, select Cameras & Photography,, followed by Camera & Photo Accessories. To remove the other camera accessories, select the Memory Cards category from menu on the left of the page, and tick the SDHC box to narrow down the search further, to SDHC cards only. To find SDHC memory cards in the Mobile Phone & PDA Accessories category, first select Electronics & Technology from the menu on the left hand side of the homepage. Select Mobile & Home Phones from the menu, followed by Mobile Phone Accessories.. Again, the accessories can be narrowed down to only show memory cards by selecting Memory Cards from the list of categories on the left of the page. Selecting either SDHC or MicroSDHC will further narrow down the search as appropriate.
Conclusions
Buying an SDHC memory card sounds like a simple task, however, due to the number of different cards on the market, there are some pitfalls that need to be avoided. The best piece of advice is to read the manual for the device the SDHC card is being purchased for to ensure that the correct size and class of card is being purchased. With additional memory making SDHC cards more expensive, using the guide as to the approximate capacity of different sized cards will mean getting an appropriate card for the lowest price possible, however it is important to consider that in the long run, it is cheaper overall to pay more now for a larger card than it is to end up having to buy an additional SD card in the future.