Cocktail rings, or chunky rings, are true statement makers. For an outfit lacking a certain punch, a chunky ring adds an eye-catching bit of drama and flair. If you are picking out a chunky ring for your wife, fiancée, or girlfriend, it helps to have an idea of her style before you choose the right ring.
The Basics
Most women tend to veer toward either silver or gold when it comes to jewellery. Peek inside your recipient's jewellery box to see which metal she gravitates to so you know which to focus on when you are shopping for a statement ring. If you choose silver, opt for sterling silver so the ring lasts longer. Next, decide which finger you think she is likely to wear the ring on. Does she like wearing thumb rings, or does she generally stick to her other fingers? This helps you determine what size chunky ring to purchase. Women generally wear statement rings on their middle fingers, ring fingers, or thumbs, depending on their personal style.
Select a Style

There are endless styles available when it comes to chunky rings. Some of the most popular looks include spoon rings, sparkling gemstone rings, and rings adorned with graphic designs like flowers, hearts, stars, bows, or animals, such as butterflies. There are classic rings with oversized diamonds or pearls, or funky, artistic rings with modern, contemporary designs. Choose a bold-coloured ring, a ring with a single, oversized stone, or a chunky ring with many stones. Pick a cool-coloured resin ring, a ring engraved with designs, or a chic knot design. Rings come in many shapes, including oval, square, and round, and include either costume stones or authentic gems, and in different styles like stretchable or adjustable rings.
Size Matters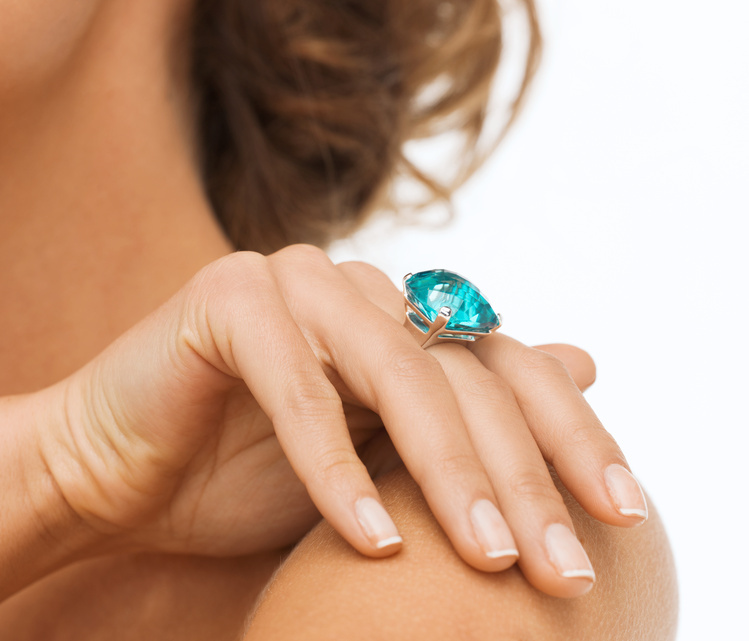 Though in general most chunky rings are large, there are a few different size variations. There are knuckle rings, which go all the way up to the knuckles when worn, and there are chunky rings worn on two or three fingers at a time and these feature bold designs. Some animal rings may cover fingers entirely, while some chunky rings simply have thicker-than-normal bands. Choose the size you think the woman in your life would wear the most. If she tends to opt for more subtle pieces, a smaller chunky ring works. If she enjoys attention-getting, oversized pieces, she may love a knuckle ring or a giant flower or animal chunky ring that is colourful and fun.
Toe Rings
If you are not sure the lady in your life is ready for a statement ring on her thumb or ring finger, then opt for something that is still stylish but less outlandish when you buy a chunky toe ring. These are fun for the warmer months when she wears sandals or flip-flops, and they call attention to a pretty pedicure.