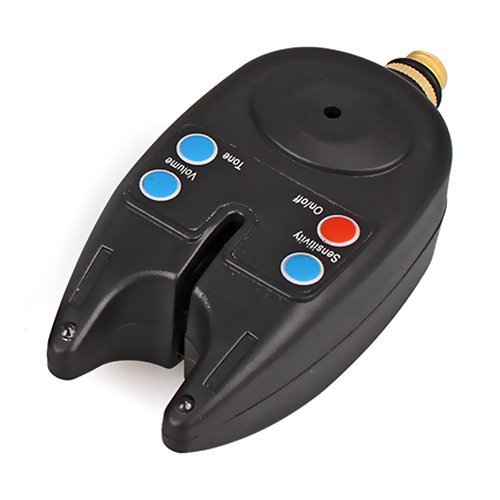 The History of the Carp Bite Alarm
Carp fish are freshwater fish with many different species. They are some of the most adaptable fish in the world. The introduction of the carp came from England and Wales, and began as early as the 1300's. The carp were imported from the mainland of Europe and raised in ponds. When the fish commission was created in 1870, the carp was stocked as a food fish. Over time, the fish gradually fell out of favour, and was ignored by fishermen for decades. Carp were even referred to as garbage fish because they eat most of what they find at the bottom of the body of water in which they reside. Although carp can make a delectable meal, because of their bottom-dwelling reputation they were once thought to be inedible. It wasn't until the end of the 20th century that carp once again regained recognition as a good fish to eat.
The bite alarm was invented by Richard Stuart Walker. Walker was born at 32 Fishponds Road in Hitchin, Hertfordshire in 1918. At the age of four he was taken out regularly to go fishing with his father. Walker wrote many books on fishing, and he even helped develop the carbon-fibre fishing rod. Walker wanted a more relaxing way to enjoy his past time of fishing, so he devised an alarm that would beep when a fish was tugging on his fishing line. In Walker's day there was only an alarm that signalled an indication that a fish was on the line. Today, however, a carp fish alarm even has gripping mechanisms that can help fishers hold the pole in place so that the fish can't take off into the stream or lake with the fishing rod. It can't be said for certain that Walker had set out to make the bite alarm specifically for the carp itself. However, he was known as a member of the Carp Catchers' Club, and Walker was instrumental in the great advances that were made in carp fishing methods in the 1950's. By the time Walker had caught the great Ravioli, his first design was a homemade bite alarm. Ravioli was a historical catch for Walker. The 44lb carp was sent to the London Zoo after he caught it in 1952.
Setting up a Carp Bite Alarm:
Carp fish are bottom dwellers. So before you set up your carp bite alarm, make sure your line is at the bottom of the lake or pond. In order to get your line to go down to the bottom of a lake or a pond you will need to use a sinker. Sinkers come various sizes and weights. In most cases a person would want to use a weight called a split shot. Split shots are a round ball with a slit on one side for the line.
Some fishers will bite right on the shots to make them stay on the line. Make sure there is enough room on your bait to raise it up off the ground. Hundreds of split shots in an assortment of sizes can usually be purchased for a very low price at online marketplaces like eBay. To take the split shot off you would use a pair of pliers on the other end. Carp are particularly knowledgeable. If anything seems suspicious, they will drop their bait. Therefore, the smaller the sinker the better.
Popular carp bait is dew worms and even chips. Carp fish eat waste, and a delicious treat for them is corn. Carp fishers can stock up on inexpensive cans of corn during the winter months from online marketplaces like eBay. Fishers can bait carp with corn by emptying a can of corn into the lake each day. This trains the carp to come to the same area each day. Some carp will even arrive at the same time or just stay there waiting for you to return.
Some fishers use dough balls to lure carp fish to the same area of the lake each day. Keep in mind that carp are bottom feeders and they will eat just about anything. If you plan to make dough balls for bottom dwelling fish that eat waste, then don't bother buying expensive ingredients. Keep in mind that instead of biting the bait, carp suck the bait in. When a carp sucks the bait in, you may never know you have a fish on your line until you are reeling in. This is why it is beneficial to use the handy carp bite alarm invented by Richard Stuart Walker.
Carp Bite Alarm Types
There are carp bite alarms for every budget. Since Walker's bite alarm was invented, much advancement has been made to include a wide array of makes and models.
* One particular model is a buzzer. This alarm can be set up in matter of seconds. It automatically turns off when you start reeling in a fish, and if a fish stops nibbling the buzzer stops beeping. This alarm is designed for fishers to use directly. The pole must be set up with a prop or a fishing pole holder. The buzzer will clamp onto the pole, and then the alarm sensors will monitor the line movement. The buzzer is an excellent carp bite alarm to set up because it is very portable and attaches right onto the end of the pole. Fishers can even reel the fish in with the device right on the rod. Models of buzzer alarms can be purchased from online marketplaces like eBay.
* Another type of alarm is a rest or holder. A popular model is made by Delkim. It includes grips that will keep a fishing rod from going into the lake when a fish is on the line. The alarm is Delkim's biggest selling model. It is one of the first choices for fishers all over the world. This particular design has a hand held device for windy days. Fishers can clip the alarm right onto a shirt pocket or collar for better hearing. There are also lights on the alarm for the hearing impaired. The carp bite alarm system and remote are waterproof. Delkim is a high end model for carp bite alarms.
* Another popular alarm is the BL First Strike Fish Alarm. You can set up this alarm by mounting it on the fishing rod. The fisher is not required to take this alarm on and off. It has a 100 decibel sonic siren and a flashing light that is difficult to miss. This alarm can also be purchased from eBay.
The Benefits of Having a Carp Bite Alarm
Carp bite alarms are beneficial tools because carp are nocturnal fish. Oftentimes 90% of a carp fishers catch is during the night hours. During the daytime a fisher can wait patiently for a catch with an alarm on the line, but at night a carp bite alarm is even more helpful. Many alarm models allow fishers to reel in the carp with the alarm still on the pole. When you purchase your alarm remember that if you fish in the wind or rain, then you may not hear the alarm on the pole. In this case an alarm with a wireless remote system would be advantageous.
Conclusion
It took quite a long time to for Richard Stuart Walker's record to be beaten. In 2008, a 60lb normal carp was caught. Although Walker's record has been beaten, the knowledge he contributed to carp fishing and his amazing carp bite alarm invention is still very valuable. In order to set up a carp bite alarm successfully, make sure you utilize eBay in order to purchase the alarm type you need.