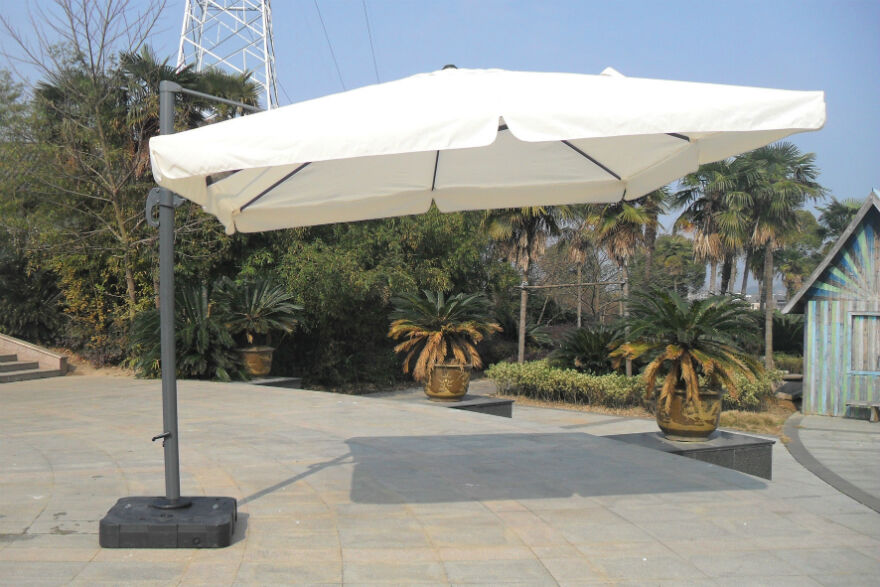 A parasol is an effective but simple way to make the most out of any garden. In terms of function it should not make a great deal of difference if a garden parasol is cheap and cheerful or ultra-expensive. Properly positioned and correctly set up, any parasol provides a welcome means of protecting a family and guests from the summer sun.
Garden parasols come in many different materials, ranging from wrought iron to aluminium, teak to bamboo, and plastic to enameled or powder coated metal. Whether sturdy teak or lightweight plastic, most parasols these days are designed for easy assembly. However, it is worth considering where the parasol is to be situated, and what it will be used for. Other important factors to consider are the angle of the sun and the perennial problem of what to do when it rains.
For anyone thinking of purchasing a parasol, one option is to visit a garden centre. However, the prices may not be very competitive, and the range is generally not extensive. eBay carries an excellent range of parasols at affordable prices.
The Best Place to Put the Parasol
The most important things to consider when setting up a parasol are the weight and balance of the parasol itself, the wind conditions the parasol will encounter, and the angle of the sun. Patios are obviously a favourite spot for putting up a parasol, although a patio may not be the best place if the house itself casts a heavy shade. For most, the joy of using a parasol is to be surrounded by sunlight, but not actually roasted by it. Therefore, one should find a spot which has a bright, open aspect, protection from excess wind, and is preferably either turf or on solid ground.
Catching the Sun
The aspect of the garden is a crucial factor here. Remembering that the sun moves in an arc throughout the day, the parasol needs to be situated in a suitable spot to provide adequate shade between 11am and 3pm. Many parasols have a tilt adjustment mechanism on the pole which makes adjusting the angle of the shade relatively easy. Nevertheless, this only applies within certain limits, and care in siting the parasol in the first place greatly increases its effectiveness.
Avoiding the Wind
A parasol, like any umbrella, is vulnerable to strong gusts. Obviously a concrete-weighted parasol will be easier to stabilise than a lighter model, but at the same time it may be more difficult to move the parasol around the garden. For those who have large gardens where a parasol is left out permanently this is not a problem, but for those whose garden furniture has to be cleared after lunch to allow sports or other activities, this may be less than ideal.
Using a fence as a windbreak, or the house itself, a parasol can generally be planted in a spot that is open enough to have a pleasant aspect, but not so open that it is windswept. The prevailing wind can and often does change quickly, but familiarity with local conditions allows the parasol to be located from the worst of it.
Preparing for Rain
Parasols are good at providing shade, but due to their height and relatively shallow angle, they do not offer much shelter from the rain. Therefore, one might consider positioning the parasol near a more permanent shelter, to to allow escape from the occasional unexpected summer downpour.
Although most parasols can cope with an occasional drenching, continuous exposure to rain can shorten the lifespan of a garden parasol. Wooden frames need annual oiling if they are to withstand more than the very occasional splash of water. One solution to consider for all garden furniture is a protective plastic cover. Parasol covers in a variety of colours are widely available.
Assembling the Parasol
Raising a garden parasol should be no more difficult than putting up an umbrella. The canopy should be ready assembled, and the most that is likely to be required is to fit two sections of the pole together and insert them into the canopy.
Tools
Parasols generally do not require access to a toolkit. Occasionally a wrench, allen key or screwdriver may be helpful, but for the most part garden parasols are designed for ease of use and no tools are required to assemble a parasol.
If the garden parasol is being used to shade a meal al fresco, the chances are it is being set up over a dedicated patio dining table. In this case there is likely to be a circular hole cut into the centre of the table specifically for receiving a parasol pole. Where this applies, setting up the parasol is simple. All that needs to be done is to insert the pole through the aperture, extend the lattice frame which supports the shade, and the parasol is up.
Providing Stability
However, it is not yet secure. The pole either needs to be inserted into the ground, or into a heavy base, in order to give it the stability needed to resist the wind.
Weighted Bases
Parasol bases come in a variety of weights, normally starting at around 15 kg and increasing to 30 kg. Generally they consist of a circular or square plastic case filled with concrete to provide the necessary weight. An alternative is a base which can be filled with sand, or even water, each time the base is used. A sand-filled or water-filled base is easy to move around the garden, but it does take longer to set up.
An alternative type of base is one made from wrought iron. These are often very decorative, with swirling patterns. They are very heavy, which provides good stability. However, they can be costly. It is important that whichever base is chosen, it is placed on a flat, stable surface. Since most patio table parasols are placed on paved patios, this should not present a problem.
Lawn Spikes
If the parasol is being sited on a lawn, there may not be a need for a weighted base at all. Simply insert the spike on the end of the parasol pole into the turf. However, such a setup is generally less stable than a solid base. For greater stability, the pole needs to be driven deep into the ground.
Free Standing Parasols
Dining al fresco isn't the only use for a parasol. Another summer pleasure is lying on the lawn reading, or snoozing, and for these pastimes the space beneath the parasol needs to be kept open. In most cases, lightweight, portable parasols are favoured in these circumstances, and their setup simply requires thrusting the pole into the turf.
Cantilever Parasols
These are a fairly upmarket type of parasol, which stand away from the seating area and hang over it to provide shade. They are more complex to put up, but only marginally so. Once the best site has been chosen, a cantilever system is operated by a lever which raises or lowers the parasol. When it is at the correct height, a simple locking device can be engaged to hold it in place.
Taking Down the Parasol
Most parasols are as easy to take down as they are to put up. Which is just as well, as an unseasonable storm can snap the spars or even tear the cloth on even the sturdiest parasol. Generally the weighted base is weatherproof and can be left in place, but the lattice of spars will need to be folded down and the pole and shade safely stowed. One important thing to remember when a parasol is taken down is to let it dry well before storing it away, to avoid mould growing on the fabric and the cloth rotting.
Buying a Parasol
If you are thinking of buying a garden parasol, first decide what purpose it will be put to. Is the parasol required to offer shade to summer al fresco lunch parties? Will it be sited somewhere windswept, so requiring a heavy base, or will the parasol be planted in a sheltered part of the garden? Will it sit on stone flags or turf? Having answers to these questions will go a long way towards choosing the right parasol for your garden.
Next decide how much money you can spend. For a smart parasol with teak spars and frame, be prepared to spend hundreds of pounds. For something basic, you can spend far less. Garden centres are often the first port of call, but the parasols on offer can be expensive, and the range is often limited. You can find some very chic, sophisticated parasols in London's West End, but these are pricey. Many people find that shopping online at Internet retailers such as eBay allows them to view a sizeable range of garden parasols in one convenient location.
Searching for Garden Parasols on eBay
Searching for a parasol on eBay is simple. Enter a search term such as "garden parasol" into the search bar found on the eBay home page. This action will generate a results page page with listings that match the search query. The more specific the search query, the fewer and the more targeted the results will be. If you simply wish to browse the listings for garden parasols, stick to a generic search query. On the results page you can hone your search by specifying a colour or other characteristic. As garden parasols are large items, you should consider searching for garden parasol in your local area. If you are able to pick up the garden parasol yourself from the seller, you will save on shipping costs. To specify a particular location, you can sort the listings by entering your postcode under the 'Distance' heading on the results page and selecting a search radius in miles.
Conclusion
Garden parasols are a popular and effective way of providing shade in the summer months. They are normally very easy to set up, requiring little in the way of tools. Most garden parasols are no more difficult to use than an umbrella. Cantilever parasols are a little more complicated, as the canopy is held off to one side of the seating area. However, even cantilever parasols are fairly straightforward to use.
An important decision in setting up a parasol is whether to use a weighted base. These bases give stability in windswept locations. An alternative, if the parasol is being set up over a lawn, is simply to thrust the pole spike into the turf. Another important consideration is where to site the parasol. Ideally, it should be placed somewhere sheltered from prevailing winds.
When setting out to buy a garden parasol it is often helpful to look at online retailers, whose range and prices are likely to be more advantageous than a garden centre or furniture store. eBay offers a wide range of garden parasols, with keen prices, making it a good place to shop for one.