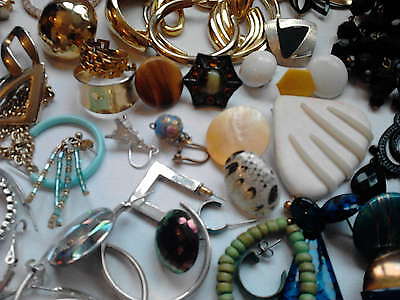 The Big Untangle
Okay, this is the scenario - You have just purchased a lot of tangled, broken or job lot jewellery.
What I do is have a table, I examine every item quickly first, if its Pearl (real or faux) it goes in one pile, if its black coloured (jet or glass for example) it goes in another pile, the lot becomes a series of piles based on colour, like sorting sweets into colour :-)
Some jewellery (like chains) might be tangled and knotted, but it is worth untangling them as there might be a sterling silver chain hidden in your lot (a needle is a handy tool for unpicking fine chains that are in knots without breaking them in my experience.
Next I examine each pile - look for any gold or silver marks or if it looks really old, an antique (which I believe is anything over 100 years old) - I go through each pile and put curiosities I personally like, or want to do further research on, in a separate pile.
After this I get a plastic tub and further separate items, metal 1 end of tub, plastic at other and small items like studs in the middle, in a little bag.
If you buy a magnet you can further separate a tub of "silver toned metal" into if it's steel or not. Some people buy silver and gold testing kits to test the metals, I haven't got around to this but I have seen some messy testing on items which damages/tarnishes jewellery which is a shame.
Sometimes I mix all the jewellery up again and resort it according to age or style, I usually separate popular themes like dogs & cats or hearts and stars into their own box.
That's about as far as I have got, if you have any other tips let me know!