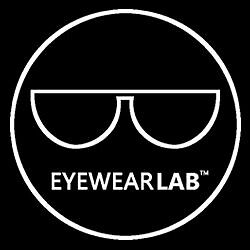 Designer Glasses and Sunglasses eBay - Counterfeit RayBan eBay Guide.
This guide provides detailed information about genuine Ray-Ban sunglasses and how to avoid the counterfeit versions (video below).
The Eyewear Lab team wants to help buyers avoid being deceived with counterfeit Ray Ban sunglasses and glasses. Over the years we have stumbled upon many fake RayBan frames so we know what you should look for to determine whether they are authentic or not.

What to look for to spot fake Ray Ban sunglasses and glasses.

1. Interlocking RB logo lazer etched into the lens on the left eye near hinge
2. Check it is etched, not painted - Etched logo will scratch off, painted won't.
3. Inter locking 'RB' logo on nose pads and should be interlocked
4. All rubber frame covers should be dusted with a kind of chalky type substance and not stiff, sticky, or slimy.
5. Care leaflet black and very glossy and machine folded.
6. Soft case - suede lined nose bridge within case. Gold Luxotica logo - should be sharp and clean.
7. Check the Lens type (say *3N) is the same as the guarantee card.
8. The grey box has a recycling logo on it which may absent from the fake.
9. The cleaning cloth should appear a quality product, and logo should not appear faded.
10. The Ray Ban leather case should have a large 'shiny' Gold logo imprinted into the material, not a dull printed logo.
100's of authentic designer glasses and sunglasses including Ray Ban in our eBay store.
GENERAL TIPS TO AVOID FAKE DESIGNER GOODS:
a. Check past feedback comments. Past buyers comments are an invaluable tool for determining if the seller has ever sold fake goods. Read comments from as far back as possible.
b. Where is the seller based? If the Sellers location is China and you are buying designer goods, there is a very high chance it is a fake as China is the world's biggest exporter of fake goods. (No disrespect to the genuine sellers in China).
c. Check the sellers other items for sale, if those look fake then you are taking a risk with the item you are interested in.
d. If the price is too good to be true then ask yourself why? Why would any honest business man or woman sell an item for way below its RRP price? A price which is similar to other sellers is usually a good sign.
e. If the pictures are copied from the manufacturers website or brochure then ask why is the seller not providing actual pictures of the item. Is there something they don't want you to see?
d. Money back guarantee. If this is provided, then great, if not the seller is not allowing you to return the product which you are legally entitled to do under the distance selling regulations act.

We hope this guide helps you to buy genuine Ray Ban sunglasses and glasses with more confidence. If you still need advice, drop us an email and we will be glad to help.
Thanks for reading.
Eyewear Outlet Lab Team