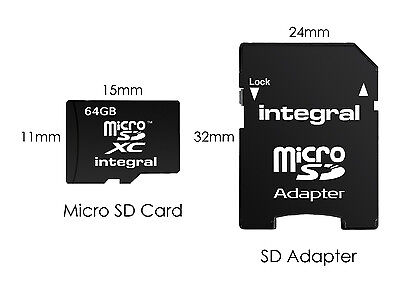 What is a Micro SD Card?
A Micro SD Card is a type of storage commonly used in small portable devices such as mobile phones. They are very small (approximately the same size as a finger nail) which is why they are perfect for use within mobile devices. At the time of writing (12/09/2014) the most common storage size memory cards are between 8GB - 64GB.
Why not check out our
genuine Integral Micro SD Cards
on eBay.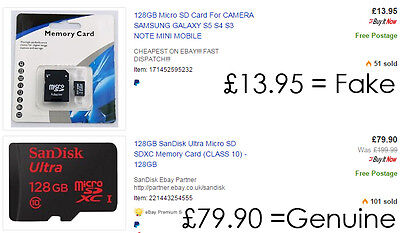 How to Spot the Fakes
Fake Micro SD Cards are often easy to spot when it comes to the bigger sizes such as 64GB and 128GB.

64GB should be around the £30 mark, if you find one for much less than this in the current market then you are definitely looking at a fake. The chances are you would be getting 4GB storage which has cleverly been programmed to show up on devices as 64GB. This programming is what makes these purchases so dangerous. As for 128GB you are currently looking at £70; I have seen hundreds of sellers with listings showing under £50 even down to £15; do not waste your time, these are best used for playing tiddlywinks.

When you get to the lower storage cards like 32GB you want to be between £12 - £20 depending on manufacturer and class of card. Having looked around at cards between 2GB and 16GB I can tell you this is the zone where it is really hard to tell the difference.

For all sizes of memory card a sign of a fake is the manufacturer details and packaging. The 4 main manufacturers you want to keep an eye out for is Integral, SanDisk, Kingston and Samsung; these 4 produce some of the best Micro SD Cards on the market. If you come across these at the correct price then you are safe. Sometimes you will find realistic fakes with company names on, just compare the prices and keep an eye out.

In terms of packaging you are also wanting to looking out for manufacturer names and logos. As shown in the price difference picture above, the fake is in a very generic white and blue package. There are thousands of these on eBay so you are not likely to miss them.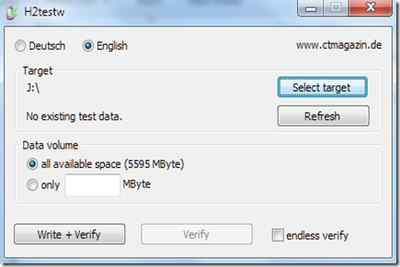 Can I Test My Card?
Short answer is: Yes!

The long answer is: Yes, there is a program by the name of h2testw. It writes data to the Micro SD Card and then tries to read it back. It can be time consuming but will tell you if you have been had or not.

The site is in German, however the program itself is English so you will have no trouble with it: If you look in Google for h2testw you should find heise(.de).