Fake Primp Thermals Tops on eBay
By: Spoil Myself Today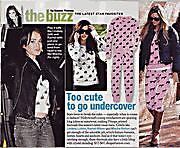 I love Primp it's a cute fun label with great clothing that is fun to wear and very comfortable as well however there are loads of sellers on eBay who are selling FAKE Primp clothing and passing it off as authentic when in fact it's not.
So how do you tell if the Thermal top you love is a fake?
Is the picture stolen from a catalogue or a website that sells Primp? Or is the only photo they show of say Paris Hilton wearing the shirt? This is a sure sign that the top is a fake, because why do they not have their own photos? Like this one of Paris Hilton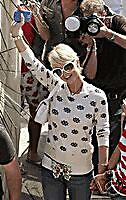 If the thermal top is made out of ribbed material a not the waffle weave stretchy material that most thermals are made from then don't bid the shirt is probably a fake. It's not authentic no matter what the seller tells you don't believe it!

If the seller tells you that these tops run slim or small then don't buy Thermal tops run large if anything! It's not authentic, don't let the seller bully you into believing that it is!

Authentic Thermals run Large not Small! Fake thermals run very small in fact a Large is more like Medium and a Medium is more like an extra small!

If the thermal top has a black and white tag hanging from the top with the words P*R*I*M*P it's a FAKE! Primp does not pre-tag their clothing what's so ever!
If you are looking for a pony thermal they do not come in a variety of colour the only colours they come in are Coffee, Cream, and Brown!
The Bunny Thermals come in Cream, Pink, and grey. If you think that your Primp item is authentic and it comes in a pre printed PRIMP clear plastic bag please inspect it further to see if the item you have purchased is a fake because PRIMP does not bag their clothing in this manner at all unless the store that it is being sold to requests it in this way so it does depend on the shop that it is being sold or made for.
If you receive a PRIMP thermal from eBay and think that the top is nice but the quality is not so good then inspect the top to see if it's a fake because PRIMP quality is amazing, as each item of clothing is handmade and once you see the real thing you will be able to spot a fake from a real one in seconds!
Notice on Fake Bunny Thermals how the Diamonds fall of very easily? However, on authentic tops the diamonds are secured on very tight and will not fall off in the washer!
If the person you are buying gets the product from the wholesaler, or manufacturer beware this is as PRIMP does not wholesale their products, you can't buy them from the OEM factory, and if someone you know works for them you can't get them at wholesale it's simply not possible otherwise everyone would be doing it!
I hope this has helped you in your purchase of a Primp Thermal top.