The way you decorate your home says a lot about your personality, tastes, and perceptions. Integrating Chinese details puts a unique touch on any room and elevates other decorative approaches. Ceramics, like Chinese porcelain in particular, add detail and striking visual appeal. Spruce up your home decor with carefully chosen Chinese ceramics that create a sophisticated oriental look.
Chinese Antiques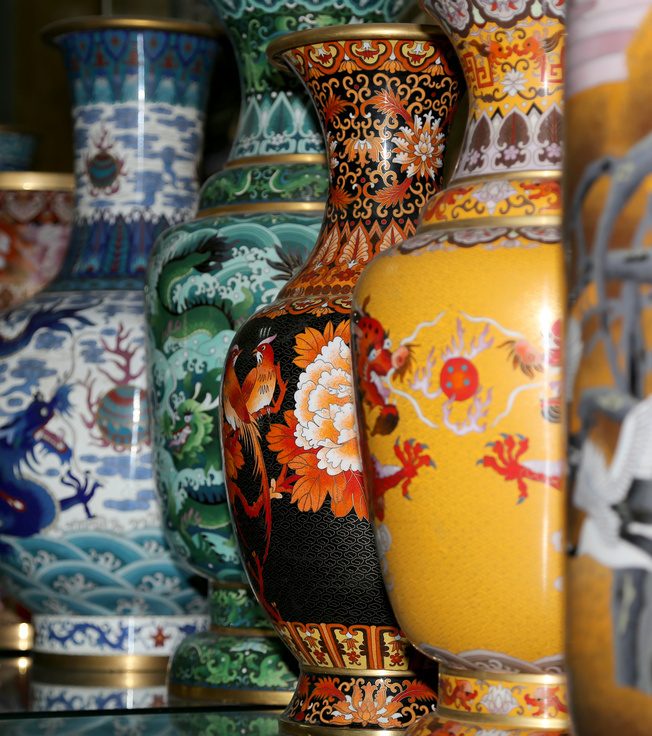 Chinese antiques are an exotic alternative to other pieces and integrate beautifully into many decorative approaches. Antique porcelain has a distinct look, demonstrating fine quality and craftsmanship rarely paralleled in newer pieces. Even the minor flaws in antique Chinese porcelain, such as delicate cracks or veining in an antique bowl or vase, add to the intrigue and unique appeal of the piece.
Chinese Teapots

An important component of Chinese culture, tea represents hospitality, togetherness, and respect. Add a Chinese teapot to your decor to bring these sentiments into your space. Place a teapot set on a shelf, a cabinet or on a small table in a living room, dining room, or even a bedroom for a welcoming, friendly atmosphere. A functional piece of decor, a tea set provides an interesting touch to a room and is an instant conversation starter.
Small Chinese Vases
Chinese vases offer exceptionally versatile style that can be the ideal finishing touch for a shelf, corner, or other space that looks empty. Tuck a small one into a gap on a bookshelf or on a table in your hall to eliminate negative space. For larger areas, put a pair together, or group several vases of differing heights and shapes for texture and eye-catching dimension. Use a stand to create varying elevations for greater effect.
Large Chinese Vases
A large Chinese vase fills space without creating clutter. Attractive both filled and empty, they offer quick solutions to large rooms without much furniture, or areas that need decor but cannot accommodate larger pieces, such as chairs or bookcases. Put a large porcelain vase directly on the floor, or fill an unused fireplace with several ones of different heights to create a visual centrepiece from a previously empty area. For maximum dramatic impact, fill one with tall reeds or peacock feathers that add height, colour, and appeal.
Add a Splash of Colour
Very traditional particularly in vintage and antique pieces, blue and white pottery gives a fresh, airy look to a room. For an edgier, more exotic appeal, choose ceramics decorated with a Chinese dragon motif. The vibrant, rich colours of these designs enliven dull areas and allow for other details, such as throw pillows and blankets in a bright colour, for a contrasting effect.