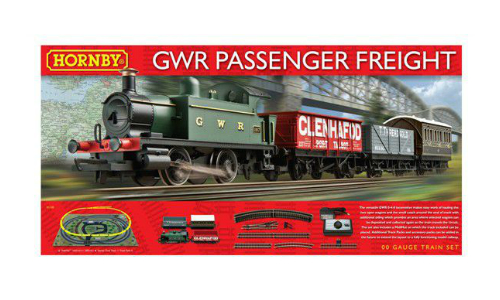 One of the brand names that have been associated with model railway sets from the start has been Hornby, with some of the most realistic models being sold by the British modelling firm.
Hornby makes it easy to construct sets as well as buy trains and the following guide explains the history of the company, how to get started with one of their sets and the best way to buy one safely and securely using eBay.
The History of Hornby
The company dates back to 1901 when Frank Hornby got a patent for a Meccano construction toy and the railway wing of the company was born.
Hornby produced their first clockwork train in 1920 and they remained the mainstay of the company's collection for the next 30 years.
An important development came in 1938 when Meccano introduced 00 Scale trains under the Hornby Duplo brand. They ran on a 12V DC power supply and are what the current crop of model trains are based on.
This led to it gaining a march on its competitors and saw that OO Gauge became the standard for model trains in the UK.
1964 was another significant date as rival Tri-ang Railways' parent company Lines Bros bought Meccano and merged Hornby with Tri-ang to form Tri-ang Hornby.
It wasn't long until more change was afoot and Tri-ang was disbanded in 1971 and Hornby Railways was born.
It has had a couple of name changes to Hornby Hobbies and now Hornby Hobbies Limited and company revenue stood over £60 million in 2010.
How to Get Started With Hornby
Getting a Hornby Model Locomotive collection started is extremely easy and the company offers a number of packs that are an excellent starting point. A more affordable and fulfilling way to start off is to obtain all the items yourself and the next sections outline the main components needed to start a collection.
Think of a Layout
Before a buyer does anything else they must think about where the model railway will go and have an idea about what the layout will look like. The following bullet points give some ideas to those starting out:
Somewhere flat – A large table is usually a good start or a piece of wood on a flat piece of floor. A loft or similar room is ideal.

Buy a Baseboard – Mentioned in the bullet point above and essential to those wanting to start off a serious set. The track can be tacked down to this eventually so take it into consideration and a good starting size is 6ft x 4ft. The size of the room will dictate this though.
Experiment with layouts – Hornby gives a number of layouts on their track mats and these can be used. Collectors will get more of a personalised feel by simply altering the layout until completely happy with it.
Is a DCC Controller Needed
When buyers set out to purchase a Hornby Railway Set there will be a decision to be made over whether to use the conventional 12V controller or the more advanced DCC controller.
The table below describes the two different methods and the different aspects of both:
Power

Description

12V Controller

· Speed is controlled using a wheel.

· One controller keeps all trains going and to control separately need more than one controller.

· Good for beginners.

· Any locomotives, new or old, can be controlled by it.

DCC Controller

· Independent control of each train.

· A computer inside the train is controlled by an LCD controller.

· Easier point control means less wires and clutter.

· More difficult to control than normal 12V controller.

· Less locomotives are designed to use the chips needed.

· Older locomotives can be converted but it can be a laborious process.
Track
They are what make a model railway set and without it there's isn't a train set. All Hornby track is 00 Gauge and it makes it important to check that what is being bought is the right brand. The table underneath lists the types of track available with a description alongside:
Type

Formats

Description

Curve

· Half, Single and Double Length.

· 1st, 2nd, 3rd, 4th Radius.

· Special version to be attached to Y Points.

Allows trains to take corners and come in a number of different formats and curvatures.

Straight

· Short, Single, Double and Long Length.

Completely straight pieces of track that vary in length.

Level Crossing

· Single and Double.

Allows trains to cross roads and have either one or two tracks.

Points

· Left and Right.

· Curved Left and Right.

· Y Point.

Let trains change to different parts of track and are controlled by the user.

Y point allows trains to go either left or right.

Express Points

· Left and Right.

Longer than standard points.

Flexible

· Fully Flexible or Semi-Flexible.

Track can be bent in a number of angles and then tacked onto a baseboard.

Power

Electricity to power the trains comes through this specially designed piece of straight rail.

Diamond Crossing

· Left and Right.

Two pieces of straight track to cross straight over each other.

Railer/Uncoupler

Automatically uncouples carriages from each other.
Locomotives
There are thousands of different locomotives that have been designed by Hornby down the years and a good starting point would be a diesel or electric locomotive before moving onto something more complex later on.
The table below outlines the main variations available along with a description:
| Locomotive Type | Description |
| --- | --- |
| Diesel & Electric | Most common form of Hornby locomotive that are powered by a motor inside the engine. Designs of the locomotives vary hugely. |
| Steam | Locomotives use Hornby's own Live Steam system to power the engine. Hornby sell the liquid that is used and each has a small boiler that powers movement. |
| Digital Sound | Trains have the ability to emit sounds when being run and it is a variation of electrically controlled trains. |
| Limited Editions | Hornby regularly releases limited editions of certain trains. |
How to Buy a Vintage Model Steam Train on eBay
Hornby has released thousands of different trains down the years and eBay is one of the best places to acquire one online. The site's sellers are experienced in the art of selling model trains and will be an asset when finalising a purchase of one of these items.
When searching for Hornby model trains first go to the Collectables category. From there, scroll down through the list of available categories and click on Trains/ Railway Models.
Once on the next page scroll down the available options on the left hand side and under Brand click on Hornby or under Categories select Hornby's own 00 Gauge.
When on the Hornby page the next selection will be to choose a Product Type. Here you can choose from Locomotives, Rolling Stock, Train Tracks, Train Sets and a number of others. The same options will also be available under the 00 Gauge category.
When looking for certain Hornby train pieces it might be more appropriate to search for them by name. Using the search box that is present at the head of every eBay page can do this.
Once ready to finalise a purchase either place a bid, click the Buy it Now button or place your Best Offer. Using PayPal will make sure the transaction is secure and goes through as smoothly as possible.
Safety Considerations When Buying
Like any items on eBay, buying Hornby trains requires some care being taken by the buyer to make sure the items are in a condition that is acceptable.
Before any purchase, the buyer should fully read the product description on the eBay platform and ensure that the information provided is sufficient and that enough evidence (photographic) is available.
When looking at items on eBay remember to check the seller's transaction history carefully and scrutinise any negative feedback that has been left. If at any time you become unsure of the seller involved ask them any questions that you feel are necessary.
Every eBay seller has feedback and if there isn't any available then it should prompt the buyer to inspect the item details even further.
Before placing a final bid go through the conditions of sale a few times and check that everything is in order.
Conclusion
Hornby Locomotives and Train Sets of all descriptions are one toy that haven't gone out of fashion since they first hit the mainstream over 50 years ago. Locomotives manufactured by Hornby have made the hobby an easily accessible and affordable one for enthusiasts and beginners alike.
Before launching into the hobby, there are a few things to take into consideration first, which are:
Check the components being bought are 00 Gauge.
Make a decision between Diesel & Electric or Live Steam.
Is DCC or 12V the right type of controller for me?
None of these should limit you at all and as the buyer, the sole decision on what is being bought rests with you. However, hopefully this guide has provided enough information to support your decision-making.
Once ready to pay for an item, remember to use PayPal to complete the transaction to make sure everything goes through smoothly.