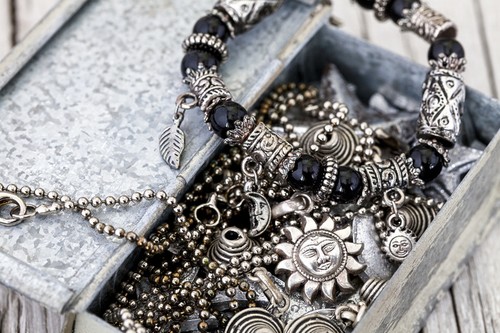 With origins dating back to prehistory, charms are used as amulets for protection, luck and prosperity; as a keepsake that symbolically represents a deep, sentimental meaning to the collector; or simply as fashion accessories. It is most common to find vintage and contemporary charms made of gold or silver. Charm collections are most commonly worn or kept on a charm bracelet. A charm bracelet is a delicate piece of jewellery with links large enough to accommodate the charms. Gold charms are more expensive than silver, but silver tends to be more durable and less likely to be scratched. However, silver is prone to developing an oxidised patina, but this can be removed with proper care.
When starting to collect charms, it is useful to understand their origin, materials, and types. There are some handy tips for keeping them in good condition. Charms, from cute animals to coins and vehicles, can be found in high street jewellers and online at eBay.
Origin of Charms
The use of charms as adornments is believed to date back to prehistory. Archaeological evidence from some African excavation sites strongly suggests that charms were in use as adornments at least 75,000 years ago and a German site revealed charms dating back 30,000 years. Charms were are originally thought to have been worn as amulets, adornments, and symbolic items for protection and prosperity, and were made from shells, clay, bones, and wood.
Times have changed considerably, and society and technology have advanced, but charms of all descriptions have remained popular. In modern times, charms still have a symbolic meaning to many. They are also worn as accessories.
Metals for Charms
Charms are most commonly made of gold or silver. The choice is based on personal taste and budget. Each metal has different qualities. Some people prefer the warm glow of yellow gold, while others prefer the understated sparkle of silver.
Gold for Charms
Gold is a soft metal. It is popular because of the connotations of wealth and luxury associated with gold. Although there are several colours of gold available, it is most common for traditional yellow gold to be used for charms. As gold is so soft, it can quickly become damaged, bent, or scratched.
Gold Carats
The carat of gold refers to the purity, or how much pure gold is present in the item. Gold is usually made as an alloy, combined with metals such as silver, copper, and zinc. 24 carat gold is the highest gold purity, and 9 carat gold contains the least amount of pure gold. However, in Germany 8 carat gold is the minimum standard. Gold with higher carats is more expensive, but also much softer, and therefore more prone to damage. Gold with lower carats may be less expensive, but if well constructed it are less prone to damage than higher carat gold.
There are a range of carat classifications for yellow gold, as can be seen in the table below. This table provides a simple way of demonstrating the differences between gold qualities. The purity of gold can be represented by a fineness mark. Fineness indicates the purity of gold in parts per 1000.
| Gold Carat | Fineness Mark | Gold Content (percentage) |
| --- | --- | --- |
| 24 | 999 | 99.9 |
| 24 | 990 | 99.0 |
| 22 | 916 | 91.6 |
| 21 | 875 | 87.5 |
| 19.2 | 800 | 80.0 |
| 18 | 750 | 75.0 |
| 14.8 | 620 | 62.0 |
| 14 | 585 | 58.5 |
| 10 | 417 | 41.7 |
| 9 | 375 | 37.5 |
| 8 | 333 | 33.3 |
Using this table, buyers can ascertain the purity of gold, and choose the carats that are most suited to them. 18 carat gold is a popular choice for charms, as it has a reasonably high gold content, but is durable and robust.
Silver for Charms
Silver creates an appearance of classic elegance and is a popular choice for charms. Silver is harder than gold, but it is still considered a soft metal. Silver is also far less expensive than gold. To further harden silver to make it more durable, a small percentage of other white metals are added, including platinum and titanium. Silver carries a hallmark that tells buyers that its quality has been certified, and provides the year that it was produced. Often a distinctive maker's mark can be found alongside the hallmark. Silver does have a tendency to tarnish much more quickly than gold. This can be rectified with proper cleaning.
Types of Charms
Collecting charms is a popular hobby. It most commonly involves purchasing a gold or silver bracelet with appropriately sized links that the charms can be attached to. After the bracelet has been selected, buyers need to consider what kind of charms they would like. There are many different types, and they are available in almost any design. Charms are commonly made from gold or silver, but other options include gemstones, enamel, or natural materials, such as shells.
Contemporary Charms for a Collection
Contemporary charms incorporate designs, including witches and wizards, Disney, Winnie the Pooh, mobile phones, and other items associated with modern culture. Contemporary charms are made from traditional gold or silver, but also from plastic, acrylic, and natural materials.
Vintage Charms for a Collection
Vintage charms are related to the past or were made in an earlier era, including antiques, which can be quite expensive. Many vintage charms have an attractive, quaint, old world quality about them, and are very popular across a range of collectors. Vintage charms are typically made of gold or silver, and less expensive charms are gold or silver plated.
Themed Charms for a Collection
Some people who collect charms choose a theme that usually means something to the collector. Others decide to opt for any charm that takes their fancy. Themes can range from animals or the natural world, to vehicles, cultural charms, or cute baby themed charms. Other than collecting for themselves, many buyers choose to start a charm collection for a young child, purchasing new charms as birthday gifts, or to mark special occasions and milestones. Charms can become deeply sentimental and highly valued to the collector.
Caring for Charms
If carefully looked after, stored properly, and regularly cleaned, charms should remain in excellent condition for many years. Silver has a tendency to oxidise, so it is advisable to keep silver charms in an oxidation prevention bag when not in use. This is a soft cloth bag that limits air flow around the charms, and also prevents scratching. A tarnished silver charm can be cleaned with a liquid silver cleaner. Gold requires minimal maintenance, other than ensuring that it does not get scratched. To keep gold safe and secure, store it in a softly lined jewellery box.
Buying Charms on eBay
eBay is a great place to start a charm collection as it has a wide variety of items to choose from, for example Pandora offer a wide selection of charms. Buyers can search for charms from the eBay homepage by entering a keyword, such as "charms", in the box that appears on every page. Buyers are then able to narrow down their results using filters. These filters include the price range and the condition of the charms. Alternatively buyers can enter more detailed keywords if they have a particular charm in mind, such as "gold animal charms". They can also enter keywords so that they see only gold or silver charms.
Buyers should read the item description carefully and look at any photographs to understand the features and condition of the charms. If the buyer has any questions about the charms or the delivery options then they can address them to the seller directly using the "Ask a question" link.
Seller Feedback
Feedback is an important aspect to consider when buying charms on eBay to start a collection. Feedback is the system that eBay offers that allows buyers to see what other customers thought of the products and service that the seller offers. Feedback is given after the transaction has been completed and it can be positive, negative, or neutral. Sellers who have a high percentage of positive feedback offer a quick and high quality service. Sellers who consistently receive great feedback are known as Top-rated sellers.
Conclusion
Collecting charms is a popular hobby for many people. In use since prehistory when they were worn to ward off evil or for good luck, charms remain popular today. They are most often made from gold or silver. Gold is more expensive than silver, but does not tarnish. Silver develops an oxidised patina, but it is harder than gold and more affordable. One of the most common ways to collect charms is to purchase a charm bracelet that is made up of delicate links of gold or silver. The charms can be attached to the links of the bracelet. Pandora have a wide range of charms and braclets available to buy on eBay.
Charms can be found in almost any shape or theme, so there truly is a type of charm for everyone. Buyers can choose to collect a single theme, or any charm that takes their fancy. eBay offers a wide range of charms for every style and budget, from vintage to contemporary.