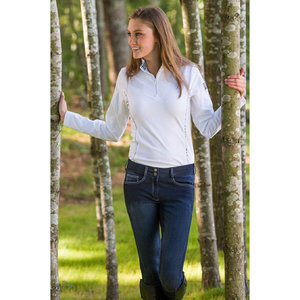 Although denim is considered too informal for many situations, with attention to a few basic ideas, it is possible to style dark denims for a dressier look. For example, this can make denim jeans a useful alternative to slacks and chinos for a man. Styling dark denim can create a look that is acceptable in the work environment, even if it is on "dress down Friday".
There are two basic elements for consumers to consider when styling dark denim. Careful consideration of the colour and cut of a pair of jeans or a dark denim jacket is the first step towards effective styling of this wardrobe item. With these ideas in mind, a denim-lover may use simple guidelines to create a modern and dressy outfit that is comfortable to wear and acceptable even in semi-formal settings. Success at this stage can also be the first step in the process in which a man may regard more dark denim wardrobe elements as suitable for styling. Although dark denim for men is widely available in mainstream retail, it is possible to find a great selection online at the auction site, eBay.
Dark Denim Colour
Traditional blue jeans, no matter how dark the shade, do not lend themselves to dressing up and creating a smart masculine look. However, when denim is presented in darker shades of grey or black, it can make a great base for creating an eye-catching outfit. For the outfit to be dressed up, avoid the use of distressed fabric. Also, there should be no fraying, tears or holes in the fabric.
The colour of the jeans or any other dark denim garment should also be as monotone as possible. A stone-washed effect is not the best base to start styling dark denim from.
Types of Dark Denim Jeans
Men's jeans are available in a wide variety of cuts that make them suitable for different situations. Choosing the right cut is an important first step in the process of styling dark denim to create a striking look. The more popular types of cut, and their applications, are described below.
Straight Cut
Dark denim jeans that are straight cut have a leg which has the same circumference from the waist band all the way down the leg. The bottom of these type of jeans does not flare out, creating a cut that is more understated and less fashion conscious. Jeans that are straight cut have a classic look, and styling this look in dark denim creates a jean that is perfect for occasions where a degree of formality may be more appropriate.
Flare Cut
Flare cut dark denim jeans have a wider circumference below the knee which gives them a more distinct bell-like shape. Traditionally for men, this cut is worn on the hips below the natural waist, making them less suitable in more formal environments. Flare cut jeans never lose their appeal, and careful styling can lend these jeans to all but the most formal situations.
Boot Cut
Boot cut jeans are so called because they are tailored with a narrower thigh that tapers to the knee and then widens out to allow a pair of boots to be accommodated without making the jeans bunch up over the boots. Although the jeans do not have to be worn with boots, men typically purchase dark denim boot cut jeans specifically to wear with boots. This makes the jeans less appropriate for formal environments.
Bell Bottom
Fashionable in the 1970s, jeans with a bell bottom cut are worn tightly fitting at the hips, even by men, but are more loose from the knee downwards than flare cut jeans. The width of the bell bottom makes this cut of jeans suitable only for informal occasions.
Skinny
Skinny jeans, often called tapered jeans, are cut to taper from the hip to the end of the ankle. They create a very specific look that is of an informal style and only suited to tall, slim men. Buying skinny jeans, even in dark denim, requires more consideration of what they can be worn with than any of the other traditional denim cuts.
Clearly, dark denim jeans that are either straight cut or flare cut jeans lend themselves particularly well to styling. However, the ideas included here can still have an impact, albeit less, on skinny, bell bottom, and boot cut jeans.
Styling Ideas for Dark Denim
Having chosen the ideal cut and colour, there are some simple ideas that can be followed to create a sharp look that works in a number of circumstances. These ideas cover garments and accessories that can be used to complement dark denim.
Dark Denim Jeans With a Blazer and a T-Shirt
A blazer and T-shirt combination can work very well with dark denim jeans for a modern take on a more formal look. Choose a blazer or jacket that is also monotone and complements rather than contrasts with the colour of the denim. Colour can be added to the outfit with a contrasting crew or V-neck T-shirt, provided it is masculine enough to stand out but not too bright to clash. If the effect is rather too formal, it may be toned down with a suitable patterned T-shirt.
Dark Denim Jeans With a Shirt and Tie
The formal look of a button down shirt, combined with a tie, can make dark denim jeans look stylish. Careful choice of shirt can pay great dividends. Firstly, choose a colour that works well with the jeans; patterns on the shirt should be subtle and not too overstated to have a greater impact. To dress up dark denim in this way, it is important that a tie is worn to add just a simple masculine touch. The shirt neck can be open, but the inclusion of a simple, plainly coloured but narrow tie can blend the shirt and jeans into one stylish outfit very well.
Dark Denim Jeans With a Waistcoat
Dark denim jeans work well with a contrastingly coloured and patterned shirt if it is combined with the classic look of a waistcoat. A waistcoat from a suit is part of most men's wardrobes, and it can be given a new lease of life by using it in this way. Simple colour combinations that compare and contrast the elements of the styling can make the wearer stand out in a crowd.
Dark Denim Jackets
A dark denim jacket, without the distressed look, can be the new blazer. With current cuts, it can be sophisticated enough for a number of occasions. With the latest cuts, dark denim jackets can be versatile and functional enough for a man to wear at any time with some careful attention to styling. They look best when fitted closely, so adding a wool scarf or lightweight cardigan can help make a jacket work indoors as well as out. Remembering to avoid distressed denim, a man may wear a dark denim jacket with a pair of contrasting trousers and still retain sufficient gravitas for work wear. For the social occasion, pairing a dark denim jacket with contrasting midweight cotton trousers can create a look that is elegant and easy to carry off.
Dark Denim Shirts
The key fact to remember about dark denim shirts is that they do need to look dark. However, to create elegance, it is important to avoid the washed out look. A dark denim shirt can be worn in a number of ways. For a more informal look, wear the shirt with lightweight or twill trousers, and complete the informal look by leaving the shirt open to the waist and twinning it with a classic white T-shirt. To take a dark denim shirt upmarket, it may be worn tucked neatly inside a pair of chinos. Adding a subtle belt to the chinos also creates a stylish masculine look that works for a number of semi-formal situations.
Accessories to Wear With Dark Denim
Styling a pair of dark denim jeans to make them look appropriate in more formal situations can be easily achieved with the help of a few accessories from the wardrobe.
Shoes
To make the most of styling dark denim jeans for men, careful consideration needs to be given to the type of shoes that are worn. Styling dark denim means leaving the trainers and more casual shoes in the wardrobe. Put simply, there is no substitute for a smart pair of leather shoes or a pair of shoes with pointed styling to attract the eye. One carefully chosen pair of pointed shoes can work with a variety of outfits and should be an essential part of a man's wardrobe.
Ties
A suitable tie can transform a styled dark denim outfit into something that creates the right first impression. Narrow ties work best and should always be one colour. The tie draws the styling together and should not stand out in its own right. A bow tie may also be useful in creating an impression, but it is best worn with a shirt and waistcoat combination.
Turn-Ups
Whilst not strictly an accessory, think carefully about using turn-ups. They can add a splash of contrasting colour to the bottom of a pair of jeans, but they may not work well on men who are slightly shorter.
Belts
A good belt is a wise investment, particularly when you are looking to style dark denim. A belt made from high quality leather completes an outfit. A pair of jeans that rests on the hips is not designed to look dressy or styled in anyway. However, the addition of a simple belt can completely change the impression conveyed.
Buying Dark Denim on eBay
Searching for men's dark denim listings on eBay really could not be easier. From the eBay homepage, if you enter "men's dark denim" into the search bar, you can see the many listings on the website. You may feel that the number of listings is too many to deal with, so you can start to customise your search by including details such as the cut of jeans into the search bar as well. This way entering, "men's straight cut dark denim jeans", for example, can begin to give you more specific listings.
eBay also provides a variety of tools to help narrow your search down. These tools are found by clicking on the "Advanced" search link on the homepage. Among the many tools in this option include searching by category, description, price range, location, and type of seller. Utilising any of these options can get you closer to the dark denim item you are looking for.
Conclusion
Buying any kind of dark denim is a start towards creating a wardrobe that permits a man to style himself in a variety of ways. A few well chosen pairs of dark grey or black jeans can be easily combined with stylish, pointed shoes and a waistcoat with a few sharp shirts to form the basis of a wardrobe that is suitable for a multitude of circumstances.
eBay lists a large number of dark denim items that can be combined with existing items from the wardrobe to create a look. The convenience offered by eBay allows shoppers to return to the site later if they are not able to find the right dark denim items they are looking for. As new listings are added to the site constantly, one can be sure of finding an item on eBay in due course. By leveraging the power of eBay, a man can find and purchase garments that expand his dark denim wardrobe as well as his sense of fashion.