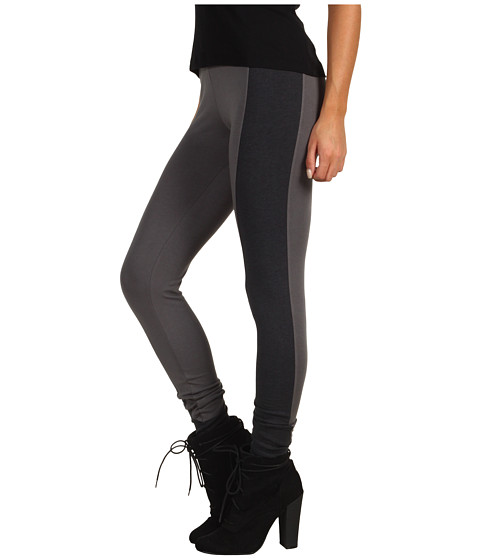 Standard leggings are typically opaque, but are available in a range of thicknesses. They can be worn as trousers, or to cover the legs under another garment. Leggings are made of a lycra blend, but also come in leather. More sturdy leggings are cargo leggings, a tight form of cargo trousers, and jeggings, a cross between jeans and leggings. Styling leggings is fairly simple. First the buyer should decide on the right length of leggings for the outfit, then consider whether they wish to wear standard leggings or one of the crossover forms. The fit is important as leggings cling to every curve, so a poor fit is both uncomfortable and creates an unflattering look. It the wearer wishes to avoid exposing their bottom in the tight fitting garment, they can style the leggings with a long tunic top, short dress, or a pair of shorts. Given the form fitting style, the colour has a strong influence on the appearance of the leggings, and so should be chosen with care. There are many options are available to help a woman to avoid any fashion faux pas, and pull off a stylish look.
Leggings are available from women's clothing shops, department stores, and hosiery boutiques, as well as online from eBay, where buyers can find a perfect pair of leggings to suit their style.
Length of Leggings
Leggings are versatile garments which provide warmth and a covering for the bottom, hips, and legs. Many women choose to wear opaque leggings as trousers. When styling leggings consider the effect of the length on the appearance of the legs.
Full Length Leggings
Full length leggings reach down to the ankles. They are suitable for when a woman wants to fully cover her legs and for cold weather. In dark colours they have an lengthening effect on the legs, but they also cling, so take the shape of every lump and bump. They can be worn with shoes of any heel height, but an ankle boot with a low to high heel further elongates the legs.
Capri Length Leggings
Capri leggings end around the mid calf. They have a sporty look and work better with flat shoes than high heels. Capri leggings visually cut the legs at the calf, and so can make short legs appear even shorter. Wearers with very long and slim legs benefit from this effect and look good in capris. Avoid wearing capris with boots, because the distance between the top of the boot and the bottom of the leggings can create multiple lines that are distracting and make the legs look disproportionately short when compared to the rest of the body.
Styles of Leggings
Standard leggings have been joined by other forms of tight fitting trousers in recent years. Jeggings, leather leggings, and cargo leggings are all hybrids: part trouser and part legging. As they are more like conventional trousers, they are most frequently worn without an extra covering for the hips and bottom.
Standard Leggings
Standard leggings are similar to a pair of opaque tights. They provide a warm, comfortable covering for the legs. Most standard leggings are made from lycra with a cotton or nylon blend. This makes them very close fitting. Therefore they leave little to the imagination, so some women are more comfortable wearing them with a top.
Jeggings
Jeggings are a cross between denim jeans and leggings. Denim and lycra are blended to create a jean-like stretch fabric. Denim is a rugged material, so jeggings are more hard wearing than other leggings; they provide greater protection for the legs; and although they are still close fitting, they are not as tight as standard leggings. Some jeggings have small pockets on the hips to further mimic jeans, and to make them a more practical outer garment.
Leather Leggings
Leather leggings are made from very tight fitting leather. They are incredibly warm, as the leather acts as a second skin. They can be worn as outer garments, or with a long top or short dress. The rock chic look that they provide is completed with a pair of stunning heels.
Cargo Leggings
Cargo leggings are a cotton cargo trouser and legging hybrid. The cotton is blended with lycra to make the fabric stretchy and clinging. Cargo leggings usually have pockets on the thighs, or at the side of the knee, just like ordinary cargo trousers. Cargo leggings can be worn as practical, casual trousers as part of a day wear outfit.
Tips for Styling Leggings
A number of simple tips can help a woman to style leggings successfully. Following these guidelines allows a woman to show off her good bits, hide her less flattering parts, and stay on trend.
Check the Thickness of the Leggings
The thickness of the leggings influences how warm they are and how much can be seen through them. For the winter, jersey knit leggings are thick and warm, and they are less likely to be see-through when pulled tight, such as when the wearer bends over. Thinner leggings, which are more like thick tights, provide less warmth, and are more likely to be somewhat see-through, which can create a blotchy and unflattering look on the legs.
Choose the Colour of the Leggings With Care
Leggings are available in every conceivable colour, from plain black to neons, and shiny metallic gold and silver. The colour of the leggings has an impact on the overall outfit. Plain black leggings have a slimming effect as they visually elongate the legs and narrow the hips and buttocks. However, encasing the body in a clingy dark fabric reveals a definite outline, so if the lower body is disproportionate or has lumps and bumps, it is clearly visible. The look can even be unflattering for women with long, thin legs as dark leggings can make them appear spindly and awkward. Pale or pastel shades have the opposite effect, and can widen the lower body. Shiny metallic leggings cause the light to bounce off them, which gives them a slimming effect.
Choose the Right Size of Leggings
Leggings that are too tight can result in the unsightly 'muffin top'. Leggings that are too large can be baggy around the legs and buttocks, which is creates an undefined and unattractive look. Therefore, it is important to ensure that the leggings fit: they should be close fitting, but not overstretched in any part. If possible, try on the leggings in front of a full length mirror. If that is not possible, take the hip, waist, and height measurements and match these to the size guide for the leggings.
Style Leggings with a Top
If extra coverage is required for the bottom, hips, and thighs, then a long tunic style top can be worn. Alternatively, any short dress, such as a tunic dress or a jersey knit dress, that falls no lower than the knees is an excellent choice and can draw the attention to the upper body and away from the legs. For jeggings, leather leggings, and cargo leggings, a top that ends at the waistband works best and can flatter the shape of the legs.
Buying Leggings on eBay
For a wide selection of leggings in every size, style, and colour, eBay is an excellent place to shop. Every woman should be able to find her ideal pair from the range available. Buyers can browse through thousands of different leggings listings by performing a general search from the eBay home page using the term, "leggings". Alternatively, for fewer and more accurate search results, enter specific search information, including the size, colour, or length, such as "black full length leggings size 12". Search results can also be limited by price and condition.
Checking the feedback scores of the seller before completing a purchase is a part of the eBay process. Feedback indicates the seller's reputation on the eBay platform. A high percentage of positive feedback means that the seller provides good quality products in a timely manner. Always check the returns policy of the seller in case the leggings do not fit.
Conclusion
Leggings are incredibly popular among women of all ages, and they make appearances at events from formal to casual. The different thicknesses and materials allow them to be worn throughout the year. It is easy to create a fabulous, trendy outfit using leggings, or to style them for an understated look. As they are tight fitting, leggings can be unforgiving and show every lump and bump, so it is wise to choose just the right fit and to style them with a dress or skirt if necessary.
Styling the leggings involves a careful consideration of the length, colour, and size of the garment so that they have a flattering effect on the legs. As well as standard leggings, jeggings, leather leggings, and cargo leggings are also available. The thickness should be chosen so that it is appropriate for the level of warmth that the wearer desires. From shiny metallic silver leggings to sensible black ones, eBay has a wide selection to suit every outfit and budget.