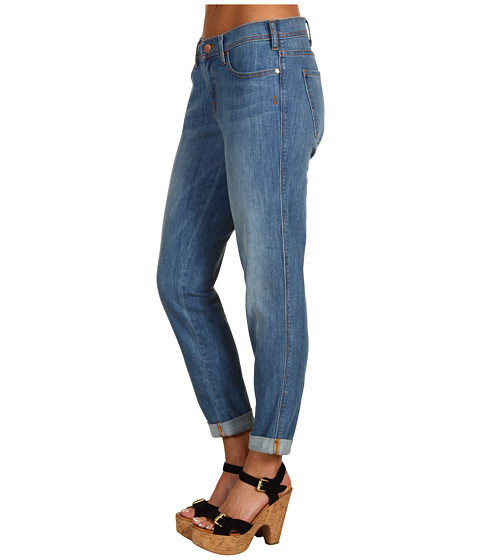 Wearing light denim jeans is a popular basic men's look for both summer and winter. Whether styled with a simple T-shirt or paired with jackets and coats, light denim is a versatile look because light denim has been a fashion staple of men since about the mid-eighties. Unfortunately, most men have no idea how to style light denim jeans other than by pairing them with a basic T-shirt. Light denim is traditionally for very casual wear, but with today's fashion standards and new trends, light denim can be worn for more occasions, when styled right. Light jeans can be paired with button-down shirts and scarves for a stylish look and with leather jackets, boots, and studded belts for a grunge look. This is why men should know the features of basic cuts of light denim and how it can be styled to achieve different looks. Men can use the guide to purchase light denim for their build or to style denim jeans that they already own.
How to Style Cuts and Styles of Jeans
Light denim, like other types of jeans, comes in a variety of cuts and styles. Men should consider purchasing cuts specifically to flatter their frame. For example, skinny jeans flatter someone with a lean silhouette, boot-cut jeans flatter someone with wider hips, and high-rise jeans might flatter someone older more than modern low-rise ones would. Essentially, part of styling denim is choosing a flattering cut.
Regular Light Denim
Regular or classic-cut jeans usually feature a medium high waist and a cut that is usually slightly loose in the waist, thighs, and hips, which means that men who want a tighter fit can size down from their normal fit. Regular-fit light denim jeans normally feature a slightly tapered leg that flares out more than the straight-leg jeans but less than boot-cut ones. Regular and classic cuts are excellent for men of all ages, but are a great deal more flattering on older men than many other denim styles. Because they are classic, and are normally a little loose and stylish, they can be worn anywhere that jeans are allowed.
Boot-Cut Light Denim
Boot-cut jeans have a low to mid-rise waist and are one of the most popular styles of jeans. Boot-cut jeans flare out at the legs so that they can easily fit over popular styles of boots. This style originated in the same place as the denim jean, in the United States, where boots are worn frequently for work and leisure purposes. Boot-cut light jeans can help to balance wide hips to make a figure more even, but are also very flattering to most men's body types.
Straight-Leg Light Denim
Straight-leg jeans feature absolutely no flare in the leg. Instead, the entire leg of the trousers, from the thigh to the ankle, is the same length. These jeans can range from a high to a low waist, but are usually more flattering in lower styles, especially on taller men. Straight-leg jeans are excellent for tucking into boots, or wearing a basic style, and are usually one of the most flattering styles of light wash denim.
Skinny Light Denim
Skinny jeans are one of the newest styles of jeans and usually feature at least part Lycra or other stretch fabric. Skinny jeans are designed to fit closely to the body, hugging the legs and the hips. While these jeans come in a variety of colours, the light denim style is very popular. Men with large calves and legs can choose to wear straight-leg jeans if skinny jeans fit too tightly.
Loose-Fit Light Denim
Loose-fit jeans are those that are especially wide or baggy. Usually this look can be achieved by purchasing a larger size of jeans and wearing them with a belt; however, some jean stores sell baggy styles with a waist to fit. These jeans are often considered to be very casual, although many people wear them as part of hip hop culture or because they are comfortable.
High-Waist and Low-Rise Light Denim
High-waist jeans are often considered old fashioned, but can be very flattering when styled right. High-waist jeans should not be worn too tight, but a little loose. A pair of light wash high-waist denim jean that fits correctly can be paired with boots and shirts to hide problem areas. While mid-rise jeans are most common for men, some men prefer to wear low-waist versions. Low-rise jeans on men are usually jeans with a rise shorter than 20 centimetres, or below the prominent points of the hip bones. These jeans are usually not appropriate for older men who are more flattered by straight-leg or regular jeans. Combined with a light wash, especially a stone wash, low-rise jeans can easily create a grunge look.
Styling Light Denim for Casual Fashion
Light denim jeans are very easy to style for casual fashion because they are normally considered to be quite casual. The light colour of the denim combines well with a variety of shirts, shoes, coats, and jackets, meaning that men can often wear just about whatever they want with the jeans and look good. Everything, from a basic T-shirt and sneakers to heavy parka-style coats and boots, looks good with light denim jeans, but it is important to style according to one's body type and personality. Men who prefer a rock style can wear light denim jeans with leather jackets, graphic T-shirts, boots, hi tops, and studded belts. Men who are more conservative might want to go with a brown leather or thick wool coat, and can easily pair a solid colour shirt or T-shirt with their light denim for a classic look. In this case, straight-leg and boot-cut light denim are both good options.
Styling Light Denim for Trendy Fashion
Men's fashion is all about looking masculine without attempting to be 'tough'. Men can wear layers, prints, bright colours, patterns, and other styles as they choose. Pairing bright colours with light-coloured jeans, adding stylish accessories such as scarves and shoes, or mixing styles to create a unique look are all good options for styling light denim.
For a basic look, men can pair a bright T-shirt with light denim and add sneakers. For autumn and spring, men can add a layer, such as a printed button-down shirt, and for winter, a jacket or blazer depending on how trendy they want to look. Colour blocking is also usually popular and can be achieved by pairing a solid-coloured shirt with light denim and opposing colour shoes. While not quite as dramatic as many styles such as wearing red pants with a blue shirt, it does give off a stylish effect. Pairing light jeans with any type of printed button-down top, including plaid, striped, and flannel, is an excellent way to add warmth to the outfit while keeping it stylish.
What to Avoid When Wearing Light Denim
While styling light denim is relatively easy, there are a few fashion mishaps that are equally easy. For example, usually it is a bad idea to pair light denim with a denim jacket, unless the intended impression is that of a biker or cowboy. Denim on denim can be flattering, but in the case of lighter washes, it's usually just overwhelming. Similarly, men should avoid wearing light denim washes with polo shirts, unless that polo shirt is a casual colour such as a stone-wash blue or light grey because these types of shirts are too formal for light jeans. Another good idea is to avoid wearing stained and ripped light denim for fashion. While stains don't show as much on darker denim, they can be glaringly obvious on light colours, meaning that any jeans with stains should only be worn casually. For rips, while occasionally fashionable, they are best left to summer and probably casual wear as well.
Buying Light Denim on eBay
You can purchase light denim jeans on eBay from a wide range of designer and budget brands. You can find a variety of denim including every style, size, and potentially every brand, including rare and hard to find jeans from high-end designers. You also have the option of purchasing very cheap options, which means that you can get more pairs in order to add different elements of style to your wardrobe.
If you are looking for light denim, you can start on the home page of eBay and then search for your size and the style you want. Men's jeans come in a variety of sizes, but the most common are the ones based on the measurement of the waist in inches. You can find your waist size in inches by dividing your waist size in centimetres by 2.45. Once you know what you are looking for on eBay, for example, 'men's stone-washed jeans', or 'men's light jeans 32', you can simply search for it right from eBay. From there, you should check the size, any return options if important, and the shipping fees before proceeding to the payment.
Conclusion
There are many ways to style men's light denim, but it is not difficult. The most important things to keep in mind are that the denim should fit and flatter the body and that the style should match the person wearing it. Usually light denim is considered more casual than darker washes, but it can still be paired with button-down shirts, certain colours of polo shirts, and even blazers when the occasion is right. Men can also consider pairing light denim with scarves, cardigans, T-shirts, and more to create their own unique look that can range from academic to glam-rock, and anywhere in between.
While often considered a fashion basic, light denim can be dressed up by choosing different washes or patterns, pairing colourful accessories and shoes, and even wearing graphic T-shirts or more formal shirts. Men can essentially do whatever they like with light denim jeans, but they should avoid pairing light jeans with light denim jackets or dark-coloured polo shirts.