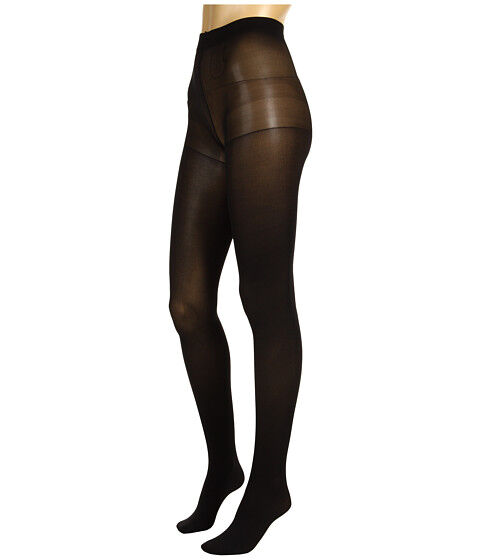 Tights used to be plain and practical, but now they are very fashionable and available in an array of styles, incorporating vivid colours and innovative patterns. Tights do provide a practical covering for the legs and can be flattering, but they also allow women to express themselves and their mood. However, it is very easy to get it wrong, and a pair of tights can draw attention to the less favourable aspects of a woman's appearance. For example, a standard, full footed pair of black tights may not look quite right with strappy sandals or peep toes.
The time of year also influences which tights should be chosen, as does the occasion for which they are worn. Tights should be styled based on the dress, which should be the main focus of the outfit. Tights are widely available from women's fashion shops, lingerie stores, and accessory and hosiery shops. eBay also offers a large selection of tights, suitable for every occasion, season, and woman.
Seasonal Considerations When Styling Tights
When purchasing tights, women should consider the time of year that they are to be worn. Thin, sheer tights of a low denier may provide a good covering for the legs, but they provide no warmth. Thick, woollen or jersey tights provide a much higher level of insulation. These tights are usually a denser colour and well suited to use during the autumn and winter.
Choose Tights to Wear With Boots and Shoes
Choosing the right tights to go with a pair of shoes or boots is important because tights tend to draw focus to the legs and feet. Therefore, choosing tights that clash horribly, or are not designed to work with a particular shoe is not flattering, and can spoil an otherwise spectacular outfit.
Sandal Toe Tights
Sandal toe tights end either at the arch or the ball of the foot. These tights allow women to wear sandals, and peep toe shoes and boots while still remaining stylish, keeping the legs covered, and leaving the toes bare. Sandal toe tights are often sheer and nude, although thicker ones in different hues are available for the colder months.
Footless Tights
Footless tights end at the heel. They are similar in appearance to thin, very tight fitting leggings. Opaque versions are also available in flesh tones, to give the impression of a smooth, flawless bare leg. Footless tights allow women to wear very revealing shoes, such as strappy sandals and toe post sandals.
Standard Tights
Standard tights are those which cover the entire foot, and are available in jersey knit wool, and a range of nylon deniers, colours, and patterns. Standard tights can be worn with any fully covered boots or shoes, as long as they are seasonally appropriate, and the colours do not clash with the rest of the outfit.
Support Tights
Support tights are often associated with women who have varicose veins. In reality, women of all ages can wear support tights, which have targeted support for different areas of the body, and still maintain a stylish, fashionable appearance. These tights are available with stomach control panels, and thigh and buttock slimming panels. These panels help to draw in and smooth areas of cellulite. Some support tights help tired, aching legs, by giving them a little lift, and are also designed for women taking long flights. Support tights are usually only available in nylon, in a range of deniers, and either in black or flesh tones. Some are available with a pattern, but most are plain.
Choose Tights to Complete a Well Styled Outfit
Tights help to complete an outfit, and can be an important accessory when wearing a dress. The desired look a woman wants to achieve has a definite impact on the type of tights that she wears. There are also a number of loose guidelines to be aware of to avoid any hideous fashion faux pas, and to make sure that the tights work with the dress.
Do Not Overwhelm the Observer
It is important to know which tights go with which dress without hurting the eyes of the observer. Avoiding a very busy, chaotic appearance is wise. If the dress is patterned, then patterned or embellished tights should not be worn. If there are too many patterns in the outfit then the eye of the observer is easily overwhelmed, and is not drawn to a particular flattering area as there is far too much going on.
Sometimes Subdued is Best
If the dress is made up of bold colours, then tights in dark or subdued tones are likely to be the best choice. Neon green tights with a neon pink dress, while very bold and bright, may not create a harmonious outfit. Whereas a pair of black tights with a bright, vibrant dress works well, and draws the eye to the dress, allowing it to be the star of the show, while still showing off the legs in a flattering way. Consider the setting: bright, bold tights are not suited to a very formal evening event, a business gathering, or a funeral. In these situations, subdued hues are the most appropriate.
When to Go Bold
While it is vitally important to know when to tone down an outfit and wear a pair of sensible, muted tights, it is equally as important to know when to be daring and bold, and spice up a plain ensemble with a pair of tights that have a splash of dazzling colour. In the right setting, a dark dress is lifted by a pair of coloured tights, and look far more interesting and exciting than a dark dress with matching dark tights and shoes. If the dress is predominantly dark, but has a hint of colour, such as pin stripes, tights that match this colour work exceedingly well, drawing attention to the colour in the dress.
Use Tights to Create Texture
Sheer tights which have patterns, such as fishnets, or floral tights are a great way of adding texture, and a little flair to a plain dress when bright colours are not appropriate. Studded tights, or those with small rhinestones, can be used to add glamour and sparkle.
Get the Right Fit
Tights should be smooth all the way up the leg. Layers of wrinkles at the ankle should be avoided at all costs. The infamous Nora Batty look is truly awful, and looks very strange in the modern era. Therefore, women with short legs should make sure that they buy short legged tights, or have some method of keeping the extra material hidden. Tights that are too small should also be avoided, as even one size too small can cause discomfort, visible lines, and bulges at the hips and waist.
Buying Tights on eBay
While tights are available at ladies' hosiery, lingerie, and fashion shops, eBay offer a vast array of tights, in every imaginable style, pattern, and hue, all in one place and at fabulous prices. Buyers can find tights on eBay by performing a search from the eBay home page. The more information provided in the search, the fewer, and more relevant the search results will be. Entering precise information, such as "20 denier black tights" or "red fishnet tights" will take buyers quickly to the exact type of tights they are searching for, whereas using general terms, such as "tights", will produce masses of results for the buyer to browse through at their leisure. Buyers may even surprise themselves and purchase a stunning pair of tights that they may not have previously considered.
Understanding feedback scores is an important part of the eBay process. Sellers who have a high percentage of positive feedback have a good eBay reputation, and are known for providing quality products and a high level of customer service quickly and professionally. Buyers should always check whether the seller offers returns in case the tights do not fit. The seller can be contacted directly using the "Ask a question" link.
Conclusion
Whether an outfit calls for bright red tights, or sensible sheer black ones, eBay has tights to suit every occasion. Choosing the right tights is an integral part of styling the perfect outfit. Getting it wrong is easy, and can result in a disastrous look. Using the tips and advice contained in this guide, buyers can identify the most appropriate tights to go with their outfit, and avoid any styling errors. While women are free to wear any type of tights they wish, there are some style guidelines that can be used to stay on trend, and maintain a stylish appearance appropriate for the setting.
Women who want additional smoothing may like to consider support tights, which help to slim their appearance and boost their self confidence. Buyers should also make sure that they purchase tights of the correct size and length for the best result. Contacting the seller in advance ensures that a refund can be made if the tights are not quite right. ebay offers a wide range of tights that can be styled in a way to suit every woman.